Motor Soft Starter Market revenue to surpass USD 4 Billion by 2035, says Research Nester
Leading motor soft starter market players include ABB, Eaton Corporation, Siemens, Schneider Electric, Rockwell Automation, Inc., Emerson Electric Co., CG Power and Industrial Solutions, LARSEN & TOUBRO LIMITED, WEG, and Carlo Gavazzi Holding AG
New York, Oct. 19, 2023 (GLOBE NEWSWIRE) — The global motor soft starter market size is slated to expand at ~7% CAGR between 2023 and 2035. The market is poised to garner a revenue of USD 4 billion by the end of 2035, up from a revenue of ~USD 2 billion in the year 2022.rapid electrification of the world is the major factor that is driving the market growth of motor soft starters. Electrification is a critical approach for achieving net zero goals. As additional energy end uses electricity, the share of electricity in total final energy consumption rises from 20% in 2022 to over 27% in 2030 in the Net Zero Emissions by 2050 (NZE) Scenario. 
Request Free Sample Copy of this Report @ https://www.researchnester.com/sample-request-5164
Moreover, the electrification has been steadily increasing in recent years, but to meet the NZE Scenario, the rate of rise must increase by twofold to reach the 2030 target. The growing electrification will increase the suage of electric motors in various industries and this will also boost the demand for motor soft starters. Soft starters safeguard the electric motor from destruction while also extending the lifespan of your electric motor and the entire system by reducing the warmth created by frequent start/stops.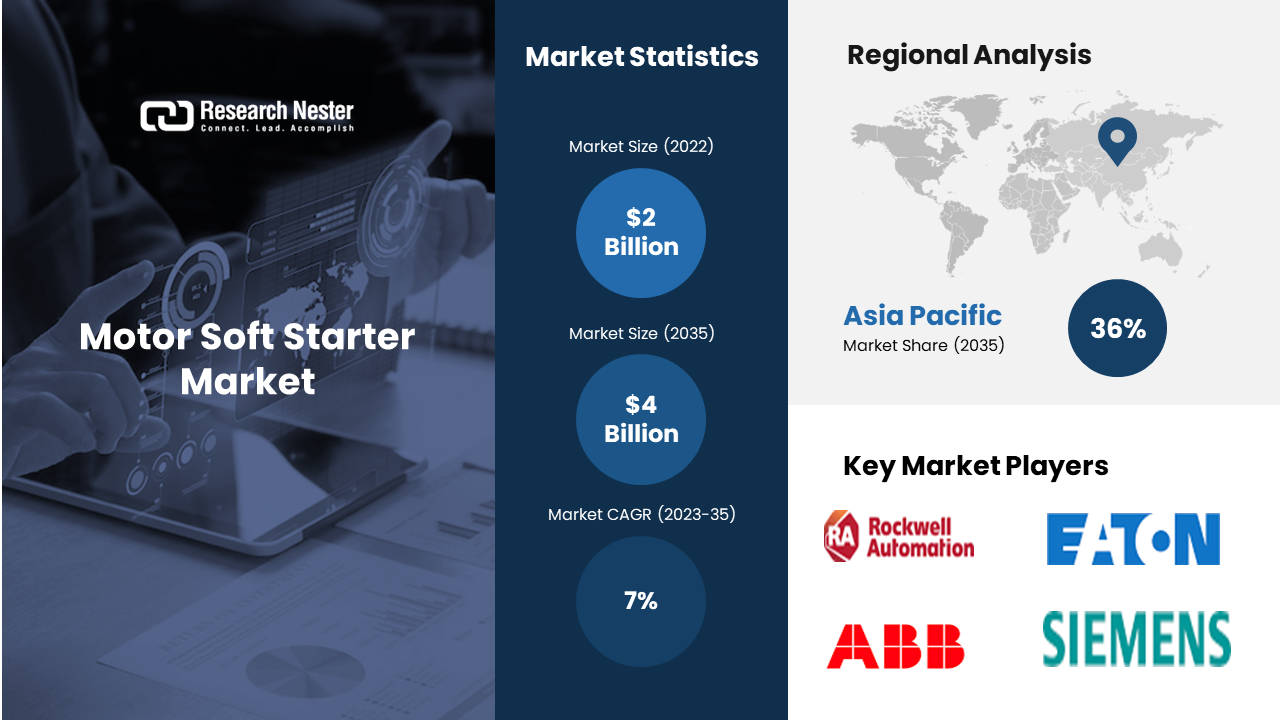 Rising Need for Water Treatment to Boost the Growth of the Motor Soft Starter Market
According to the latest research conducted by scientists at Utrecht University and the United Nations University, roughly fifty percent of the world's wastewater is treated, rather than the prior estimate of 20%. The need for wastewater treatment is continuing to rise owing to higher industrial production which is resulting in higher generation of wastewater. With the growing population, improvements in water supply, higher living standards, and economic expansion, wastewater volumes have continually increased over time. Globally, around 380 billion m3 of municipal wastewater is generated each year. The generation of wastewater is anticipated to rise by 24% by 2030 and 51% by 2050. Soft starters eliminate water pounding and give a far more compact solution by eliminating the need for pressure tanks.
Motor Soft Starter Market: Regional Overview
The market is segmented into five major regions including North America, Europe, Asia Pacific, Latin America, and the Middle East and Africa region.
Growing Government Initiatives to Electrify the Rural Region is to Elevate the Market Growth in the Asia Pacific Region
The motor soft starter market in the Asia Pacific region is predicted to show the highest growth during the forecast period. Several Indian villages lack electricity because of a variety of issues such as impoverished circumstances, a lack of finance, a lack of governing will, poor design, and energy theft, although urban areas have witnessed improvements in power supply and usage. The electrification of rural areas in India is disparate, with rich states succeeding in powering the majority of villages while impoverished ones continue to struggle. To considerably increase the pace of electrification, The Rural Electrification Corporation Limited was founded to address the challenge of distributing power to all communities across the country. The Indian government ordered the electrification of over 18,000 villages and set a goal of installing 175 GW of renewable energy in 2022.
Make an Inquiry Before Buying this Report @ https://www.researchnester.com/inquiries-before-buying-5164
Rising Installation of New Renewable Energy Resources is to Elevate Market Growth in Europe
Over the last decade, Europe has shifted towards renewable energy sources for electricity generation. Wind and solar energy have been the primary drivers of the renewables transition, representing 19% of EU electricity output in 2021. Despite its decline in recent decades, nuclear energy remains the largest single source of electricity generation in the EU and across Europe. In 2021, renewable energy sources accounted for 22% of the European Union's overall utilization of energy. Moreover, the 27 EU Member States observed greenhouse gas (GHG) emissions in 2020 which were 32% fewer than those recorded in 1990, owing largely to increased renewable energy output. Furthermore, the electrification of the manufacturing industry is also expected to boost the motor soft starter market growth in Europe.
Motor Soft Starter, Segmentation by Voltage
Out of two, the low voltage motor soft starter is going to have the largest market share over the forecast period. The growth of the segment is majorly attributed to rising focus on energy efficiency by dropping the peak current demand to lower energy during start. This results in lower energy bills and may also lead to energy rebates in some regions. Higher energy prices, interruptions in supply, and potential shortages have heightened the focus on efficiency, with consumers and governments taking steps to conserve and manage energy more effectively. According to the International Energy Agency, the world economy's energy intensity, a crucial metric of energy efficiency increased by little over 2% in 2022.
Motor Soft Starter, Segmentation by Application
Pumps
Fans
Compressors
Escalators & Elevators
Motor Soft Starter, Segmentation by Power
Motor Soft Starter, Segmentation by End User
Oil & Gas
Water & Waste Water
Power Generation
Mining
Based on the end users, the power generation segment in motor soft starter market is expected to be responsible for a notable market share by the end of 2035. The growth of the segment is majorly dependent on rising demand for power generation. Building energy demand is expected to climb by 15% by 2050. The average global household power demand will rise by 75% between 2021 and 2050, driven by the increasing economies of developing nations. Furthermore, the rising investment in the deployment of the power sector is expected to boost the installation of new power grids, which in turns increase the demand for motor soft starter.
Request for Customization of this Report @ https://www.researchnester.com/customized-reports-5164
A few of the well-known industry leaders in motor soft starter market that are profiled by Research Nester are ABB, Eaton Corporation, Siemens, Schneider Electric, Rockwell Automation, Inc., Emerson Electric Co., CG Power and Industrial Solutions, LARSEN & TOUBRO LIMITED, WEG, and Carlo Gavazzi Holding AG 
Recent Developments in the Motor Soft Starter Market
April 2022, ABB, recently revealed the imminent arrival of three new soft starter series: PSTX, PSE, and PSR. They are specifically developed to extend the life of motorbikes by allowing the optimization of starter currents. It lowers installation time and panel space by incorporating all necessary functions inside your softstarter. Because of their tiny form and several built-in functionality, softstarters are simple to install. The integrated detour reduces energy usage and saves space while lowering heat generation.
December 2022, Schneider Electric has introduced the Altivar Soft Starter ATS480. It improved engine performance while also increasing long-term viability efficiency, and durability. It combines both automation and energy. The ATS480 is an advancement in the evolution of soft starts, taking into account the need for digitalization. It is designed for typical and heavy-duty applications, and it helps to streamline the completion of projects and maximize application availability even in the most challenging circumstances.
About Research Nester
Research Nester is a one-stop service provider with a client base in more than 50 countries, leading in strategic market research and consulting with an unbiased and unparalleled approach towards helping global industrial players, conglomerates and executives for their future investment while avoiding forthcoming uncertainties. With an out-of-the-box mindset to produce statistical and analytical market research reports, we provide strategic consulting so that our clients can make wise business decisions with clarity while strategizing and planning for their forthcoming needs and succeed in achieving their future endeavors. We believe every business can expand to its new horizon, provided a right guidance at a right time is available through strategic minds.
CONTACT: AJ Daniel Corporate Sales, USA Research Nester Email: [email protected] USA Phone: +1 646 586 9123 Europe Phone: +44 203 608 5919

Disclaimer: The above press release comes to you under an arrangement with GlobeNewswire. AfternoonHeadlines.com takes no editorial responsibility for the same.