More Than $250,000 in Grants Awarded to Keep Pets Safe from Abuse
Safe Housing Grants Protect Domestic Violence Survivors' Pets
Paws in hand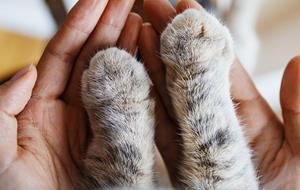 Dog's face in hand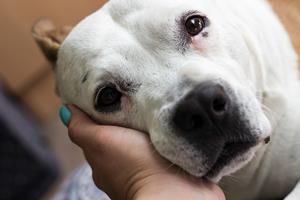 Sacramento, California, Aug. 23, 2023 (GLOBE NEWSWIRE) — RedRover® has awarded $254,643 in Safe Housing grants in this funding round, thanks in part to Purina and PetSmart Charities. Safe Housing grants of up to $60,000 are available, and can be used to build or renovate spaces dedicated to housing survivors' pets, to create a foster program, to pay for temporary boarding, or for a combination of services. Funds may also go toward routine veterinary care, emergency veterinary care, and pet deposits.
RedRover Director of Outreach and Collaboration, Katie Campbell, said, "Pets are family. All too often survivors will not leave an abuser if they can't take their pet, for fear of what may happen. With each grant awarded we are creating a pathway to help more domestic violence survivors and their beloved pets escape abuse and start a new life free from harm."
This cycle, five domestic violence shelters and two animal shelters were awarded Safe Housing grants (*including two new pet-friendly shelters).
RedRover + Purina Purple Leash Project DV Shelter Grantees:
*Peace at Home Family Shelter, Washington County, Arkansas – $60,000
Verde Valley Sanctuary, Yavapai County, Arizona – $60,000
180 Turning Lives Around, Monmouth County, New Jersey – $6,000
DV Shelter Grantees:
*YWCA Oklahoma City, Oklahoma County, Oklahoma – $60,000 (funded by PetSmart Charities)
Women's Center Harbor House, Marquette County, Michigan – $7,289
Animal Shelter Grantee: 
Humane Society Ohio Valley, Washington County, Ohio – $9,169
SPCA Cincinnati, Hamilton County, Ohio – $52,195
Peace at Home Family Shelter CEO Teresa Mills said, "Thanks in part to RedRover and Purina's Purple Leash Project grant, Peace at Home Family Shelter will be able to build the Candy Clark Pet Sanctuary. This sanctuary will provide a safe place for survivors of domestic violence to flee abusive homes with their beloved pets. Animals are not safe in homes with domestic violence and families fleeing abuse are often afraid to leave their pets behind in dangerous homes. This grant will keep families with their pets, prevent animal abuse, and save lives."
Earlier this month RedRover launched the 25 by 2025 campaign with Greater Good Charities and Purina, powered by the generosity of PetSmart Charities. This national initiative aims to help 25% of domestic violence shelters to become pet friendly by 2025.To learn how to join the movement, visit 25by2025.org.
Sara McKenzie, engagement specialist for YWCA Oklahoma City said, "YWCA Oklahoma City is proud and excited to welcome pets into our emergency shelter for the first time! Pets are commonly used in abusive tactics against victims of domestic violence. By providing safety to not only the individual, but their pet(s) as well, we are saving the lives of so many!"
Safe Housing grant application deadlines are March 1, June 1, and September 1. To learn more, visit: RedRover.org/SafeHousing.
Pets and Domestic Violence:
As many as 71% of pet-owning women entering DV shelters reported their abuser injured, killed, or threatened family pets (F.R. Ascione)
Up to 48% of DV victims reported delaying leaving an abuser for fear of what would happen if they left their pets behind (F.R. Ascione)
91% of survivors indicated their pets' emotional support and physical protection are significant in their ability to survive and heal
Currently, only 17% of DV shelters nationwide are pet friendly ("pet friendly" means shelters can accept companion animals/pets, in addition to service and emotional support animals)
 ###
About RedRover
Founded in 1987, RedRover focuses on bringing animals out of crisis and strengthening the human-animal bond through emergency sheltering, disaster relief services, financial assistance, and education. Since 2012, RedRover has awarded 204 grants to shelters in 46 states, totaling more than $3.8 million. Additionally, Safe Housing grants have created the first pet-friendly domestic violence shelter in 10 states! RedRover has earned a coveted 4-star rating from Charity Navigator, America's largest independent charity evaluator. To learn how RedRover is creating a more compassionate world, visit RedRover.org.
Attachments
Paws in hand
Dog's face in hand
CONTACT: Sheri Madsen RedRover 916-600-8157 [email protected] 

Disclaimer: The above press release comes to you under an arrangement with GlobeNewswire. AfternoonHeadlines.com takes no editorial responsibility for the same.