Metagave Tequila Unveils Its Exquisite Spirits, Blending Tradition and Innovation
Metagave Tequila Blanco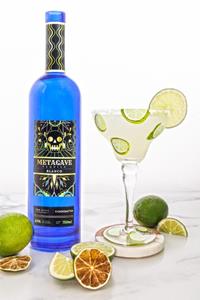 TAMPA BAY, Fla., July 18, 2023 (GLOBE NEWSWIRE) — Metagave Tequila, a Florida-based tequila brand, proudly announces its official launch and entrance into the world of fine spirits. With 10,000 bottles already in production, Metagave Tequila aims to captivate connoisseurs and tequila enthusiasts with its exceptional quality, artisanal craftsmanship, and a commitment to honoring Mexican traditions. What makes the company even more unique is the community element that aims to bring the consumer into the brand through a social application that also includes an exclusive rewards system.
Metagave Tequila is the brainchild of a passionate team dedicated to redefining the tequila experience by infusing traditional production methods with cutting-edge techniques. The company's founders, with a deep admiration for Mexico's rich tequila culture, have meticulously crafted an extraordinary lineup of tequilas that embody the essence of authenticity and refinement.
Embracing the artistry of tequila-making, Metagave Tequila sources only the finest hand-selected Blue Weber agave plants from the renowned Jalisco region of Mexico. These agave plants are grown in the rich soil surrounded by the Tequila Mountain. This magical soil adds nutrients and minerals that add contribute to the smooth taste. These plants reach peak maturity, ensuring a rich and complex flavor profile that distinguishes Metagave Tequila from its competitors.
With an unwavering commitment to sustainability and environmental responsibility, Metagave Tequila prides itself on maintaining eco-friendly production practices. Every step of the production process, from cultivation to distillation, adheres to sustainable methods that minimize environmental impact. The brand firmly believes in preserving nature's gifts for future generations.
Metagave Tequila offers a diverse range of products designed to satisfy the palates of tequila enthusiasts worldwide. The initial lineup includes the following:
Metagave Blanco: A testament to the purity of flavor, this unaged tequila showcases the agave's natural sweetness and pristine character, providing a smooth and vibrant drinking experience.
Metagave Reposado: Aged in oak barrels for a minimum of six months, this tequila captures the essence of balance. Its subtle oak influence adds a refined complexity to the vibrant agave flavors.
Metagave Tequila's debut into the market promises to delight tequila aficionados and establish itself as a distinguished brand that celebrates the union of tradition and innovation.
For more information about Metagave Tequila and its products, please visit www.metagavetequila.com or contact [email protected]
A photo accompanying this announcement is available at https://www.globenewswire.com/NewsRoom/AttachmentNg/becd9605-e0e4-41f2-8eb0-f0094c36accd

Disclaimer: The above press release comes to you under an arrangement with GlobeNewswire. AfternoonHeadlines.com takes no editorial responsibility for the same.