Meta Era Summit Website Launch: Unveiling Elite Sponsors and a Star-Studded Speaker Lineup
HONG KONG, July 28, 2023 (GLOBE NEWSWIRE) — The stage is set, the countdown begins! The highly anticipated Meta Era Summit, organized by the pioneering blockchain media powerhouse, Meta Era, in partnership with BitMart, CertiK, iPollo, and Web3Hub as title sponsors, alongside Fenbushi Capital, G-Rocket, and Cipholio Ventures as co-organizers, is all set to dazzle the world on September 12, 2023, in the vibrant city of Singapore.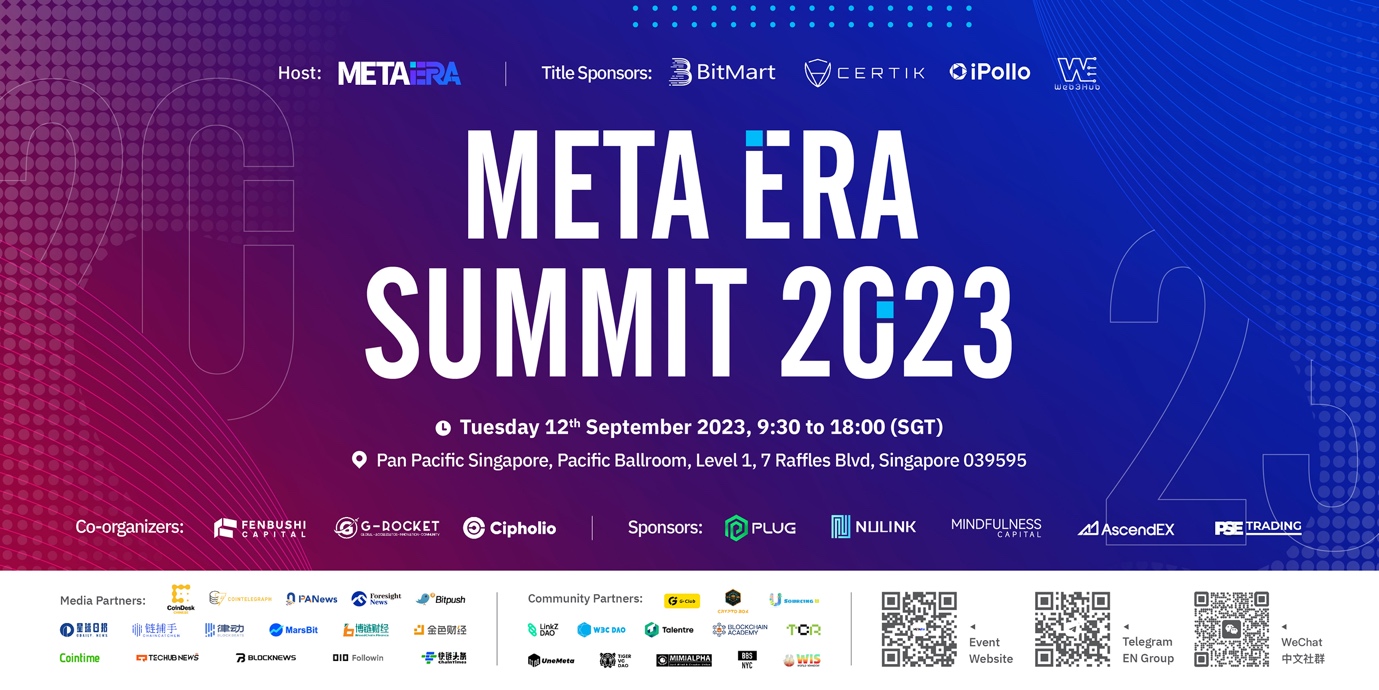 With a laser focus on the captivating worlds of Metaverse and Web3, this electrifying summit beckons an impressive lineup of nearly a hundred global luminaries and trailblazers as keynote speakers. Prepare to be enthralled as they converge with over a thousand industry insiders, including entrepreneurs, investors, developers, academic experts, and media mavens, all under one roof, to chart the uncharted territories of cutting-edge trends, limitless applications, and game-changing investment opportunities.
Get ready to rub shoulders with the visionary likes of Hong Kong Legislative Council member and CPPCC member, Johnny Ng, the ingenious Founder of Nano Labs, Jack Kong, and Founder & CEO of BitMart, Sheldon Xia. Brace yourselves to hear the clarion call of progress from the esteemed Founder and Chairman of the UN Blockchain Alliance International, Alexandru Cujba, and gain insights from the brilliant minds of esteemed academics such as Professor Guoquan Li from the prestigious Singapore University of Social Sciences and the illustrious President Bohui Chen from the Asian Academy of Digital Economics.
But that's not all—this stellar lineup also includes heavyweights like HashKey Capital's CEO, the indefatigable Chao Deng, Andrew Durgee, the trailblazing Global Head of Republic Crypto, CertiK's COO, Jason Cao, and Peter Yang, the dynamic Managing Director of Fenbushi Capital. Expect wisdom and inspiration from G-Rocket's visionary CEO, Caspar Wong, the General Partner of Figment Capital, James Parillo, and the visionary Managing Director of Brinc Venture Capital, Guillermo Ginesta. And let's not forget the industry luminaries like David Wachsman, the forward-thinking Founder and CEO of Wachsman, Rishi Ramchandani, the tech trailblazer heading Google's Web3 business in the Asia Pacific, and Alexander Salnikov, Co-Founder of Rarible.
With a grand gesture of gratitude, the Meta Era Summit extends heartfelt appreciation to the unwavering support from esteemed sponsors including Plug Chain, NuLink, Mindfulness Capital, AscendEX, and a stellar lineup of media partners including CoinDesk CN, Cointelegraph, PANews, Foresight News, Bitpush, and more, who have all united to amplify this historic event on a global scale.
Mark your calendars and ignite your passion! The Meta Era Summit is not just a milestone—it's a defining moment in the history of innovation, a celebration of boundless possibilities, and a convergence of extraordinary minds. Brace yourself for the future—a new Meta Era awaits!
For more information and to secure your spot in this monumental gathering of visionaries, please visit the official website: https://www.metaerasummit.com/.
About Meta Era:
Meta Era, the eminent media juggernaut headquartered in Hong Kong, champions the widespread adoption of Web 3.0 technology across Asia and beyond. With a resolute commitment to delivering precise, cutting-edge information, Meta Era has forged robust alliances with prominent investment institutions, avant-garde Web 3.0 enterprises, and influential industry media and communities. Beyond its regular operations, Meta Era ignites the industry's imagination through large-scale online events and influential offline summits, leaving an indelible mark on the landscape of innovation. Embarking on an odyssey at the forefront of the digital revolution, Meta Era pioneers a trail to shape a revolutionary new Meta era in the world of the internet.
CONTACT: hi at metaera.media

Disclaimer: The above press release comes to you under an arrangement with GlobeNewswire. AfternoonHeadlines.com takes no editorial responsibility for the same.