Mechanical Keyboard Market is Poised for substantial expansion of USD 5.6 Billion by 2032 at CAGR 16.2%
Acumen Research and Consulting recently published report titled "Mechanical Keyboard Market Forecast, 2023 – 2032"
TOKYO, Aug. 29, 2023 (GLOBE NEWSWIRE) — The Mechanical Keyboard Market is poised for robust global growth through 2032, empowered by the burgeoning adoption within the gaming and programming domains.
The prospects of the Mechanical Keyboard Market remain promising, driven by the escalating embrace from gamers and programmers, the uptick in computer usage, the burgeoning eSports sector, ongoing switch technology innovations, and the integration of customizable RGB backlighting. This comprehensive article offers an exhaustive analysis of the mechanical keyboard market, encapsulating dimensions such as size, share, emerging trends, catalysts, impediments, and key industry players. A mechanical keyboard, distinct in its individual mechanical switches beneath each key, is renowned for its distinctive click sound, a hallmark of mechanical keyboards. Noted for their resilience, tactile feedback, and auditory signature, mechanical keyboards find favor among gamers, typists, and those who frequently engage in typing activities. An array of mechanical switches exists, each characterized by a unique tactile sensation and sound profile. Well-known switch variants encompass Cherry MX, Alps, and Topre. Further customizability can be achieved through diverse keycaps, switches, and other components.
Mechanical Keyboard Market Statistics and Highlights:
The Mechanical Keyboard Market is poised to ascend to USD 5.6 billion by 2032, progressing from its 2022 valuation of USD 1.3 billion, with an impressive 16.2% CAGR from 2023 to 2032.
North America stands as the dominant revenue contributor, surpassing USD 596 million in 2022.
The wired keyboard segment commanded over USD 914 million of the share in 2022.
The surge in digital gaming and programming undertakings fuels the market's expansion.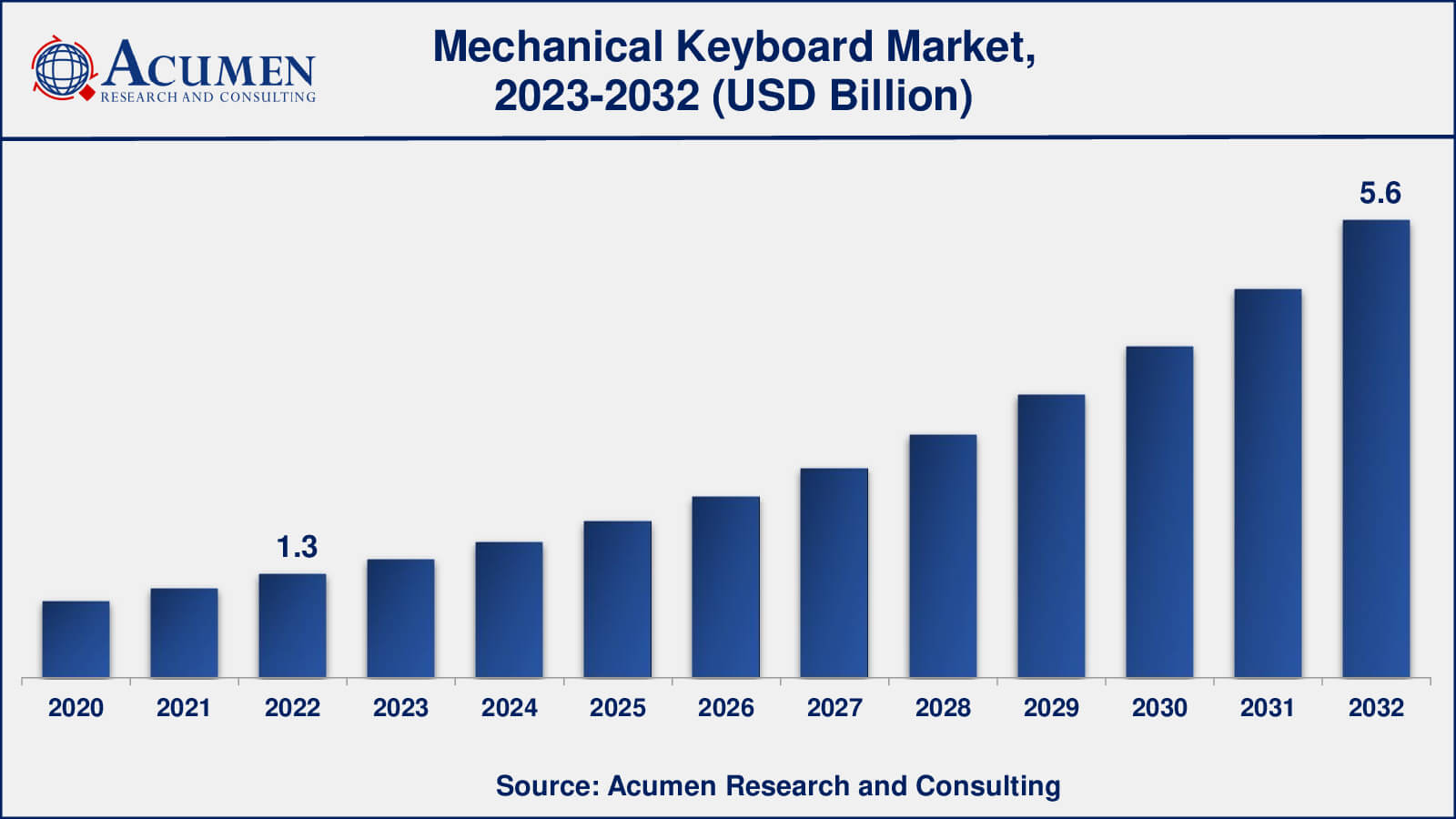 Request For Free Sample Report @ https://www.acumenresearchandconsulting.com/request-sample/3326
Mechanical Keyboard Market Report Coverage:
Market
Mechanical Keyboard Market
Mechanical Keyboard Market Size 2022
USD 1.3 Billion
Mechanical Keyboard Market Forecast 2032
USD 5.6 Billion
Mechanical Keyboard Market CAGR During 2023 – 2032
16.2%
 
Mechanical Keyboard Market Analysis Period
2020 – 2032
Mechanical Keyboard Market Base Year
2022
 
Mechanical Keyboard Market Forecast Data
2023 – 2032
Segments Covered
By Product Type, By Connectivity, By Application, And By Geography
Mechanical Keyboard Market Regional Scope
North America, Europe, Asia Pacific, Latin America, and Middle East & Africa
Key Companies Profiled
Cherry, Corsair Components Inc., Das Keyboard, Logitech International, OMRON Corporation, Rantek Electronics Co. Ltd., Rapoo Corporation, Razer Inc., Roccat Studios Inc., and SteelSeries ApS.
Report Coverage
Market Trends, Drivers, Restraints, Competitive Analysis, Player Profiling, Regulation Analysis
Key Mechanical Keyboard Market Dynamics Analysis:
The upcoming years forecast a promising growth trajectory for the mechanical keyboard market, propelled by the accelerating adoption among gamers and programmers. Noteworthy attributes of mechanical keyboards, including heightened precision, swiftness, durability, and customization options, position them as an appealing alternative to membrane keyboards. However, it's noteworthy that mechanical keyboards often carry a premium price tag compared to their membrane counterparts and may demand a learning curve for unaccustomed users. In addition to traditional mechanical keyboards, budget-friendly alternatives like optical keyboards are surfacing, offering a subset of mechanical keyboard advantages at a more accessible price point. The evolution of switch technologies and their integration into evolving functionalities will play a pivotal role in shaping the market's future. The expansion of mechanical keyboards' adoption among gamers and programmers stands out as a prominent trend. The ongoing development of novel switch types, designed to enhance performance and longevity, is another noteworthy industry trend.
Latest Innovations and Trends:
Innovation unfolds through the creation of wireless and ultra-slim mechanical keyboard models that prioritize portability. Transparency in switch housings, showcasing internal mechanisms, adds a visual dimension. Integrating smart RGB lighting and graphical displays infuse keyboard interactions with vibrancy. Customization takes center stage with the advent of customizable and hot-swappable key switches. Additionally, a trend emerges in the development of hybrid optical-mechanical switches and ortholinear keyboards.
Major Factors Propelling Mechanical Keyboard Market Growth:
A surge in adoption among gamers and programmers, both seeking precision and speed, is a pivotal driving force. The global eSports industry, coupled with the proliferation of gaming tournaments, contributes significantly. Advancements in mechanical switch technology and durability further bolster growth. Mechanical keyboards' extensive customization options, catering to aesthetics and performance preferences, hold a strong appeal. Rising computer usage for work, education, and entertainment activities reinforces the market's expansion.
Key Challenges Hindering Market Potential:
The premium pricing attached to mechanical keyboards compared to mainstream membrane and laptop keyboards poses a challenge. Users may need time to acclimate to the varying switch types and force requirements. Budget-friendly alternatives such as optical and membrane gaming keyboards compete for market share. Customization features like RGB lighting may contribute to higher costs. Furthermore, certain models might lack regional language characters, impacting usability.
Check the detailed table of contents of the report @
https://www.acumenresearchandconsulting.com/table-of-content/mechanical-keyboard-market
Mechanical Keyboard Market Segmentation:
Mechanical Keyboard Product Types:
Non-Tactile Linear Switches
Tactile Non-Click Switches
Tactile Click Switches   
Mechanical Keyboard Connectivity:
Wired Keyboards
Wireless Keyboards
Mechanical Keyboard Applications:
Mechanical Keyboard Market Regional Outlook:
As of now, North America and Asia Pacific jointly lead the global mechanical keyboard market. However, Asia's subset comprising China, India, and Japan are poised for rapid growth owing to their improving manufacturing capabilities and burgeoning gaming culture.
Buy this premium research report –
https://www.acumenresearchandconsulting.com/buy-now/0/3326
Leading Companies Offering Mechanical Keyboards Market:
The industry landscape is shaped by major players including Logitech, Razer, Corsair, SteelSeries, HyperX, Das Keyboards, ROCCAT, Keychron, Drop, Obinslab, Glorious PC Gaming Race, Varmilo, DuckyChannel International Co. Ltd., Cherry Americas LLC, and Cooler Master Technology Inc., among others.
Browse More Research Topic on Electronics Sector Related Reports:
The Global Wireless Power Transmission Market Size accounted for USD 11.4 Billion in 2022 and is projected to achieve a market size of USD 76.6 Billion by 2032 growing at a CAGR of 21.2% from 2023 to 2032.
The Global Dry Type Distribution Transformer Market Size accounted for USD 6.3 Billion in 2022 and is projected to achieve a market size of USD 11.2 Billion by 2032 growing at a CAGR of 6.1% from 2023 to 2032.
The Global Satellite Ground Station (SGS) Market Size accounted for USD 55.3 Billion in 2022 and is projected to achieve a market size of USD 181.4 Billion by 2032 growing at a CAGR of 12.8% from 2023 to 2032.
Browse Our Official Website Press release:
https://www.acumenresearchandconsulting.com/press-releases/mechanical-keyboard-market
About Acumen Research and Consulting:
Acumen Research and Consulting is a global provider of market intelligence and consulting services to information technology, investment, telecommunication, manufacturing, and consumer technology markets. ARC helps investment communities, IT professionals, and business executives to make fact-based decisions on technology purchases and develop firm growth strategies to sustain market competition. With the team size of 100+ Analysts and collective industry experience of more than 200 years, Acumen Research and Consulting assures to deliver a combination of industry knowledge along with global and country level expertise.
For Latest Update Follow Us on Twitter , Instagram and LinkedIn
Contact Us:
Mr. Richard Johnson
Acumen Research and Consulting
USA: +13474743864
India: +918983225533
E-mail: [email protected]

Disclaimer: The above press release comes to you under an arrangement with GlobeNewswire. AfternoonHeadlines.com takes no editorial responsibility for the same.