MAX Power Launches Lithium Exploration Program in Nunavik, Quebec
Max Power Mining Corp
VANCOUVER, British Columbia, July 05, 2023 (GLOBE NEWSWIRE) — MAX Power Mining Corp. (CSE: MAXX) (OTC: MAXXF) (FRANKFURT: 89N) ("MAX Power" or the "Company") has commenced field exploration targeting lithium-rich pegmatites in Nunavik, Quebec, where the Company to date has assembled a 306 sq. km land package covering the Raglan West and New Leaf districts.
MAX has partnered with GroundTruth Exploration whose logistical expertise, state-of-the-art technology and highly trained crews for Nunavik will heighten discovery possibilities in a vast area that comprises the top third of Quebec.
For the first time, under-explored Nunavik is the focus of an intense multi-company campaign to discover spodumene-bearing lithium deposits in a prospective geological environment outside the large Cape Smith Belt hosting one of the world's premier nickel mines at Raglan. Historically mapped pegmatites outside this famous nickel belt have never been previously tested for lithium. In addition, the Quebec government database shows that in these massive district-scale areas, Nunavik hosts the highest values and concentrations of lithium and cesium in lake bottom sediments in the entire province.
Exploration Strategy Highlights:
Crews will conduct a first-pass sweep this month of MAX Power's 184 sq. km Spark Property in the New Leaf Camp in southern Nunavik (refer to Figure 1), followed by a first-pass sweep of MAX's strategic Raglan West holdings. Both areas feature abundant outcrop;
Phase 1 will include mapping, prospecting and sampling, and will prioritize prospective pegmatite zones for Phase 2 follow-up including drilling this summer;
An historically mapped pegmatite structure at the Spark Property, exposed intermittently for a distance of approximately 3 km and 300 meters in width, is an early focus of attention.
Mr. Peter Lauder, MAX Power Senior Geologist and Exploration Manager, and member of the Order of Quebec Geologists, commented, "We're incredibly excited about Nunavik's lithium potential. We have a well-planned program that will cover a lot of ground in just the next few weeks. This is how discoveries are made."
Mr. Rav Mlait, MAX Power CEO, added: "With Quebec hard rock lithium, Arizona brine/clay lithium, and a technology component focused on disruptive approaches to lithium brine extraction headed by preeminent American research scientists Dr. Brett Helms and Dr. Michael Whitaker at Berkeley, MAX begins the second half of 2023 with some very significant near-term potential catalysts to drive shareholder value."
Figure 1 – First Vertical Derivative (1VD) and Lithium Lake Bottom Sediments at Spark Property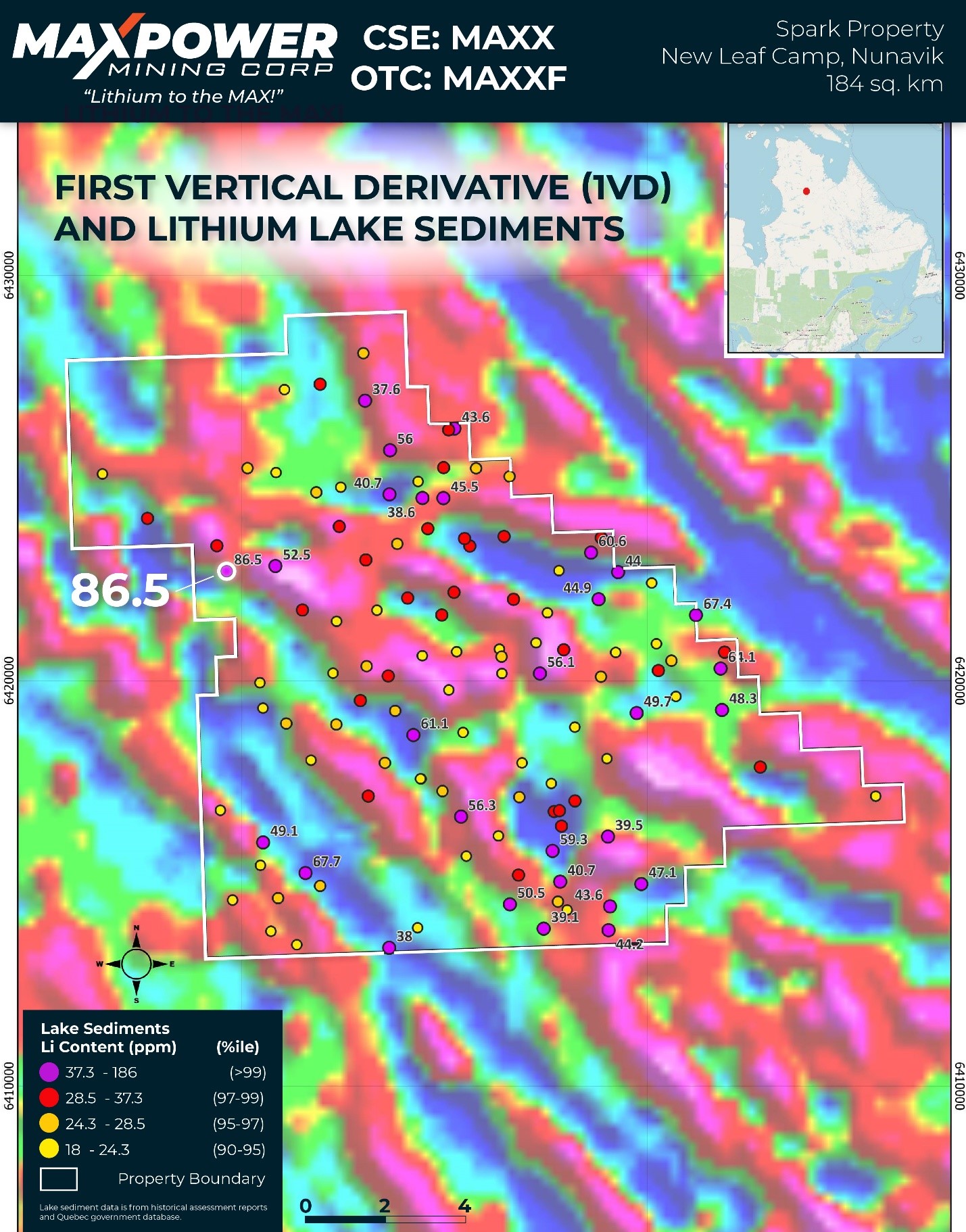 https://www.globenewswire.com/NewsRoom/AttachmentNg/679a9312-c181-4049-8dbd-1e6395d0342a
Qualified Person
The technical information in this news release has been reviewed and approved by Peter Lauder, P.Geo., Member of the Order of Geologists of Quebec and Senior Geologist and Exploration Manager for MAX Power Mining Corp. Mr. Lauder is the Qualified Person responsible for the scientific and technical information contained herein under National Instrument 43-101 standards.
About MAX Power
MAX Power is a dynamic exploration stage resource company targeting domestic lithium resources to advance North America's renewable energy prospects. MAX has also entered into a cooperative research and development agreement with the University of California Lawrence Berkeley National Laboratory (LBNL) to develop state-of-the-art direct lithium extraction (DLE) technologies for brine resources.
Contact: [email protected]
MarketSmart Communications at 877-261-4466.
Forward-Looking Statement Cautions
This press release contains certain "forward-looking statements" within the meaning of Canadian securities legislation, relating to exploration, drilling, mineralization and historical results on the Property; the interpretation of drilling and assay results, the results of any future drilling program, mineralization and the discovery mineralization (if any); plans for future exploration and drilling and the timing of same; the merits of the Spark Property; the potential for lithium within the Spark Property region; ability to access Property; ability to extract resources from the Property, commentary as it related to the opportune timing to explore lithium exploration and any anticipated increasing demand for lithium; any results and updates thereto as it relates to the future press releases by the Company; and funding of any future drilling program. Although the Company believes that such statements are reasonable, it can give no assurance that such expectations will prove to be correct. Forward-looking statements are statements that are not historical facts; they are generally, but not always, identified by the words "expects," "plans," "anticipates," "believes," "interpreted," "intends," "estimates," "projects," "aims," "suggests," "often," "target," "future," "likely," "pending," "potential," "goal," "objective," "prospective," "possibly," "preliminary", and similar expressions, or that events or conditions "will," "would," "may," "can," "could" or "should" occur, or are those statements, which, by their nature, refer to future events. The Company cautions that forward-looking statements are based on the beliefs, estimates and opinions of the Company's management on the date the statements are made, and they involve a number of risks and uncertainties. Consequently, there can be no assurances that such statements will prove to be accurate and actual results and future events could differ materially from those anticipated in such statements. Except to the extent required by applicable securities laws and the policies of the CSE, the Company undertakes no obligation to update these forward-looking statements if management's beliefs, estimates or opinions, or other factors, should change. Factors that could cause future results to differ materially from those anticipated in these forward-looking statements include risks associated with possible accidents and other risks associated with mineral exploration operations, the risk that the Company will encounter unanticipated geological factors, risks associated with the interpretation of assay results and the drilling program, the possibility that the Company may not be able to secure permitting and other governmental clearances necessary to carry out the Company's exploration plans, the risk that the Company will not be able to raise sufficient funds to carry out its business plans, and the risk of political uncertainties and regulatory or legal changes that might interfere with the Company's business and prospects. The reader is urged to refer to the Company's Management's Discussion and Analysis, publicly available through the Canadian Securities Administrators' System for Electronic Document Analysis and Retrieval (SEDAR) at www.sedar.com for a more complete discussion of such risk factors and their potential effects.

Disclaimer: The above press release comes to you under an arrangement with GlobeNewswire. AfternoonHeadlines.com takes no editorial responsibility for the same.