Masterbatch Market revenue to cross USD 27.61 Billion by 2035, says Research Nester
Key masterbatch market players include LyondellBasell Industries Holdings B.V., Avient Corporation, Ampacet Corporation, Cabot Corporation, Plastika Kritis S.A., Hubron International, Tosaf Inc., Penn Colour Inc., Astra Polymers, Americhem, Gabriel-Chemie Gesellschaft m.b.H., Coperion GmbH, Treffert GmbH & Co. KG, and Ingenia Polymers Corp.
New York , Nov. 09, 2023 (GLOBE NEWSWIRE) — The global masterbatch market size is projected to expand at 5.80% CAGR between 2023 and 2035. The market is expected to garner a revenue of USD 27.61 billion by the end of 2035, up from a revenue of USD 13.18 billion in the year 2022. The rising demand for packaging from e-commerce sector is expected to raise the market growth. E-commerce packaging, which comprises corrugated, flexible, defensive, and transitory packaging, is primarily motivated by ease, transparency, and cost. Because technical, legislative, and commercial environment changes are all occurring at the same time, it is critical that packaging be designed with e-commerce in mind from the start.
Request Free Sample Copy of this Report @ https://www.researchnester.com/sample-request-5154
In 2019, the worldwide e-commerce business utilized about 2.1 billion pounds of plastic packaging. Plastic packaging used in e-commerce is expected to increase further in the following years, reaching a projected 4.5 billion pounds by 2025.With a rapidly increasing digital infrastructure and lowering prices for the underlying technologies, e-commerce elevates packaging to new heights.
Masterbatch Market: Key Takeaways
Market in Asia Pacific region to propel the highest growth
The Packaging segment to garner the highest growth
Market in Europe region to grow at a highest rate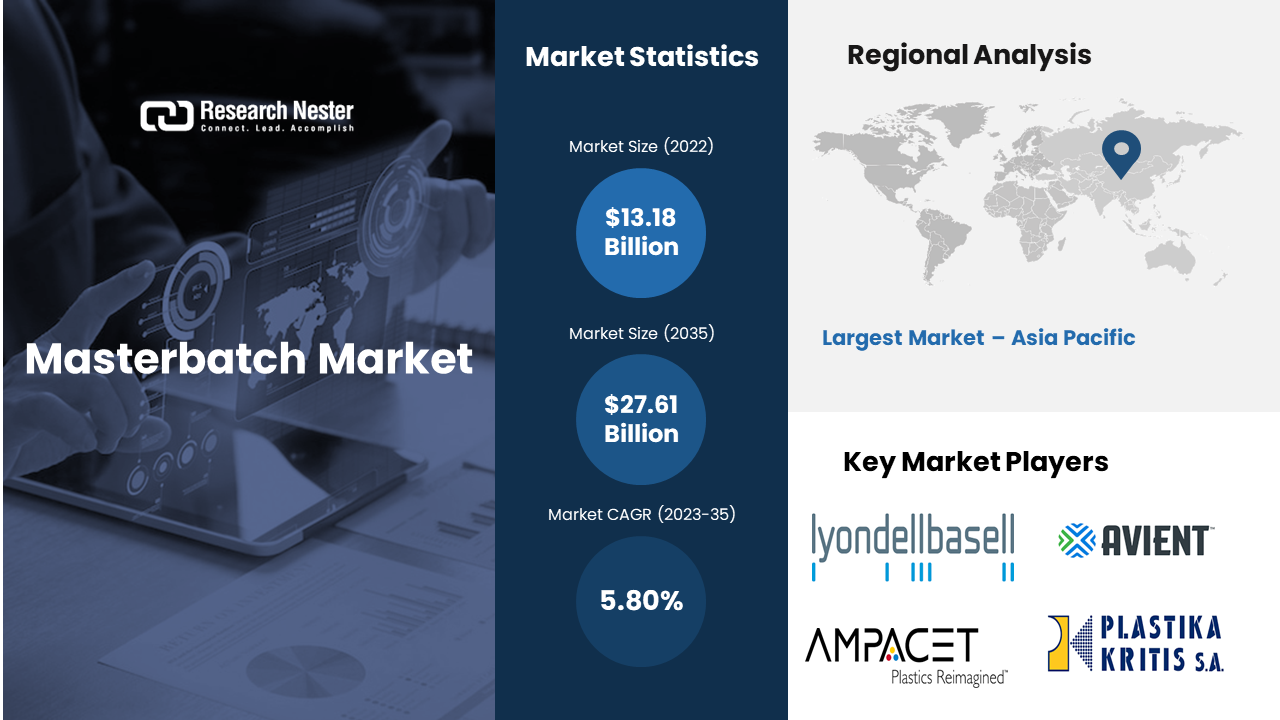 Integration of Plastic in the Automobile Sector to Boost the Growth of the Masterbatch Market
A typical automobile contains 30,000 parts, almost a third of which are made of plastic. Carburetors, fenders, dashboards, handles, engine covers, interior wall panels, seating, truck bed liners, cable insulation, and other pieces are made of plastic. During the growth of transportation vehicles, producers and makers have made several material adaptations and enhancements to ensure that these vehicles are as efficient as possible for their customers. Since they are lightweight and fuel-efficient, plastics are the principal material used in transportation vehicles. Plastics provide features that allow automobiles to be safe, lightweight, and pleasant for passengers, as well as enabling manufacturers to make their vehicles appear better to consumers.
Masterbatch Industry: Regional Overview
The global masterbatch market is segmented into five major regions including North America, Europe, Asia Pacific, Latin America, and the Middle East and Africa region.
Increased Production of Plastic and Plastic Products is to Boost the Growth of the Market in the Asia Pacific Region
In 2021, the Asia-Pacific (APAC) region generated slightly more than half of the world's plastics around 52% of 390.7Mt worldwide. Because it accounts for so much of the world's total manufacturing of plastic and is home to some of the world's top plastic producers, APAC has the potential to be a leader in making the switch to a circular economy for plastic packaging. In addition to this, In 2021, China was the world's leading producer of plastic, contributing to 32% of global plastics materials manufacture. Other Asian countries were also important plastic manufacturers, with Japan contributing 3% of world manufacturing of plastic and the rest of Asia representing 17%. Furthermore, the rising creativity in the packaging has also boosted the market growth in the region. Lecka, a Vietnamese healthy snack company, was the first in the region to employ home compostable and biodegradable food packaging with success. Singha, a Thai beer brand, has come up with 100% biodegradable packaging for certain of its products, eliminating conventional plastic film.
Rising Government Efforts to Regulate Sustainable Packaging is to Elevate Masterbatch Market Growth in Europe
The European Commission is proposing new EU-wide packaging regulations. The new regulations are intended to halt this tendency. They will offer reusable packaging options for consumers, eliminate needless packaging, prevent overpackaging, and give clear labels to encourage proper recycling. Europe is becoming less reliant on primary resources and external suppliers. They are going to put the packaging industry on schedule to achieve carbon neutrality by 2050. The Commission also clarifies biobased, compostable, and biodegradable plastics for consumers and industry. Moreover, a lot of efforts aim to make packaging completely recyclable by 2030. It entails introducing packaging design guidelines, implementing mandatory deposit return systems for plastic bottles and aluminum cans, and making it clear which very restricted forms of packaging must be biodegradable so that consumers are able to reuse them.
Make an Inquiry Before Buying this Report @ https://www.researchnester.com/inquiries-before-buying-5154
Masterbatch Segmentation by Product
Colour
White
Black
Additives
Masterbatch Segmentation by Carrier Polymer
Polypropylene (PP)
LDPE & LLDPE
HDPE
Polyvinyl Chloride (PVC)
Polyethylene Terephthalate (PET)
Polyurethane (PUR)
Polystyrene (PS)
Based on carrier polymer, the polyethylene terephthalate (PET) segment is going to garner notable revenue in the market by the end of 2035. The growth of the segment is attributed to rising demand for polyethylene terephthalate (PET). PET is typically used for carbonated soft drinks (CSD), edible oil, water, and jars, but it is now utilized for almost all end-users. PET resin use has increased by 10-12% each year on average, reaching 1.10 million tonnes per year (TPA) in 2020. It was made up of around 94% bottles and nearly 6% sheets/straps/monofilaments/others. Furthermore, in 2021, polyethylene terephthalate (PET) packaging accounted for nearly 45% of single-serve beverage packaging in the United States.
Masterbatch Segmentation by End User
Packaging
Building & Construction
Consumer Goods
Automotive
Agriculture
Petrochemicals
On the basis of end user, the masterbatch market packaging segment is expected to gain the highest market revenue over the forecasted period. The growth of the segment is majorly attributed to the rising demand for sustainable and flexible packaging. As of January 2023, the number of customers demanding sustainable packaging has climbed to 81%, representing yet another significant step towards eradicating plastic waste. Moreover, in the United Kingdom, around 50% of customers are willing to pay more if the goods are packed in sustainable packaging. Additionally, nearly 33% have completely rejected packaging that is not sustainable.
A few of the well-known market leaders in the global masterbatch market that are profiled by Research Nester are LyondellBasell Industries Holdings B.V., Avient Corporation, Ampacet Corporation, Cabot Corporation, Plastika Kritis S.A., Hubron International, Tosaf Inc., Penn Colour Inc., Astra Polymers, Americhem, Gabriel-Chemie Gesellschaft m.b.H., Coperion GmbH, Treffert GmbH & Co. KG, and Ingenia Polymers Corp.
Request for Customization of this Report @ https://www.researchnester.com/customized-reports-5154
Recent Developments in Masterbatch Market
LyondellBasell's Polybatch 73641 NIR black color masterbatch has received COTREP certification, proving that polymers containing these masterbatches can be segregated using ordinary Near-Infrared (NIR) sorting equipment. Black and dark-colored plastics are challenging to distinguish between in post-consumer garbage because they are undetectable to optical or near-infrared detectors often employed in material recycling plants.
Avient Corporation, a leading developer of tailored and environmentally friendly product solutions and services, announced the launch of two new extensions to its MEVOPURTM portfolio of medical-grade materials to assist manufacturers of pharmaceutical packaging and medical devices in meeting sustainability targets. MEVOPUR medical-grade products are manufactured in compliance with ISO13485-2016 methods and tested in accordance with ISO 10993-1, USP, European Pharmacopoeia, and ICH Q3D criteria.
About Research Nester
Research Nester is a one-stop service provider with a client base in more than 50 countries, leading in strategic market research and consulting with an unbiased and unparalleled approach towards helping global industrial players, conglomerates and executives for their future investment while avoiding forthcoming uncertainties. With an out-of-the-box mindset to produce statistical and analytical market research reports, we provide strategic consulting so that our clients can make wise business decisions with clarity while strategizing and planning for their forthcoming needs and succeed in achieving their future endeavors. We believe every business can expand to its new horizon, provided a right guidance at a right time is available through strategic minds.
CONTACT: AJ Daniel Corporate Sales, USA Research Nester Email: [email protected] USA Phone: +1 646 586 9123 Europe Phone: +44 203 608 5919

Disclaimer: The above press release comes to you under an arrangement with GlobeNewswire. AfternoonHeadlines.com takes no editorial responsibility for the same.