Machine Translation Market revenue to cross USD 5 Billion by 2035, says Research Nester
Major machine translation market players include AppTek, Amazon Web Services, Inc., Alibaba Cloud, Baidu, Cloudwords Inc., Google LLC, IBM Corporation, Lionbridge Technologies, LLC, Microsoft Corporation, Smart Communications, Inc., and Lilt, Inc.
New York, Aug. 01, 2023 (GLOBE NEWSWIRE) — The global machine translation market size is projected to expand at ~20% CAGR between 2023 and 2035. The market is expected to garner a revenue of USD 5 billion by the end of 2035, up from a revenue of ~USD 400 million in the year 2022.The market growth is due to the increasing use of e-commerce platforms for shopping. In the world of increasing digitization, the need for e-commerce is also gaining momentum. People from different parts of the world use the services, which makes the need for machine translation even more important. Same-day grocery delivery and options could fuel South Korea's e-commerce growth rate of around 45% over the next five years.
Request Free Sample Copy of this Report @ https://www.researchnester.com/sample-request-4767
Additionally, e-commerce in the United States could grow from about 23% of sales to almost 31% by 2026.Apart from that, it is believed that among the factors driving the growth of the machine translation market is also the increasing number of languages ​​that companies are using to expand their business. For its Canadian viewers, Netflix launched French and Indonesian on its international website in 2018. Overall, Netflix has increased its linguistic diversity from around 17 to 26 languages ​​over the past two years. Additionally, in the same year, Uber added seven more languages ​​to its apps and websites. Also, it has launched an Uber mini app for Indian users. Additionally, Ford's website is multilingual in around 42 languages, while Jack Daniel's is fluent in almost 23 languages.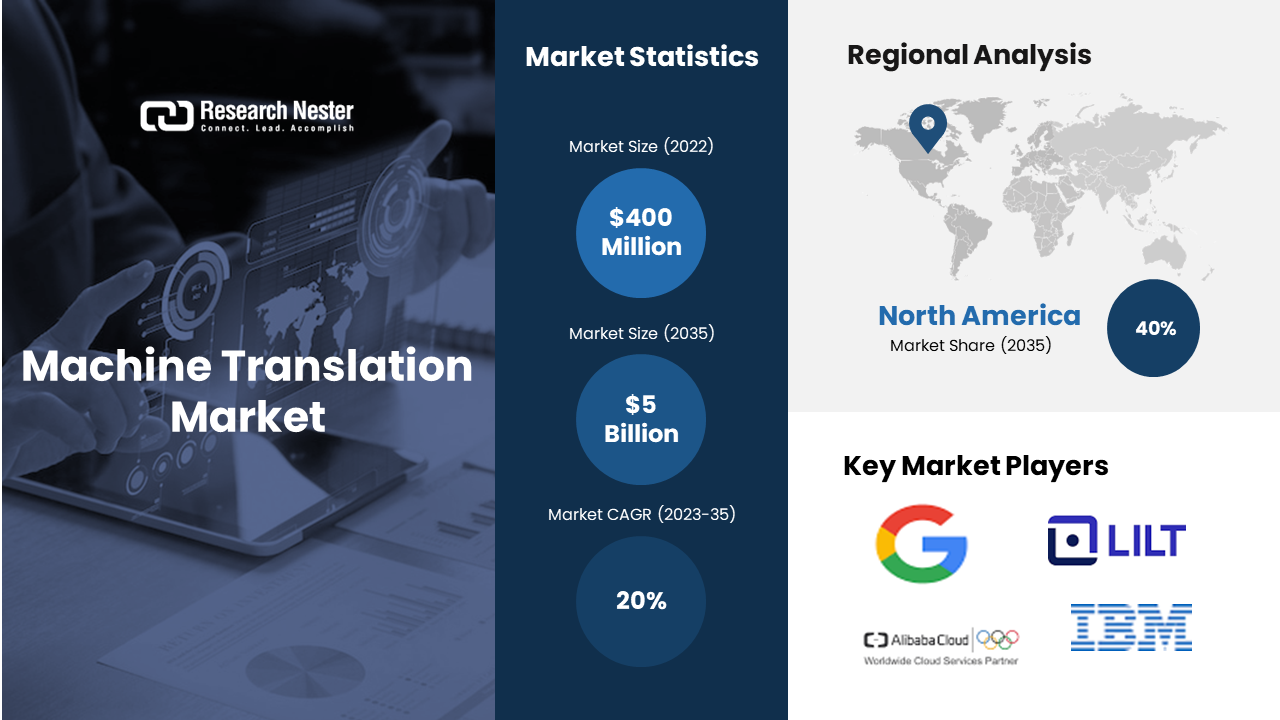 Machine Translation Market: Key Takeaways
Market in North America to propel highest growth
The military & defense segment to garner the highest growth
Market in Europe to grow at a highest rate
Increasing Demand for Multilingual Communication across the Globe to Boost Market Growth
Successful multilingual businesses have a more resourceful environment that helps them compete globally, while English-only businesses risk falling behind. About 90% of American employers rely heavily on employees who speak languages ​​other than English to conduct business without communication barriers.
Additionally, nearly 56% of companies believe that the need for a bilingual workforce will increase over the next five years. Mobile translation encompasses both the use of a mobile platform for human translation and mobile applications that increasingly use machine translation technology to translate words and phrases from your smartphone. China, India and the US are the three countries with the highest smartphone usage. There are currently almost 6 billion smartphone users worldwide and the number is expected to grow to around 700 million. NLP guarantees smoother, faster and safer language translation. Over the next 12-18 months, over 75% of UK businesses with active Natural Language Processing (NLP) initiatives plan to increase spending. Ecommerce platforms use machine translation to localize the business. Since customers prefer to read product information in their own language, a localized e-commerce platform also inspires trust and brand loyalty while helping to increase sales.
Machine Translation Market: Regional Overview
The market is segmented into five major regions including North America, Europe, Asia Pacific, Latin America, and the Middle East and Africa region.
Advancements in Natural Language Processing to Drive the Market Growth in North America Region
The machine translation market in North America region is estimated to garner the largest revenue by the end of 2035. Globalization has led to an exponential increase in cross-border communication and business interactions. Machine translation plays a crucial role in bridging language barriers and facilitating multilingual communication. According to a report, the global language services sales, which includes machine translation, was valued at USD 24.6 billion in 2020, with North America being one of the major contributors.
Natural Language Processing techniques, a key component of machine translation, have seen significant advancements. NLP enables machines to understand and process human language, leading to improved translation accuracy and fluency. The continuous advancements in NLP algorithms and models contribute to the growth of the machine translation market. Machine translation solutions are increasingly being integrated into various business workflows and applications. For example, they are integrated into customer support systems, content management systems, e-commerce platforms, and collaboration tools to enable real-time translation and multilingual support. The integration of machine translation enhances operational efficiency and enables businesses to reach a global audience. With the proliferation of digital content across websites, e-commerce platforms, social media, and digital media, the demand for translation services has surged. Machine translation provides a scalable solution to meet the growing volume of digital content that needs to be translated.
Request Free Sample Copy of this Report @ https://www.researchnester.com/sample-request-4767
Growing government efforts to Propel the Growth in the Europe Region
The Europe machine translation market is estimated to garner the highest CAGR by the end of 2035. The growth of the market is largely attributed to the increasing government efforts to push technology adoption for multilingualism. The EU promotes the research, development and application of language technologies to break down language barriers while preserving and promoting multilingualism.
According to the European Commission, there are two active programs to eliminate the language barrier in Europe. For example, the European program Horizon promotes research and innovation through cross-industry support for language technology. In addition, the Digital Europe program promotes the use of language technology in the public and business sectors in Europe.
Machine Translation, Segmentation by End User
Military & Defense
Automotive
E-Commerce
IT
Healthcare
Amongst these five segments, the military & defense segment in machine translation market is anticipated to hold the largest share over the forecast period. Governments around the world allocate significant budgets for defense purposes to enhance their military capabilities. According to SIPRI (Stockholm International Peace Research Institute), global military expenditure reached USD 1.92 trillion in 2020. This increasing defense expenditure drives the growth of the military and defense segment, as it provides funding for equipment, technologies, and infrastructure development.
Heightened geopolitical tensions and security threats drive the demand for advanced military and defense systems. Countries face various challenges, including terrorism, regional conflicts, and territorial disputes, which necessitate the development and procurement of advanced defense solutions. These security concerns contribute to the growth of the military and defense segment. Military forces worldwide strive to modernize their capabilities by adopting advanced technologies. This includes the integration of technologies like artificial intelligence, unmanned systems, cybersecurity solutions, and advanced communication systems. The need to maintain a technological edge and enhance operational efficiency drives the growth of the military and defense segment.
Purchase Copy of this Report @ https://www.researchnester.com/purchage/purchase_product.php?token=4767
Machine Translation, Segmentation by Deployment
Amongst these segments, the cloud segment is anticipated to hold a significant share over the forecast period. Organizations are increasingly adopting hybrid and multi-cloud strategies, combining public cloud services with on-premises infrastructure and multiple cloud providers. This approach allows organizations to leverage the best features of different cloud environments and avoid vendor lock-in. According to a Report, 92% of organizations have a multi-cloud strategy, and 80% have a hybrid cloud strategy. The proliferation of IoT devices generates vast amounts of data that require storage, processing, and analysis.
Cloud computing provides the necessary infrastructure to handle the scale and complexity of IoT data. The growing volume of data and the need for advanced analytics are driving the demand for cloud-based storage and processing capabilities. Cloud platforms provide scalable and cost-effective infrastructure for storing and analyzing large amounts of data. The COVID-19 pandemic has accelerated the adoption of remote work and highlighted the importance of cloud-based collaboration tools and platforms. Organizations are increasingly relying on cloud-based solutions for remote access to data, applications, and collaboration tools.
Machine Translation, Segmentation by Technology
Statistical Machine Translation
Neural Machine Translation
Rule-Based Machine Translation
Few of the well-known market leaders in the machine translation market that are profiled by Research Nester are AppTek, Amazon Web Services, Inc., Alibaba Cloud, Baidu, Cloudwords Inc., Google LLC, IBM Corporation, Lionbridge Technologies, LLC, Microsoft Corporation, Smart Communications, Inc., Lilt, Inc., and other key market players.
Recent Development in the Market
AAppTek announces the release of a new neural machine translation system that uses metadata as input to modify output and gives localization specialists access to more accurate, user-influenced machine translations. Apptek has also added hundreds of language and dialect pairs to its core machine translation platform.
Lilt, Inc. has partnered with Foresite Technology Solutions to bring multilingual content to the Foresite platform, increasing the productivity and skills of construction workers. In addition, Foresite aims to reduce communication-related safety concerns for construction workers.
About Research Nester
Research Nester is a one-stop service provider with a client base in more than 50 countries, leading in strategic market research and consulting with an unbiased and unparalleled approach towards helping global industrial players, conglomerates and executives for their future investment while avoiding forthcoming uncertainties. With an out-of-the-box mindset to produce statistical and analytical market research reports, we provide strategic consulting so that our clients can make wise business decisions with clarity while strategizing and planning for their forthcoming needs and succeed in achieving their future endeavors. We believe every business can expand to its new horizon, provided a right guidance at a right time is available through strategic minds.
CONTACT: AJ Daniel Corporate Sales, USA Research Nester Email: [email protected] USA Phone: +1 646 586 9123 Europe Phone: +44 203 608 5919

Disclaimer: The above press release comes to you under an arrangement with GlobeNewswire. AfternoonHeadlines.com takes no editorial responsibility for the same.