Lithium Iodide Market revenue to surpass USD 152 Million by 2035, says Research Nester
Prominent lithium iodide market players include Albermal Corporation, Leverton Clarke Ltd., Triveni Chemicals, Samrat Pharmachem Ltd., Nanjing Taiye Chemical Industry Co., Ltd., Suzhou Huizhi Lithium Energy Material Co., Ltd., American Elements, GODO SIGEN Co., Ltd., Luminous Power Technologies Pvt. Ltd., and HELM AG.
New York, Sept. 07, 2023 (GLOBE NEWSWIRE) — The global lithium iodide market size is predicted to expand at ~5% CAGR between 2023 and 2035. The market is projected to garner a revenue of USD 152 million by the end of 2035, up from a revenue of ~USD 97 million in the year 2022.The growing use of lithium iodide in the chemical industry is driving market growth, as lithium iodide can act as a catalyst or a co-catalyst in various chemical reactions. It is particularly used in certain organic synthesis reactions, such as the coupling of organometallic compounds and halogenation reactions.
Request Free Sample Copy of this Report @ https://www.researchnester.com/sample-request-5092
The rising demand for renewable energy is also expected to boost the lithium iodide market growth.  According to the analysis, renewables will be responsible for more than 90% of global electricity expansion over the next five years. Wind and solar will account for more than 90% of new renewable electricity capacity installed over the next five years. Lithium iodide has potential applications in certain types of solar cells, specifically perovskite solar cells. It aids the crystallization and formation of the perovskite layer and improves the efficiency of power generation from solar cells.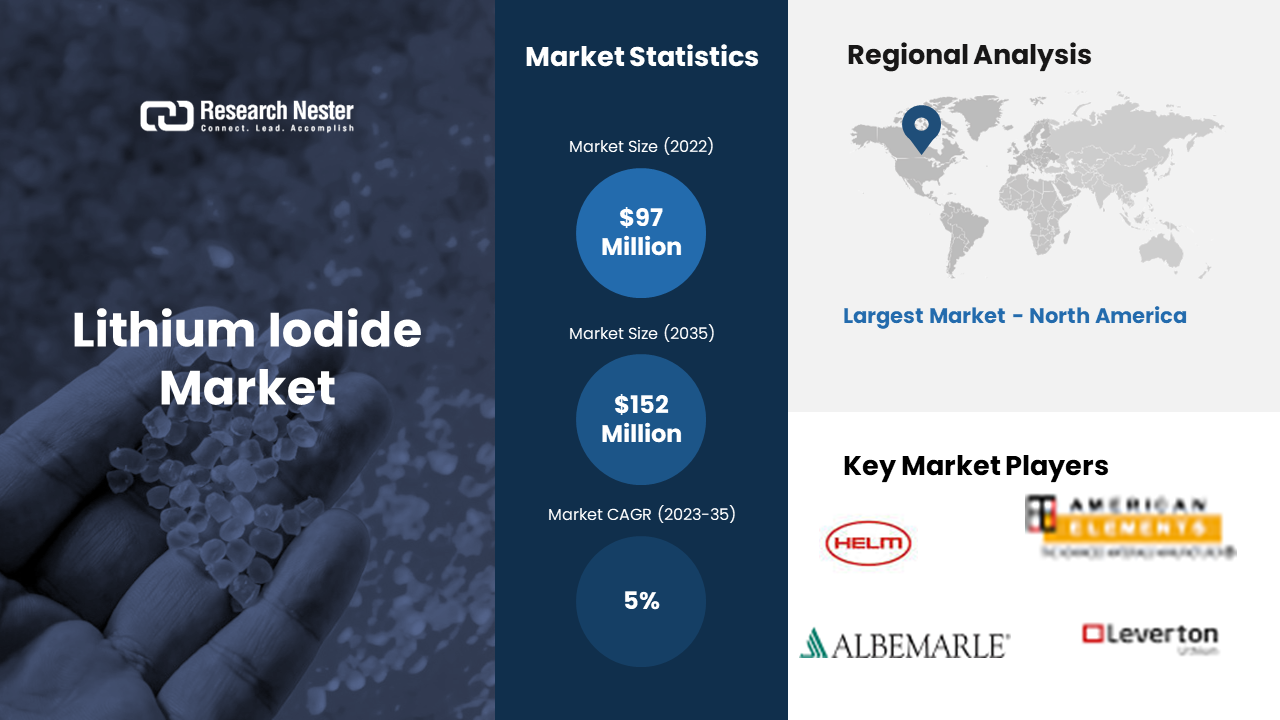 Lithium Iodide Market: Key Takeaways
Market in North America to propel highest growth
The electrolyte segment to garner the highest growth
Market in Asia Pacific to grow at the highest rate
Increasing Demand for Electric Vehicles across the Globe to Boost Market Growth
In China, the EU, and the United States, the average share in total sales of electric vehicles is anticipated to be nearly 60% by 2030. Lithium-ion batteries are the preferred choice for electric vehicles due to their high energy density, long cycle life, and lightweight nature. The demand for lithium-ion batteries is expected to climb elevenfold between 2020 and 2030, accounting for more than 2 terawatt-hours by the end of year 2030. Lithium iodide can be used as an electrolyte additive in lithium-sulfur batteries. 
Moreover, the addition of lithium iodide to the electrolyte improves the overall performance, stability, and cycling life of batteries, enabling their commercial viability. By 2030, the global nuclear capacity must increase by approximately 10 GW per year. Moreover, nuclear energy might provide approximately 14% of global electricity by 2050, up from 10% currently. In nuclear reactors, specifically designs of molten salt reactors (MSRs), lithium, is used as a component in the coolant or fuel salt. The lithium component helps in regulating the reactivity and temperature within the reactor.
Lithium Iodide Market: Regional Overview
The market is segmented into five major regions including North America, Europe, Asia Pacific, Latin America, and the Middle East and Africa region.
Expanding Pharmaceutical Research and Development to Drive Market Growth in the North America Region
The market for lithium iodide in the North American region is estimated to garner the largest revenue by the end of 2035. The rising manufacturing units of lithium iodide in the region are driving lithium iodide market growth in the region. For instance, SQM, a Chilean lithium and iodine manufacturer, has submitted to the environmental assessment service SEA a USD 987 million project to expand the lithium capacity of its Carmen plant. By adopting new technology, the business hopes to raise the plant's lithium production to 270,000t/y by 2024.
Research and development in the pharmaceutical sector, particularly in the field of thyroid disorders and radiographic contrast agents, could drive the demand for lithium iodide. The use of lithium iodide in certain types of nuclear reactors for cooling and neutron absorption could see growth with advancements in nuclear technology. Advances in materials science and chemistry could lead to new applications or improved formulations involving lithium iodide.
Make an Inquiry Before Buying this Report @ https://www.researchnester.com/inquiries-before-buying-5092
Growing Environmental Regulations and Sustainability to Propel the Growth in the Asia Pacific Region
The Asia Pacific lithium iodide market is estimated to garner the highest CAGR by the end of 2035. Rising investment in the production of batteries is estimated to surge the growth of the market in the region. China presently manufactures 75% of all battery cell capacity and 90% of anode and electrolyte production. Increased investment in carbonate and hydroxide refinery facilities in the country has also resulted in it becoming the world's largest refiner of battery metals. Stringent environmental regulations and sustainability initiatives could encourage industries to explore alternative chemicals, including iodine-based compounds like lithium iodide. As emerging technologies develop in fields like energy storage, semiconductors, and electronics, there could be increased interest in specialty chemicals like lithium iodide. Demand for iodine-based pharmaceuticals and medical products can drive the demand for lithium iodide, particularly in the treatment of thyroid disorders and radiographic contrast agents.
Lithium Iodide, Segmentation by Application
Amongst these segments, the electrolyte segment is anticipated to hold the largest share over the forecast period. The growth of the segment can be attributed to the increasing potential of lithium iodide electrolytes in emerging battery technologies, particularly solid-state lithium-ion batteries. These batteries are being developed as a promising alternative to conventional liquid electrolyte-based batteries. These batteries use solid-state electrolytes, which offer advantages such as improved safety, higher energy density, and wider operating temperature ranges.
Request for Customization of this Report @ https://www.researchnester.com/customized-reports-5092
Lithium Iodide, Segmentation by End User
Electronic
Automotive
Pharmaceutical
Chemical
Amongst these segments, the electronic segment in lithium iodide market is anticipated to hold a significant share over the forecast period. By 2028, the volume of consumer electronics is estimated to reach 8,974.00 million units across the globe. The average amount of consumer electronics per person is expected to surpass 1.08 items in 2023. Lithium-ion batteries are extensively used in portable consumer electronic devices, such as smartphones, tablets, laptops, digital cameras, and wearable devices. These devices rely on lithium batteries for energy storage needs.
The high power-to-weight ratio and rechargeable nature of lithium-ion batteries make them ideal for such gadgets. The rollout of 5G networks and the growth of the Internet of Things (IoT) drive demand for advanced electronic components. Demand for renewable energy systems and energy storage solutions, like batteries, creates opportunities in the electronic industry. Continuous innovation in consumer electronics, including wearables and smart devices, fuels demand for new electronic products.
Lithium Iodide, Segmentation by Product Type
Capacitors
Semiconductors
Engine Turbine Blades
Chemical Processing Equipment
Medical Equipment
A few of the well-known industry leaders in the lithium iodide market that are profiled by Research Nester are Albermal Corporation, Leverton Clarke Ltd., Triveni Chemicals, Samrat Pharmachem Ltd., Nanjing Taiye Chemical Industry Co., Ltd., Suzhou Huizhi Lithium Energy Material Co., Ltd., American Elements, GODO SIGEN Co., Ltd., Luminous Power Technologies Pvt. Ltd., and HELM AG, and other key market players.
Recent Development in the Market
HELM AG announced the collaboration with Leverton to find a new firm LevertonHELM. This collaboration will boost the production capacity of battery-grade lithium chemicals in Europe by opening new manufacturing capacities in Basingstoke UK.
Luminous Power Technologies Pvt. Ltd. has announced the release of the "Li-ON" inverter series, a combination inverter with Lithium-ion batteries. The brand-new series, which is based on Li-ion batteries coincides with the concept of an integrated approach to science and technology for a sustainable future.
About Research Nester
Research Nester is a one-stop service provider with a client base in more than 50 countries, leading in strategic market research and consulting with an unbiased and unparalleled approach to helping global industrial players, conglomerates, and executives for their future investments while avoiding forthcoming uncertainties. With an out-of-the-box mindset to produce statistical and analytical market research reports, we provide strategic consulting so that our clients can make wise business decisions with clarity while strategizing and planning for their forthcoming needs and succeed in achieving their future endeavors. We believe every business can expand to its new horizon, provided the right guidance at the right time is available through strategic minds.
CONTACT: AJ Daniel Corporate Sales, USA Research Nester Email: [email protected] USA Phone: +1 646 586 9123 Europe Phone: +44 203 608 5919

Disclaimer: The above press release comes to you under an arrangement with GlobeNewswire. AfternoonHeadlines.com takes no editorial responsibility for the same.