LifeNet of New York Flight Nurse Achieves Milestone
Clinician makes impression throughout the region impacting 1,000 lives
LifeNet of New York Flight Nurse Rod Kester recently transported his 1,000th patient.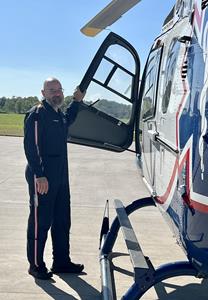 Watertown, NY, Oct. 04, 2023 (GLOBE NEWSWIRE) — For one flight clinician to serve 1,000 patients in a little over a decade is no easy feat. It takes time, dedication, grit, and mental fortitude to provide the highest level of care and ensure the safety of each patient with every transport. Recently, Flight Nurse Rod Kester transported his 1,000th patient after a little over 11 years of providing lifesaving care with Air Methods' LifeNet of New York. 
"This is a huge milestone for a flight clinician," said Bill Stubba, LifeNet of New York area manager and the person who hired Kester. "As a critical care transport clinician, that is 1,000 patients that were having the worst day of their life, and Rod had the opportunity to make a difference in their life."
Kester humbly recognizes making a difference in someone's life isn't achieved solo.
"I wouldn't have been able to help this many people without the great partners that I've worked with over the years," said Kester.  
While Kester's home base location is LifeNet 7-10 in Watertown, he has served LifeNet locations throughout the state of New York, working with many flight clinicians. Kester explained one of the defining moments of his career was working at a sister base with a teammate he had met for only 15 minutes before receiving a call to provide critical care support to a motorcyclist who was in a severe accident amputating his leg in the crash.
"While I never met Rich (clinical partner) until I filled in at our sister base, we were in lockstep treating the patient. The care we provided was like we've been working with each other for years," said Kester. "It just speaks to the professionalism and training our clinicians receive."
The LifeNet of New York program is operated by Air Methods, the nation's leading air medical service. LifeNet of New York's teams — a small but mighty crew consisting of a pilot, nurse, and paramedic — receive annual state-of-the-art specialty training. Pilots are trained using Level D Full Flight Simulators, the highest fidelity flight simulator approved by the Federal Aviation Administration, representing the most sophisticated and accurate simulators used by most commercial airlines.
Clinicians receive hands-on training through Air Methods Ascend, an in-person and online training program that allows clinicians to perform at the top of their licensure, providing the highest level of prehospital care, and enabling clinicians to work in lockstep across the region no matter the community they are serving. Ascend is also available to medical personnel across the nation.
The entire LifeNet of New York program has successfully achieved and maintains Commission on Accreditation of Medical Transport Systems (CAMTS) accreditation and carries the critical resources needed to provide ICU-level care while in flight, including the ability to carry and administer blood and/or plasma in flight.
"Our culture of clinical excellence involves repeated training, trust and accountability, making good decisions, and doing the right thing for each patient," said Kester. "We are all supported to continually learn and grow from our experiences."
Serving the state of New York for more than 25 years, LifeNet's air medical teams consistently raise the bar on patient care and clinical excellence, with thousands of logged clinical training hours, miles traveled, and patients served every year. In his time with LifeNet of New York, Kester has logged more than 41,000 hours on the clock and has completed more than 1,100 hours of continuing education over the last decade. He has seen firsthand the increased need for air medical service as the Watertown base location has grown in flight volume by more than 110% since opening in 2012.   
"Since 2012, Rod has performed at least 81 intubations, transported 217 ventilated patients, and started 300 intravenous therapies (IVs)," said Air Methods Clinical Director Misty Patty. "He is well respected at his base, in the region, and in the company."
Air Methods is committed to providing affordable air medical service to all who need it. They are in-network with most major health insurance providers, including Blue Cross Blue Shield, United Healthcare, Aetna, Humana, and many others. Additionally, the patient advocacy program works with all patients, regardless of insurance, to ensure affordability.
###
About Air Methods:
Air Methods (airmethods.com) is the nation's leading air medical service, delivering lifesaving care to more than 100,000 people every year. With over 40 years of air medical experience, Air Methods is the preferred partner for hospitals and one of the largest community-based providers of air medical services. Air Methods' fleet of owned, leased, or maintained aircraft features approximately 400 helicopters and fixed wing aircraft. Air Methods Ascend is the company's clinical education program, allowing critical care nurses and paramedics best-in-class training opportunities using high-fidelity manikins, virtual reality, and cadaver labs.
Attachment
CONTACT: Denisse Coffman Air Methods 720-666-8499 [email protected] 

Disclaimer: The above press release comes to you under an arrangement with GlobeNewswire. AfternoonHeadlines.com takes no editorial responsibility for the same.