Life Extension Survey Finds Over 80% of People Give Supplements to Their Dogs
New Life Extension® DOG includes multivitamin and probiotics, plus formulas for skin and coat, behavior and healthy joints
Life Extension® DOG Pet Supplements healthy dog chews Made in USA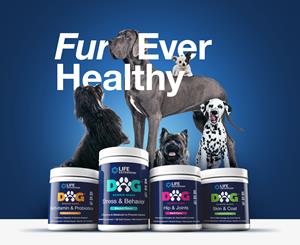 Fort Lauderdale, FL, Oct. 11, 2023 (GLOBE NEWSWIRE) — Treating your dog like a treasured member of the family is the rule and not the exception, according to a recent Life Extension customer survey about pet ownership. A whopping 65% of 1,400 survey respondents admitted they share their bed with their dogs, while 71% get them gifts.1 Being a doting pet "parent" isn't just about pampering, though; in fact, 80% of those surveyed give nutritional supplements to promote their dogs' health.1 To offer customers pet nutritional support made with the same quality and attention to detail as all their supplements, Life Extension has launched Life Extension® DOG, a line of Fur-Ever healthy formulas made for dogs of all breeds and sizes.
The Life Extension® DOG line includes: Multivitamin & Probiotics with A, C, D, E and B vitamins and colostrum from cow's milk for immune health; Hip & Joints with glucosamine complex and PEA and MSM for comfort; Stress & Behavior with calming L-theanine and melatonin; and Skin & Coat, which delivers high-potency omega-3 fish oil. All Life Extension® DOG line formulas are soft chews in pet-approved flavors.
"We understand the love and joy dogs bring into people's homes, so we wanted to give 'dog parents' a way to support their dog's health with high-quality products," said Dr. Andrew Swick, M.S., Ph.D., Chief Scientific Officer at Life Extension. He added that optimal nourishment for your day will benefit your health as well as your pooch's: "A large body of research shows that owning a dog can improve cardiovascular and cognitive health and stress management—so why not do everything you can to ensure your dog lives a long, healthy life?"
Life Extension® DOG is a new addition to Life Extension's assortment of more than 400 vitamins and supplements. The new line of pet supplements contains no artificial colors or flavors and is manufactured in the USA. To see the entire line, go to LifeExtension.com/dogsupplements.
1-Life Extension Pet Supplement Survey
METHODOLOGY:
Life Extension conducted a survey of 1,621 individuals to gain insights on if people/customers give their dogs supplements, and if they do, the reasoning behind why they give their dog supplements. The audience of the survey consisted of:
Life Extension Customers: 1,422 Qualified Respondents
Purchased List: 199 Qualified Respondents

56% Female | 44% Male
55%: 30-44 | 30%: 45-60 | 16%: 60+
60% household income > $75,000
About Life Extension® 
For 40 years, Life Extension has pursued innovative advances in health, conducting rigorous clinical trials and setting some of the most demanding standards in the industry to offer a full range of quality vitamins and nutritional supplements and blood-testing services. Life Extension's Wellness Specialists provide personalized counsel to help customers choose the right products for optimal health, nutrition and personal care. To learn more, visit LifeExtension.com. 
Attachment
CONTACT: Rey Searles Life Extension 954-766-8433 [email protected] 

Disclaimer: The above press release comes to you under an arrangement with GlobeNewswire. AfternoonHeadlines.com takes no editorial responsibility for the same.