Lee Health Announces Sponsorship of FGCU Student-Athletes NIL through SWFL Flight Crew Collective
Lee Health will contribute resources, support and healthcare, as well as orthopedic care, in connection to the Name, Image, and Likeness sponsorship
Lee Health sponsors FGCU Men's Basketball Student-Athletes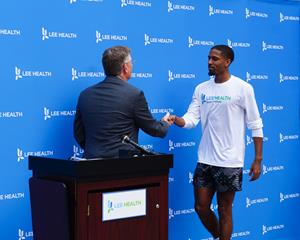 Lee Health sponsors FGCU Men's Basketball Student-Athletes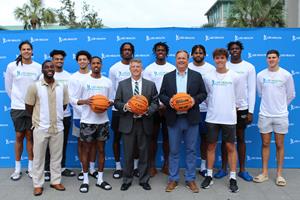 Fort Myers, Florida, Nov. 10, 2023 (GLOBE NEWSWIRE) —

CONTACT:
[email protected]
VIDEO AVAILABLE UNTIL 11/16/23: https://we.tl/t-PDx40J0aqa
Lee Health Announces Sponsorship with FGCU Student-Athletes through SWFL Flight Crew Collective
Lee Health will contribute resources, support and healthcare/orthopedic care
(Fort Myers, Fla. – Nov. 9, 2023) — Lee Health is pleased to announce that the health system will sponsor Florida Gulf Coast University (FGCU) Men's Basketball student-athletes through the SWFL Flight Crew, a community-driven Name, Image and Likeness (NIL) collective, which is organized independently of FGCU to advance the opportunities of FGCU Athletics. Lee Health is the first corporate sponsor of the NIL collective.
The collaboration, which will be a first-of-its-kind in Southwest Florida, will support the student-athletes from a community and healthcare-perspective, especially when it relates to orthopedic care, through Lee Health Sports Medicine. Lee Health is focused on enhancing its state-of-the-art, nationally leading orthopedic program.
"By partnering with the SWFL Flight Crew, Lee Health is helping foster growth and empowerment for student-athletes at FGCU and the Southwest Florida community. Together, we are working towards a strong future for everyone involved," said chief development, marketing and communications officer for Lee Health Chris Simoneau. "We are thrilled to partner with the collective to create a meaningful impact."
SWFL Flight Crew works to form partnerships between FGCU student-athletes and the local community to create opportunities for the student-athletes to earn appearance and endorsement fees, capitalizing on their name, image and likeness. SWFL Flight Crew signs agreements to represent the student-athletes in order to facilitate payments between parties. Those agreements also require the student-athlete to complete financial education courses and learn life skills. 
"We prioritize the achievement of entrepreneurial success, personal development and active civic engagement for our student-athletes. The goal is to nurture student-athletes into well-rounded citizens who contribute positively to Southwest Florida and society, both now and in the future," said Tim Cartwright, chair of SWFL Flight Crew. "We are thrilled to be able to partner with Lee Health and leverage their resources, excellent healthcare and orthopedic specialists."
Lee Health is committed to nurturing the wellbeing and healthcare of the Southwest Florida community.  Through its partnership with the SWFL Flight Crew, it's contributions will help student-athletes leverage their personal brands and amplify local charitable efforts through social media and public events.
Student-athletes boost the profile of these charities by leveraging their name, image and likeness in endorsements, appearances and social media campaigns. The revenue generated through community engagement goes toward compensating student-athletes, elevating local causes and ensuring student-athletes are more likely to remain enrolled at FGCU. In the near future, the student-athletes from the FGCU Men's Basketball program will be visiting with patients at Golisano Children's Hospital, helping to inspire healing of the children and exposing the players to the opportunities for future careers in healthcare.
This creates a supportive and impactful network that benefits athletes, charities, the community and the university.
To learn more about the NIL Collective SWFL Flight Crew, please visit https://swflflightcrew.com/#home.
About Lee Health
Since the opening of the first hospital in 1916, Lee Health has been a healthcare leader in Southwest Florida, constantly evolving to meet the needs of the community. A non-profit, integrated healthcare services organization, Lee Health is committed to the well-being of every individual served, focused on healthy living and maintaining good health. Healthcare services are conveniently located throughout the community in four acute-care hospitals, two specialty hospitals, outpatient centers, walk-in medical centers, primary care and specialty physician practices, and other services across the continuum of care. Learn more at www.LeeHealth.org.
About SWFL Flight Crew
SWFL Flight Crew is dedicated to crafting unique opportunities for FGCU student-athletes to harness the power of their name, image and likeness (NIL). By joining forces with local organizations, it cultivates meaningful NIL partnerships that elevate student-athletes and the community. SWFL Flight Crew, Inc. has no official relationship with FGCU and FGCU Athletics. The University and its employees are prohibited from making or facilitating NIL deals or payments to student-athletes. SWFL Flight Crew is a private beneficial corporation organized independently to advance the work of FGCU Athletics. Learn more at https://swflflightcrew.com/#home.
Attachments
CONTACT: Pat Dolce Lee Health 239-343-8370 [email protected] 

Disclaimer: The above press release comes to you under an arrangement with GlobeNewswire. AfternoonHeadlines.com takes no editorial responsibility for the same.