Lawmatics Launches In-Platform Generative AI for Law Firms
LM[AI] introduces an intuitive means of auto-drafting emails for legal marketing and intake.
Introducing Lawmatics AI
LM[AI] Product Screenshot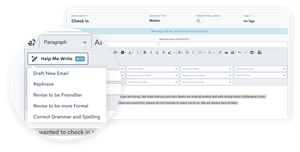 SAN DIEGO, CA, June 06, 2023 (GLOBE NEWSWIRE) — Lawmatics CRM announced today the launch of its in-platform artificial intelligence (AI). Known as LM[AI], this intuitive generative text tool will fundamentally transform how law firms execute marketing strategies and allocate resources.
"This is the kind of breakthrough I really needed when I first started my own law practice," said Lawmatics CEO and Co-Founder Matt Spiegel. "As attorneys, a lot of us actually like writing. But none of us like writer's block. With LM[AI], you never have to start from scratch."
In a competitive market, law firms need robust assets for their marketing and client intake. Email campaigns to nurture and follow-up with prospects are a necessity. But lawyers didn't go to law school to learn how to write compelling marketing copy. LM[AI] saves legal professionals valuable time and jumpstarts their creativity.
Users will provide a prompt, just as they would when using ChatGPT or any other generative AI tool. LM[AI] will draft a complete plaintext email, including merge fields where appropriate, based on the given prompt. Users can manually edit the generated text, or instruct LM[AI] to suggest rewrites of its own content.
"AI and automation are about giving businesses the tools they need to scale," said Roey Chasman, Lawmatics CTO and Co-Founder. "If you can spend even a little less time on these emails, you can focus more on helping your clients and building your business."
The legal industry is on the cusp of a smartfirm revolution. Major breakthroughs in automation and AI are fundamentally transforming the business of law. Stagnant firms coasting on manual legacy processes risk being left behind by firms that stay on the cutting-edge of technology. By making such technology accessible and intuitive, the launch of LM[AI] marks another significant step in Lawmatics' leadership of the smartfirm movement.
###
About Lawmatics
Lawmatics is the #1 CRM for law firms, offering marketing automation, legal client intake, time & billing, and much more – all in one easy-to-use software. With Lawmatics, law firms streamline their operations, impress clients, and win more business. Founded in 2017, Lawmatics is headquartered in San Diego.
To learn more, visit www.lawmatics.com.
Attachments
Introducing Lawmatics AI
LM[AI] Product Screenshot
CONTACT: Sarah Bottorff Lawmatics 8052596553 [email protected] 

Disclaimer: The above press release comes to you under an arrangement with GlobeNewswire. AfternoonHeadlines.com takes no editorial responsibility for the same.