[Latest]New Research Report Highlights Degaussing System Market's Growing Value of US$ 943.2 Million by 2032-By PMI
[Latest]New Research Report Highlights Degaussing System Market's Growing Value of US$ 943.2 Million by 2032-By PMI
covina, May 24, 2023 (GLOBE NEWSWIRE) — Degaussing System Market is estimated to be US$ 943.2 Million by 2032 with a CAGR of 4.0% during the forecast period
Degaussing System is a specialized technology used to neutralize or eliminate the magnetic field of objects or equipment. The term "degaussing" originates from the process of demagnetizing a material by applying a reverse magnetic field to it. Degaussing systems find applications in various fields, including electronics, data security, military, and marine industries. The primary purpose of a degaussing system is to remove or reduce unwanted magnetic fields. Magnetic fields can interfere with the operation of electronic devices, distort data stored on magnetic media, or cause malfunctions in sensitive equipment.
In the field of electronics and data security, degaussing systems are used to erase data from magnetic storage media such as hard disk drives (HDDs), magnetic tapes, and floppy disks. These systems generate a strong and varying magnetic field that completely erases the data stored on these media, ensuring data confidentiality and preventing unauthorized access or data recovery.
The degaussing system market deals with the production, distribution, and utilization of degaussing systems. Degaussing systems are devices used to demagnetize or degauss magnetic media, such as hard drives, tapes, and other electronic storage devices. These systems are designed to erase or render data unreadable from magnetic media, ensuring secure disposal or reuse of the devices.
Request a sample or make an inquiry by clicking the following link:
https://www.prophecymarketinsights.com/market_insight/Insight/request-sample/900
Degaussing System Market, By Solution (Degaussing, Ranging, Deperming), By Vessel Type (Small Vessels, Medium Vessels and Large Vessels), By End User (Original Equipment Manufacturer, Aftermarket, and Services), and, By Region (North America, Europe, Asia Pacific, Latin America and Middle East & Africa) – Trends, Analysis and Forecast till 2032
Key highlights
In January 2022, Larsen & Turbo limited announced the development of advanced defense technologies for Indian Defense forces. The company offers repair and installation services in addition to degaussing the outer surfaces of cargo and oil tanker ships. 
In November 2021, Under the F126 project, Damen (Netherlands) awarded a contract to The Marine Electrical Systems, a part of Wartsila SAM Electronics GmbH, to offer degaussing system, switchgear, lighting system, power distribution system, and unique equipment for an energy supply.
Key players
Larsen & Toubro Limited
Wärtsilä Corporation
Polyamp AB
Ultra Electronics Group
ECA GROUP
IFEN SpA
Dayatech Merin Sdn. Bhd.
American Superconductor Corporation
STL Systems AG
L3 Technologies, Inc.
Analyst View:
Degaussing system technological developments are propelling market expansion. These developments include the creation of stronger and more effective degaussing coils, better control systems, and improved user interfaces. Manufacturers are spending money on R&D to build more sophisticated degaussing systems that can erase data more quickly and securely. Degaussing System Market has potential for expansion in emerging economies where data security awareness is growing and technology adoption is increasing. Further, as these regions invest in developing their IT infrastructure and data protection measures, the demand for Degaussing System Market is expected to rise, presenting new market opportunities.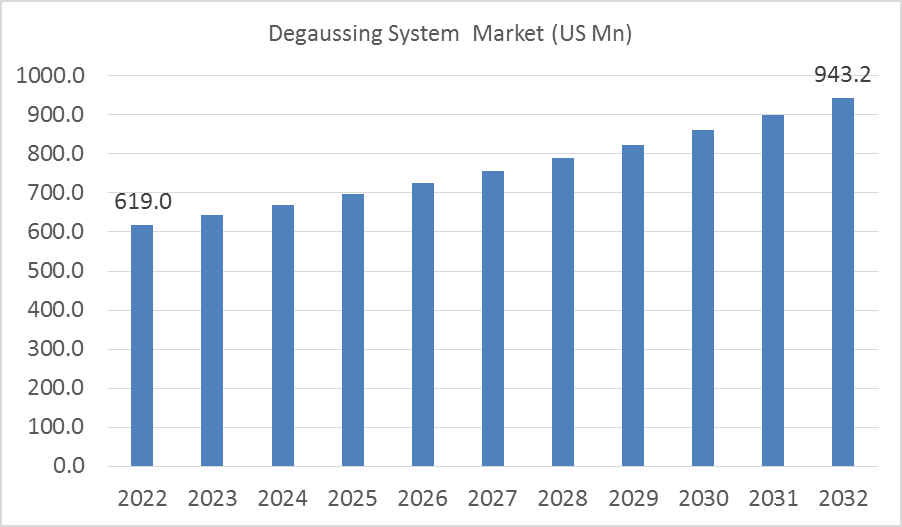 What are the Driver factors contributing to the growth of the Degaussing System Market?
Several driver factors contribute to the growth of the degaussing system market. These factors include:
Increasing data security concerns: The escalating number of data breaches and cyber threats has heightened the importance of data security. Organizations are becoming more vigilant in protecting sensitive information stored on magnetic media. Degaussing systems offer an effective solution for permanently erasing data from storage devices, mitigating the risk of data breaches.
Stringent data protection regulations: Governments and regulatory bodies across the globe have implemented strict data protection laws. These regulations mandate organizations to ensure the complete removal of data from storage devices before disposal or repurposing. Degaussing systems enable compliance with these regulations by providing a reliable and efficient method of data erasure.
Growing IT and electronics industry: The continuous advancements in technology and the expanding use of electronic devices have resulted in a significant increase in end-of-life media. Proper disposal and erasure of data from these devices are crucial to maintain data security.
Degaussing systems offer a reliable solution for securely erasing data from a wide range of electronic storage media.
Increased awareness about environmental sustainability: There is a growing focus on environmental sustainability and responsible electronic waste management. Degaussing systems play a role in this by facilitating the safe and secure recycling of electronic devices. By erasing the data and making the devices reusable, these systems contribute to reducing electronic waste and promoting sustainable practices.
Advancements in technology: The degaussing system market is witnessing advancements in technology, leading to the development of more efficient and user-friendly systems. These advancements include improvements in degaussing power, faster erasure processes, enhanced user interfaces, and compatibility with various types of storage media. Technological advancements drive market growth by offering better performance, reliability, and ease of use.
Increasing adoption in defense and military sectors: The defense and military sectors have stringent data security requirements. Degaussing systems are extensively used in these sectors to erase classified or sensitive information from magnetic media. The growing adoption of degaussing systems in defense and military applications contributes to market growth.
Rising awareness of secure data erasure: Organizations and individuals are becoming more aware of the risks associated with improper data disposal. Secure data erasure is crucial to protect sensitive information and maintain data privacy. Degaussing systems are recognized as a reliable method for permanent data erasure, driving their adoption in various industries.
These driver factors collectively contribute to the growth of the degaussing system market. As data security concerns continue to rise, and organizations prioritize compliance with data protection regulations, the demand for reliable and efficient data erasure solutions like degaussing systems is expected to increase.
Download pdf brochure: https://www.prophecymarketinsights.com/market_insight/Insight/request-pdf/900
About Prophecy Market Insights
Prophecy Market Insights is specialized market research, analytics, marketing/business strategy, and solutions that offers strategic and tactical support to clients for making well-informed business decisions and to identify and achieve high-value opportunities in the target business area. We also help our clients to address business challenges and provide the best possible solutions to overcome them and transform their business.
Related report:
Pressure Vessel Market, By Material (Steel Alloy, Other Alloy, and Composites), By Product Type (Boiler, Nuclear Reactor, Separator, and Others), By End-Use Application (Oil and Gas, Chemical, Power Generation, and Others), and By Region (North America, Europe, Asia Pacific, Latin America, and Middle East & Africa) – Trends, Analysis and Forecast till 2032
Inland Waterways Vessels Market, By Type (Passenger Ships and Non-Passenger Vessels), By Application (LNG, LSFO, Diesel Oil, HFO, and Biofuel), and By Region (North America, Europe, Asia Pacific, Latin America, and Middle East & Africa) – Market Trends, Analysis, and Forecast till 2029
  
CONTACT: Shweta R Prophecy Market Insights U.S.: +1 860 531 2574 APAC: +917775049802 Email- sales@prophecymarketinsights.com Web: www.prophecymarketinsights.com 

Disclaimer: The above press release comes to you under an arrangement with GlobeNewswire. AfternoonHeadlines.com takes no editorial responsibility for the same.