Landmarks Illinois wins national award for saving the Ebony Test Kitchen
Landmarks Illinois accepts an Advocacy Award of Excellence from Docomomo US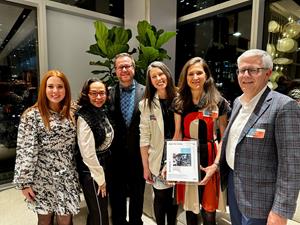 Chicago, Nov. 07, 2023 (GLOBE NEWSWIRE) — Landmarks Illinois has received an Advocacy Award of Excellence from Docomomo US for its years-long effort to save the Ebony Test Kitchen – a culturally significant part of the Johnson Publishing Company legacy and prominent feature in its former headquarters in Chicago.
The award was given as part of the 2023 Modernism in America Awards that highlight preservation projects across the country. Landmarks Illinois, along with all 2023 award winners, were honored at a public ceremony in New York City on November 2.
Landmarks Illinois President & CEO Bonnie McDonald accepted the award with the following project participants: Lisa DiChiera, former Landmarks Illinois Director of Advocacy; Sandra Rand, Landmarks Illinois Board Member and Chair of the Landmarks Illinois Ebony Test Kitchen Advisory panel; and Michael Johnson, Landmarks Illinois volunteer. Landmarks Illinois Board of Directors Vice Chair Erika Block was also on hand to represent the organization.
"It is an honor to be recognized at the national level for what has become one of Landmarks Illinois biggest preservation success stories in its 52-year history," said McDonald. "Over the past five years, Landmarks Illinois and the many project partners have remained dedicated to ensuring this incredibly important place in African American culinary history is preserved and celebrated. We thank Docomomo US for bringing further attention to the Ebony Test Kitchen and its paramount role in our nation's story." 
About the project to save the Ebony Test Kitchen
The Ebony Test Kitchen, designed by Palm Springs-based interior designers William Raiser and Arthur Elrod, was used for decades by Ebony Magazine food editors to test recipes that would appear in the popular publication. Landmarks Illinois' work to save the iconic kitchen from demolition began in 2018, when the Johnson Publishing Company Building in Chicago was about to be redeveloped into rental apartments.
With the help of its Skyline Council committee and additional volunteers, Landmarks Illinois documented, dissembled and safely put the kitchen into storage. Later, the kitchen was loaned to the Museum of Food and Drink (MOFAD) and prominently featured in its exhibition, African/American: Making the Nation's Table, which ran from February to July 2022 at the Africa Center in Manhattan. In 2023, Landmarks Illinois donated the test kitchen to the National Museum of African American History and Culture in Washington, D.C.to be part of the museum's permanent collection.
Read more about the Test Kitchen preservation effort at our website.
More about the Docomomo US 2023 Advocacy Award of Excellence
Docomomo US (which stands for Documentation and Conservation of buildings, sites and neighborhoods of the Modern Movement) is a nonprofit organization that aims to preserve modern architecture and design. It announced the 2023 Modernism in America Awards via press release in September.
"It is rare to find a site that combines midcentury design, historic foodways, and Black history in such a symbolic way as the Ebony Test Kitchen," Docomomo US Vice President of Advocacy Todd Grover said in the organization's press release. "It is a gift to us all that it is being preserved and we look forward to when the public is able to visit it in-person once again."
The full project team included on the 2023 Advocacy Award of Excellence for the Ebony Test Kitchen preservation effort is: Landmarks Illinois (Frank Butterfield, Lisa DiChiera, Kaitlyn McAvoy, Bonnie McDonald); Skyline Council of Landmarks Illinois and volunteers (Justin Barnes, Susanna Craib-Cox, Eric Dexter, Jill Dexter, Chris Enck, Lauren Garvey, Monica Giacomucci, Michael Johnson, Rachel Leibowitz, Chelsea Medek, Gloria Moy, Lewis Purdy, Anthony Rubano, Erica Ruggiero, Laura Schuetz, Matt Seymour, Meredith Morgan Stuart); Ebony Test Kitchen Advisory Panel (Adele Cygelman, Chris Enck, Graham Grady, Ra Joy, Yvette LeGrand, Nathan Mason, Eric T. McKissack, Langdon Neal, Angelique Power, Sandra Rand, Joseph W. Slezak, Amanda Williams); Lee Bey (formerly of the DuSable Black History Museum and Education Center); Chris Enck (Revive Architecture); Joe Slezak (3L Real Estate); Museum of Food and Drink (Peter Kim, Nazli Parvizi, Catherine Piccoli, Jean. Nihoul); Smithsonian National Museum of African American History and Culture (Kevin Young, Joanne Hyppolite, Ph.D.). 
Landmarks Illinois also wishes to extend additional thanks to: W.E. O'Neil Construction, Movetastic, The Africa Center, Eden Bridgeman Sklenar (EBONY Media) and Flatbush Moving and Storage.
About Landmarks Illinois
We are People Saving Places for People. Landmarks Illinois is a membership-based, historic preservation nonprofit organization serving the people of Illinois. We inspire and empower stakeholders to save places that matter to them by providing free guidance, practical and financial resources and access to strategic partnerships. For more information, visit www.Landmarks.org.
Attachment
CONTACT: Kaitlyn McAvoy Landmarks Illinois 312-995-9679 [email protected] 

Disclaimer: The above press release comes to you under an arrangement with GlobeNewswire. AfternoonHeadlines.com takes no editorial responsibility for the same.