Kraken Kratom Introduces Innovative New Nano Kratom Shot Line
Kraken Kratom Launches Innovative Zenith NANO 250: Leading the Way with Enhanced Nano-emulsified Kratom Shots for Superior Absorption and Taste
Zenith Nano 250 Liquid Kratom Shot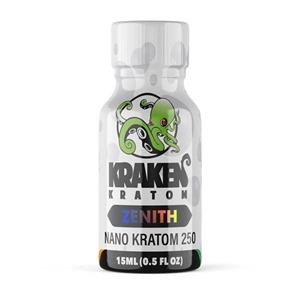 Check out our newest nano emulsified liquid Kratom shots!
PORTLAND, Ore., Oct. 06, 2023 (GLOBE NEWSWIRE) — Kraken Kratom, a premier name in the Kratom industry, has just released a new state-of-the-art line of Nano Kratom Shots. Recognizing the need for a more concentrated, convenient, and nano-emulsified formula, the company presents a series of 4 new liquid Kratom shots, all crafted using this new innovative process.
After extensive efforts, Kraken's research and development team has harnessed a unique nano-emulsification process that enhances the bioavailability of active alkaloids found in these Kratom shots. This breakthrough ensures that consumers receive an optimized Kratom experience, without the need for synthetic additives or carbonation. Instead, they enjoy a naturally flavorful, robust, and unique Kratom shot.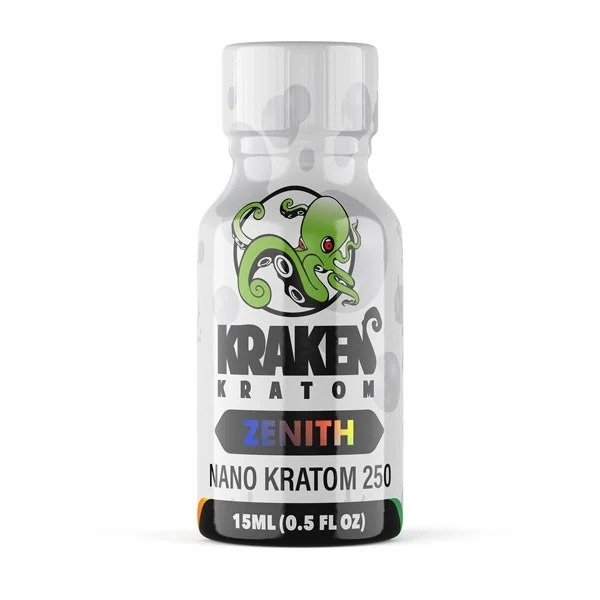 What is Nano Emulsification?
Nano emulsification is an advanced process that transforms larger particles of a substance into nano-sized droplets, enhancing their solubility and absorption. This technique, prominent in sectors like food science, cosmetics, and pharmaceuticals, increases the surface area of active compounds, ensuring quicker and more efficient delivery. The result is not only a boost in the efficacy of products but also a visually appealing, stable mixture that resists separation, promising a prolonged shelf life and an enriched consumer experience.
Spotlight on Nano Kratom Shots
The Zenith NANO 250 Kratom Shot leads the new line, setting the gold standard for liquid Kratom. Not only does it suppress Kratom's inherently bitter profile with its organic flavors, but each 15ml bottle also contains an impressive 250mg of mitragynine. With three servings per bottle, each delivering 83.33mg, the Zenith NANO 250 is specifically crafted for seasoned Kratom connoisseurs.
Nano 150 Liquid Kratom Shot: Now available in two distinctive flavors – Curuba and Cappuccino. Whether you're seeking the refreshing tropical taste of curuba or the warm richness of cappuccino, each of these Kratom shots delivers 150mg of mitragynine, ensuring a harmonious and flavorful Kratom experience.
Nanoberry Liquid Kratom Extract: A beginner-friendly choice, the Nanoberry Liquid shot delivers a delightful berry flavor, coupled with 56mg of mitragynine per bottle.
Kraken Kratom remains dedicated to providing only the highest quality products. This commitment shines through in their innovative nanoemulsion technique, which ensures that the Kratom extract in each shot can be efficiently absorbed.
Try Them Today & Experience the Difference
Kraken Kratom invites everyone to sample the new liquid Kratom shots. With a commitment to quality, safety, and customer satisfaction, Kraken Kratom ensures that each shot offers a unique and unparalleled experience. Dive into the world of flavors, from Cappuccino to Curuba, and discover why Kraken Kratom remains a trusted name in the industry.
"We are pushing the boundaries with our new line of Nano Kratom shots," said Jenn Lauder, Director of Marketing at Kraken Kratom. "The nano-emulsification process, refined by our team, promises to deliver an elevated Kratom experience for our customers. At Kraken, we're not just keeping up with industry standards — we're setting them."
About Kraken Kratom:
Kraken Kratom is a family-owned herbal products company based in Portland, Oregon. Specializing in the procurement and sale of botanicals such as kratom and kava, Kraken strives to provide consistent, high-quality products that conform to rigorous standards. Since 2014, Kraken has been a leader in the kratom industry, with a steadfast commitment to advocacy, compliance, and consumer safety.
A photo accompanying this announcement is available at: https://www.globenewswire.com/NewsRoom/AttachmentNg/dea524df-1a98-4267-9620-f678e18377f2
A video accompanying this announcement is available at: https://www.globenewswire.com/NewsRoom/AttachmentNg/61e6ce98-ca2e-4284-9a50-2b30a3b7378a
CONTACT: For more information, visit https://krakenkratom.com or contact Jenn Lauder at [email protected]

Disclaimer: The above press release comes to you under an arrangement with GlobeNewswire. AfternoonHeadlines.com takes no editorial responsibility for the same.