Korean Shopping Platform Ringko Now Providing Free Shipping to the United States
Ringko uncovers hidden gems and carries products not found on Amazon
Ringko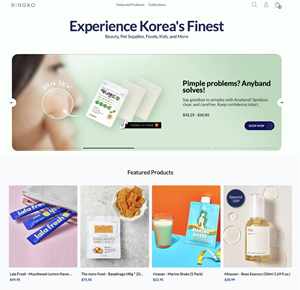 Los Angeles, CA, Oct. 18, 2023 (GLOBE NEWSWIRE) — Ringko, the shopping platform that offers unique Korean beauty products, pet supplies, food, items for children and more, is now providing free shipping from Korea to anywhere in the United States.
Ringko is able to offer its Korean lifestyle products with free shipping due to streamlined logistics that other brands and e-commerce struggle with, resulting in reduced shipping costs.
While K-beauty brands were once all the rage, consumers are now seeking products tailored to their individual preferences. In response to this consumer trend, Ringko is gradually gaining popularity by uncovering hidden gems and carrying products not found on Amazon.
From brands moms used a decade ago in Korea, to items bought after browsing through a friend's purchases following a trip to Korea, or even products inspired by skincare routines seen in dramas, consumers are on a wild research spree to source unique, story-filled products.
Featured among Ringko's hundreds of products are Mixsoon's bean essence, AnyBand acne pimple patches, a Noubohe ribbon bra top and Lingtea's hydration powder stick.
There are more than 308 million users of Ringko's bean essence, which effectively eliminates dead skin cells and excess sebum. The first 200 people to purchase the moisturizer will receive a free pore cleansing device.
There are more than 308 million users of Ringko's bean essence moisturizer, which effectively eliminates dead skin cells and excess sebum. The first 200 people to purchase the moisturizer will receive a free pore cleansing device.
Ringko's AnyBand acne pimple patches have a strong adhesion that allows them to stay attached for one or two days after a light cleansing. The bands not only absorb secretions but also protect wounds and their thinness allows for makeup application even with a patch on the skin.
The X-shaped crossed backline straps on the Noubohe ribbon bra top are designed so they do not interfere with shoulder blades, providing stable and comfortable support during movements. Additionally, they are designed for comfort and crafted with powerful yet lightweight fabric, offering exceptional stretch and breathability.
Ringko's hydration powder sticks, with glucose and amino acids, provide hydration beyond water. Lingtea is caffeine free and low in sugar, but tasty, and is available in two unique flavors – soft lemon and peach.
In addition, Ringko has products curated for the United States market, including 100 percent baked, non-fried Basachago sweet potatoes that are vegan certified and prepared without preservatives or artificial ingredients, and Basachango cranberry and almond sweet potato chips that go great with milk. The chips with milk provide a healthy and fulfilling meal.
Ringko also carries Moonya Moonya clothing and underwear for kids. There is minimal friction between the skin and the fabric in its clothing, which is sourced from plants and is eco-friendly. The fabric does not fray or shrink and its soft quality is long lasting and withstands multiple washes.
Other popular products offered by Ringko include stylish activewear that enhances performances for activities like yoga and cycling. Ringko also offers a range of health supplements with nature's finest ingredients, including rejuvenating antioxidants that ignite inner vitality and are a passport to a thriving, well-rounded life.
To see and purchase Ringko's unique products, visit ringko.com. The company can also be followed on Instagram and TikTok.
Company Name: Ringko
Contact Person: Jeongeun Kim
Email: [email protected]
Website URL: https://ringko.com/
Disclaimer: There is no offer to sell, no solicitation of an offer to buy, and no recommendation of any security or any other product or service in this article. Moreover, nothing contained in this PR should be construed as a recommendation to buy, sell, or hold any investment or security, or to engage in any investment strategy or transaction. It is your responsibility to determine whether any investment, investment strategy, security, or related transaction is appropriate for you based on your investment objectives, financial circumstances, and risk tolerance. Consult your business advisor, attorney, or tax advisor regarding your specific business, legal, or tax situation. For more info, please contact [email protected].
Attachment

Disclaimer: The above press release comes to you under an arrangement with GlobeNewswire. AfternoonHeadlines.com takes no editorial responsibility for the same.