Kevin Borg, PharmD, Honored as the 2023 PCCA Compounding Pharmacist of the Year
This annual award recognizes excellence and leadership in pharmacy compounding.
Kevin Borg, PharmD, FAPC, FACA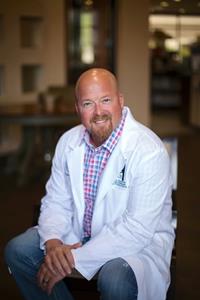 Houston, Texas, Oct. 27, 2023 (GLOBE NEWSWIRE) — PCCA has named Kevin Borg, PharmD, FAPC, FACA, owner of Potter's House Apothecary in Peoria, Arizona, and Prescott Compounding Pharmacy in Prescott, Arizona, the 2023 M. George Webber, PhD, Compounding Pharmacist of the Year. PCCA President Jim Smith presented the award to Borg on Friday, October 27, during the company's ThinkNext: International Seminar 2023, attended by more than 400 compounders from the United States, Canada, Australia and beyond.
"Kevin has a giant heart and is devoted to doing good in the world," Smith said. "Since becoming a member many years ago, he has relentlessly supported PCCA and the compounding profession — never hesitating to help a fellow compounder or participate in PCCA events. And his commitment to quality and exceptional service are reflected in the success of his compounding pharmacies and the continued recognition he receives from compounding professionals, patients and healthcare providers."
Compounding is the art of preparing customized medications to meet each prescriber's and patient's unique needs. The M. George Webber Pharmacist of the Year award is presented annually to an independent compounding pharmacist who demonstrates service excellence to patients, health care providers and pharmacy colleagues.
Borg continuously advocates for compounders and is actively engaged in several professional organizations. He regularly invites legislators to tour his pharmacies so they can see, firsthand, the value, quality and care compounded preparations offer patients. Plus, he hosts countless educational events at his pharmacies, so prescribers and patients can learn and understand how compounded preparations can meet an individual's unique needs.
In 2001, Borg earned his doctorate in pharmacy at Midwestern University College of Pharmacy in Glendale, Arizona. As a pharmacy student, he was a member of the Rho Chi Honor Society and received many awards including the Pfizer Outstanding Leadership Award and the Roche Pharmacy Communications Award. As an alumnus, Borg received the prestigious Littlejohn Award by Midwestern University that honors the values of service, caring and commitment to the industry.
After working in retail pharmacy, Borg pursued his passion of assisting patients with unique treatment needs by opening Potter's House Apothecary in 2009. Prior to opening Potter's House, Borg joined PCCA's Compounding Pharmacy Management Services (CPMS) group and attended pre-marketing classes to ensure he was ready to serve patients within his community. His concern for his community extended to local law enforcement and fire departments when, during the pandemic, he stepped up to provide support, making sure the first responders were well protected. His Potter's House team continues to support the mitochondrial disease community by participating in fundraisers, such as walks, and in 2014 hosted a Cream Mito event. 
Borg has served on the PCCA Advisory Council, the Association for Pharmacy Compounding (APC) Board of Directors, the National Community Pharmacists Association (NCPA) Compounding Committee, the Pharmacy Compounding Foundation Board of Directors and the Midwestern University Dean's Advisory Board. In 2014, Potter's House Apothecary was recognized for three local business awards, including as a finalist for the Arizona State University W.P. Carey School of Business Spirit of Enterprise Award for excellence in entrepreneurship. Phoenix Business Journal recognized Potter's House Apothecary as one of the Top 10 Best Places to Work for small businesses and as one of the Top 15 Fastest Growing Businesses in Arizona. Borg expanded his compounding services with the opening of Prescott Compounding Pharmacy in Prescott, Arizona, in 2021.
At the ThinkNext: International Seminar 2023 awards ceremony, Borg was welcomed to the stage by previous Pharmacist of the Year honorees, as well as his family and staff members.
The late M. George Webber, PhD, for whom the award is named, was a longtime professor with the University of Houston College of Pharmacy and was instrumental in the formation of PCCA in 1981. Webber was tenaciously committed to meeting patient needs and upholding the highest quality and ethical standards. He shared his expertise and love for compounding with numerous colleagues and students for more than 40 years.
# # #
ABOUT PCCA
PCCA supports the creation of personalized medicine and innovative products that make a difference in patients' lives. As a complete resource for independent compounding pharmacies and health system pharmacies, PCCA provides high-quality products, education and support to more than 3,000 pharmacy members throughout the United States, Canada, Australia and other countries around the world. Incorporated in 1981 by a network of pharmacists, PCCA has supported pharmacy compounding for more than 40 years. Learn more at pccarx.com.
Attachment
CONTACT: Kim Speairs, APR, MBA PCCA 817-729-5064 [email protected] 

Disclaimer: The above press release comes to you under an arrangement with GlobeNewswire. AfternoonHeadlines.com takes no editorial responsibility for the same.