Keeping Ukraine connected: Kyivstar CTO addresses GSMA Sec Con at MWC Las Vegas 2023
Volodymyr Lutchenko, the Chief Technology Officer of Kyivstar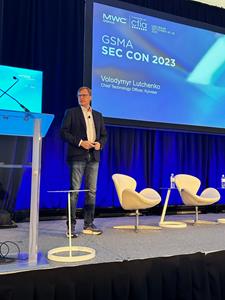 Amsterdam, 28 September 2023 – VEON Ltd. (NASDAQ: VEON, Euronext Amsterdam: VEON), a global digital operator that provides converged connectivity and online services, addressed MWC Las Vegas 2023, the mobile telecommunication industry's largest event in the Americas, with Volodymyr Lutchenko, the Chief Technology Officer of Kyivstar, taking the stage to share how Kyivstar keeps Ukraine connected. 
Addressing the participants of GSMA Sec Con as a part of the session "Securing Telecoms in Times of Conflict", Lutchenko underlined the importance of emergency preparedness and building resilience. Over the course of the past 19 months, Kyivstar has focused extensively on resilience, building multiple redundancy into its core network and investing in the energy infrastructure of its sites with power generators and batteries. 
Despite significant impacts on its network and doubling of the intensity of DDoS attacks, Kyivstar maintains network availability at 94% and support Ukraine's cybersecurity.
"Rebuilding and defending the telecoms network in Ukraine has been critical in keeping the people of Ukraine connected during the past 19 months," states Volodymyr Lutchenko, CTO of Kyivstar.  "We have worked closely with the Ukrainian Government and benefitted from the support of the telecoms industry to ensure access to communications and digital services for the people of Ukraine."
To ensure continuity of essential services, Kyivstar has continuously invested in the country's infrastructure, rebuilding sites, reconnecting recovered territories, and responding to shifting demand in new settlements.  VEON and Kyivstar have also committed to USD 600 million in investments over the next three years for the recovery and reconstruction of Ukraine. This includes collaborations with international partners, including the recent MoU between VEON and Rakuten to explore rebuilding parts of the network with OpenRAN and cooperation in the digital arena. 
About VEON
VEON is a digital operator that provides converged connectivity and digital services to nearly 160 million customers.  Operating across six countries that are home to more than 7% of the world's population, VEON is transforming lives through technology-driven services that empower individuals and drive economic growth.  Headquartered in Amsterdam, VEON is listed on NASDAQ and Euronext.
For more information visit: https://www.veon.com.
About Kyivstar:
Kyivstar is the largest telecoms operator in Ukraine with 24.3 million mobile subscribers and over 1.1 million home internet subscribers. The company provides services based on mobile and fixed-line technologies, including 4G, as well as innovative services such as Big Data, IoT, cloud solutions, digital TV, digital health and others. The company provides the highest average speed of mobile data transmission among Ukrainian mobile operators. Kyivstar is 100% owned by the international VEON Group, headquartered in the Netherlands and listed on NASDAQ and Euronext Amsterdam stock exchanges. For more information visit www.kyivstar.ua.
Disclaimer 
This release contains "forward-looking statements," as the phrase is defined in Section 27A of the U.S. Securities Act of 1933, as amended, and Section 21E of the U.S. Securities Exchange Act of 1934, as amended. Forward-looking statements are not historical facts, and include statements relating to, among other things, VEON's strategy and investment plans. Forward-looking statements are inherently subject to risks and uncertainties, many of which VEON cannot predict with accuracy and some of which VEON might not even anticipate. The forward-looking statements contained in this release speak only as of the date of this release. VEON does not undertake to publicly update, except as required by U.S. federal securities laws, any forward-looking statement to reflect events or circumstances after such dates or to reflect the occurrence of unanticipated events.
Contact Information:
VEON 
Hande Asik
Group Director of Communication 
[email protected]
TUVA Partners
Julian Tanner
[email protected]
Attachment

Disclaimer: The above press release comes to you under an arrangement with GlobeNewswire. AfternoonHeadlines.com takes no editorial responsibility for the same.