Judge Paul J. Watford Inspires the Next Generation of Jurists at Southwestern's Inaugural Distinguished Jurist-in-Residence Program.
Judge Watford, one of the legal industry's most respected and accomplished professionals, visited the Southwestern community to discuss a range of topics, including his legal and judicial career, appellate practice, challenges facing the judiciary, his advice for law students, and more.
Judge Paul J. Watford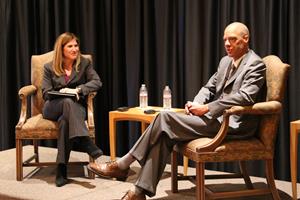 Los Angeles, California, March 14, 2023 (GLOBE NEWSWIRE) — Southwestern Law School was honored to host The Honorable Paul J. Watford, U.S. Court of Appeals for the Ninth Circuit, at the law school's Inaugural Distinguished Jurist-in-Residence Program in February. The event gave law students a unique opportunity to hear directly from one of the nation's most esteemed jurists.  
President and Dean Darby Dickerson commented on the event: "Judge Watford was a perfect choice as of inaugural Distinguished Jurist-in-Residence. Since beginning the position last fall, he has guest lectured in many classes and also will be holding other sessions with law students and alumni. His career is a testament to the power of hard work, dedication, and a commitment to justice. We are grateful to him for sharing his time and expertise."  
During the discussion, moderated by Southwestern Vice Dean Julie Waterstone, Judge Watford discussed his legal and judicial career, including his time clerking for Judge Alex Kozinski on the Ninth Circuit and Supreme Court Justice Ruth Bader Ginsburg, his work as an appellate lawyer, and his experience serving on the Ninth Circuit.   
Throughout the event, Judge Watford emphasized the importance of impartiality and moderation in the judicial process. He encouraged students to approach their work with steadfast objectivity and fairness while still striving to uphold the law. "In all societies — no matter how simple or complex — disputes will arise, and you're going to need people who are perceived as being fair and impartial to resolve them. I try to be open-minded and fair to everybody who comes before me."  
During the audience Q&A, a special guest stood to ask the first question. Michael Waterstone, Dean of Loyola Law School, admired the "quality and care that [Judge Watford] gives to legal writing and opinions" and inquired about the judge's writing technique and process. "Write for other lawyers," Judge Watford responded. "Start with that informed, intelligent person as your audience, and then try to write in a way clear enough that somebody with no background in that area of a law could understand."  
Judge Watford's remarks impressed the law students present. "I was struck by how Judge Watford explained about how honored he was to work with his law clerks, to have the ability to influence their careers, and to watch them blossom into strong legal advocates," said Southwestern Student Elena Cordonean '23. "In addition, I was moved by Judge Watford's stories about his upbringing, journey to the bench, and time as a clerk for Justice Ruth Bader Ginsburg, who has impacted the lives of millions of Americans." Cordonean, Editor in Chief of the Southwestern Law Review, described leaving the event feeling inspired and galvanized in her work. 
For Judge Watford, inspiring future attorneys and judges and "watching them go off and do great things in their career" is the best part of the job. 
### 
Southwestern Law School has been at the forefront of legal education for 111 years. Founded in 1911, Southwestern Law School is the only ABA-approved law school offering five J.D. courses of study differing in scheduling and instructional approach, including traditional full- and part-time programs. Its two-year accelerated program (SCALE) is the best-attended and longest-running program of its kind. Home to the Biederman Entertainment and Media Law Institute, Southwestern is recognized as one of the country's top ten entertainment law schools. Its urban campus includes the landmark art deco Bullocks Wilshire building and platinum LEED-certified student residences. Southwestern graduates are well-rounded, entrepreneurial, community-minded, and prepared for practice. Take the virtual tour at www.SWLaw.edu. 
Attachment
CONTACT: Steven Lopez Southwestern Law School 213-738-6731 [email protected] 

Disclaimer: The above press release comes to you under an arrangement with GlobeNewswire. AfternoonHeadlines.com takes no editorial responsibility for the same.