Jorge Masvidal's Gamebred Bareknuckle MMA Teams Up with Safety Shot to Promote the World's First Patented Blood Alcohol Reduction Drink
Jorge Masvidal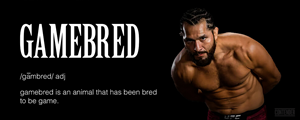 Safety Shot to be ring sponsor for Gamebred matches over the next 12 months
Millions of viewers online and thousands of in-person fans at matches across the country to be exposed to Safety Shot before, during, and after matches
JUPITER, FL, Oct. 06, 2023 (GLOBE NEWSWIRE) — Safety Shot, Inc. (Nasdaq: SHOT) today announced it has entered an agreement with mixed martial arts (MMA) superstar Jorge Masvidal's Gamebred Bareknuckle MMA, the world's first bareknuckle MMA promotion. Safety Shot, the first patented beverage on Earth that helps people feel better faster by reducing blood alcohol content and boosting clarity, will be the ring sponsor for 12 Gamebred Bareknuckle matches over the next year.
As ring sponsor, Safety Shot will gain brand recognition with millions of Gamebred fans through numerous impressions leading up to, during, and after matches. Gamebred's most recent match alone garnered over 1.3 million views on YouTube. The "Safety Shot Presents" message will be on all match promotional content including match posters, announcements, press releases, social media, and LED walls. Safety Shot's logo will be featured at the center of the ring mat, cage panel cushions, press conference backdrop, and commercials during the broadcast.
"Jorge is a superstar in the MMA world with a huge following and his Gamebred Bareknuckle fight promotion has garnered a fast growing following with millions of people viewing matches online and live audiences cheering at venues across the country," stated Safety Shot's CEO, Brian John. "We're excited to sponsor Gamebred and to make its fans aware of the health benefits our drink."
About Safety Shot
Safety Shot, a wellness and functional beverage company, is set to launch Safety Shot, the first patented beverage on Earth that helps people feel better faster by reducing blood alcohol content and boosting clarity. The Company plans to spin off legacy assets from its Jupiter Wellness business to unlock value for shareholders.
Interested investors and shareholders are encouraged to sign up for press releases and industry updates by registering for Email Alerts at https://jupiterwellness.com/email-alerts/ and by following Jupiter Wellness on X (formerly known as Twitter) and LinkedIn.
Forward Looking Statements
This communication contains forward-looking statements regarding Safety Shot, including, the anticipated timing of studies and the results and benefits thereof. You can generally identify forward-looking statements by the use of forward-looking terminology such as "anticipate," "believe," "continue," "could," "estimate," "expect," "explore," "evaluate," "intend," "may," "might," "plan," "potential," "predict," "project," "seek," "should," or "will," or the negative thereof or other variations thereon or comparable terminology. These forward-looking statements are based on each of the Company's current plans, objectives, estimates, expectations, and intentions and inherently involve significant risks and uncertainties, many of which are beyond Safety Shot's control. Actual results and the timing of events could differ materially from those anticipated in such forward-looking statements as a result of these risks and uncertainties and other risks and uncertainties affecting Safety Shot and, including those described from time to time under the caption "Risk Factors" and elsewhere in Safety Shot's Securities and Exchange Commission (SEC) filings and reports, including Safety Shot's Annual Report on Form 10-K for the year ended December 31, 2023 and future filings and reports by Safety Shot. Moreover, other risks and uncertainties of which the combined company is not currently aware may also affect each of the companies' forward-looking statements and may cause actual results and the timing of events to differ materially from those anticipated. Investors are cautioned that forward-looking statements are not guarantees of future performance. The forward-looking statements made in this communication are made only as of the date hereof or as of the dates indicated in the forward-looking statements and reflect the views stated therein with respect to future events at such dates, even if they are subsequently made available by Safety Shot on its website or otherwise. Safety Shot undertakes no obligation to update or supplement any forward-looking statements to reflect actual results, new information, future events, changes in its expectations or other circumstances that exist after the date as of which the forward-looking statements were made.
Safety Shot Media Contact:
Phone: 561-244-7100
Email: [email protected]
###
Attachment

Disclaimer: The above press release comes to you under an arrangement with GlobeNewswire. AfternoonHeadlines.com takes no editorial responsibility for the same.