Jiaming Chong Receives Outstanding Young Producer Award and Discusses Future of Sino-American Film Collaboration
Jiaming Chong Awarded as Outstanding Young Producer; Highlights Future Sino-American Film Collaborations
Jiaming Chong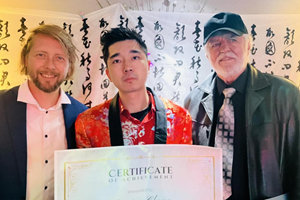 Los Angeles, CA, Oct. 13, 2023 (GLOBE NEWSWIRE) — During the Mid-Autumn Festival cruise celebration, Numerous filmmakers from both China and the United States gathered here, coming together to celebrate this grand occassion. Mr. Jiaming Chong was honored to receive the Outstanding Young Producer Award from Christine Xu, CEO of Uplive and the producer of the Emmy Award-winning series "The Bay," along with the renowned Hollywood special effects artist and film director Henry Lipatov and television show and event director Doug Ivanovich. This recognition highlights Jiaming Chong's exceptional contributions to the film industry over the years.
During the event, these three passionate producers engaged in a meaningful discussion with Jiaming Chong about the future of Sino-American film collaboration. Jiaming emphasized the importance of close cooperation between young filmmakers from China and the United States in producing more Sino-American co-productions. He also shared insights into the preparations for his feature film "Pet Story" as a producer and screenwriter, which is set to bring together creative talents from both China and the United States, promising an enthralling cinematic experience for audiences.
Jiaming Chong's outstanding achievements in both feature film production and short film production were pivotal factors in his receipt of the Outstanding Young Producer Award on this occasion. As he has also achieved significant success in the realm of short films. His short films "Sunset" and "Thanks for the Dance" were selected for prestigious film festivals such as the Palm Shorts International Film Festival and the Toronto Lift-Off International Film Festival. Furthermore, during his tenure at Easyfind Pictures, he was involved in the production of two documentaries, " The Foreigner's New Adobe" and "Thirty-Three," both of which were shot during the pandemic. The three esteemed producers mentioned Jiaming's dedication in continuing to create content amidst adversity. Despite challenges such as location lockdowns and transportation restrictions during the pandemic, Jiaming demonstrated his determination to complete these documentary projects. This experience not only showcased Jiaming's talent and resilience but also highlighted his outstanding performance in the film industry.
During his tenure as a producer and Chief Creative Officer (CCO) at Easyfind Pictures, Jiaming led the company to receive the "Bemy Award" from the Influencer Economy Alliance, marking a significant transition for Easyfind Pictures from a traditional advertising production company to a player in the new media industry. This achievement was recognized and celebrated by Lin Guang, the founder of the Bemy Award and President of the All-American Zhejiang Chamber of Commerce, who also presented him with an award certificate.
Christine Xu, as the producer of the Emmy Award-winning series "The Bay" and CEO of Uplive, has achieved remarkable success in the film and media industry. Henry Lipatov is renowned for his outstanding work in special effects and directing, having received multiple international awards, including the Macabre Faire Film Festival Jury Prize, The Monkey Bread Tree Film Awards, and nominations at the London International Motion Pictures Award film festival. Doug Ivanovich, on the other hand, served as the executive producer of the 2019 American Icon Awards, which honored Al Pacino.
In addition to celebrating their achievements, Jiaming Chong extended a warm invitation to the three producers to attend the upcoming Ma Jian NFT Contest, a grand event he is producing next year. This event aims to provide a platform for international filmmakers and artists to explore the intersection of digital art and filmmaking, foster Sino-American cultural exchange, and create a broader stage for future film collaborations.
Media Contact:
US Overseas Student Union
Contact Person: Zhihao Dong
Email: [email protected]
Website URL: www.usosu.org
Disclaimer: There is no offer to sell, no solicitation of an offer to buy, and no recommendation of any security or any other product or service in this article. Moreover, nothing contained in this PR should be construed as a recommendation to buy, sell, or hold any investment or security, or to engage in any investment strategy or transaction. It is your responsibility to determine whether any investment, investment strategy, security, or related transaction is appropriate for you based on your investment objectives, financial circumstances, and risk tolerance. Consult your business advisor, attorney, or tax advisor regarding your specific business, legal, or tax situation. For more info, please contact [email protected].
Attachment

Disclaimer: The above press release comes to you under an arrangement with GlobeNewswire. AfternoonHeadlines.com takes no editorial responsibility for the same.