Ismael Cala Beams from India to Mexico for Wellness Event
At Latin America's biggest health and wellness summit, EXMA Holistic 2023, inspirational speaker and former CNN anchor Cala will beam from New Delhi to Mexico City via Proto hologram
Ismael Cala holograma desde India a CDMX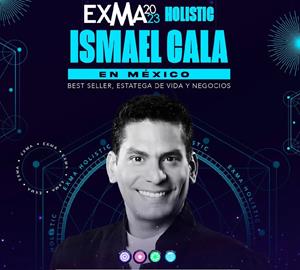 Mexico City, April 28, 2023 (GLOBE NEWSWIRE) — The  Life and business strategist, best-selling author, and international speaker and former CNN anchor Ismael Cala will beam from New Delhi, India to Mexico City via Proto hologram on Saturday. At Latin America's largest health and wellness summit, EXMA Holistic 2023, Fernando Anzures, Founder and CEO of EXMA, will lead a conversation with Cala on personal development and unlocking your potential. 
EXMA Holistic 2023 is regarded as the most important wellness event in Mexico, covering fitness, mindfulness and a new approach to healthy living. Other major speakers this year include best-selling author of "The Monk Who Sold His Ferrari," Robin Sharma; wold-leader in education and founder of Silicon Valley's MindValley, Vishen Lakhiani; Harvard doctor Manuel Luis Puig. 
Complete event information is available here.
"Even though Ismael will be 9 thousand miles away, the Proto hologram will make it feel as if he's really in the room with me and EXMA guests," said Anzures. "We'll form a powerful connection across space and time that will be unforgettable."
Proto is the original, patented hologram communications platform that is connecting people all over the world. The award winning 7' tall Proto Epic and tabletop Proto M are already in use globally – including by the Latin American pension industry giant AFP Crecer, which recently used it to live beam experts to Santo Domingo. D.R. from Argentina, Mexico, Colombia and Spain for its Innovation Week. 
Learn more about Proto hologram.
Anzures is the marketing and communications expert behind EXMA, the largest marketing platform in Latin America (and will remain its CEO). His experience has seen him in sales, marketing, communications and general management roles in 8 countries and multinationals including Coca-Cola, Philip Morris and RedBull.  He is a best selling author and sought after speaker on trends, business, social media and entrepreneurship – he even holds 2 Guiness records for the biggest and longest marketing events. 
"Proto prides itself on being global – we invented intercontinental holoportation and companies use Proto to connect every day," said David Nussbaum, Inventor and CEO of Proto Hologram. "So we're thrilled to be part of bringing Ismael Cala's important voice to this incredible wellness event with EXMA."
Proto's use in health and wellness include installation at major medical and nursing schools, use at events for Dartmouth Cancer Center and St. Judes, and being honored at CES 2023 in the category of Digital Health. Some famous names who have used Proto include Camila Cabella, Romeo Santos, Albert Pujols, Chris Pratt, Jimmy Kimmel,  P. Diddy, Howie Mandel, Logan Paul, Ellen DeGeneres, Manny Pacquiao, Lee Jung-Jae and Paris Hilton.  Companies working with Proto include Verizon, Netflix, AT&T, Burberry, Christie's, Audi, PwC, BT, CBS Sports, and Major League Soccer. 
"Technology is not the future, it is our present and we have to embrace it and take advantage of its endless possibilities," said Anzures  "Proto provides that opportunity right now."
Learn more about Proto at ProtoHologram.com
Learn more about EXMA at Exma.com.mx
Follow Proto on Twitter, Instagram, YouTube.
For more photos of video of Proto in action, or to request interviews or demos, please contact: [email protected] 
About Proto Inc.:
Proto is the global creator, and leading provider, of the award winning and patented Proto OS and holographic communications platform. With 100s of Proto units permanently deployed globally, and with a growing live events, production, and rental division, Proto is beaming people, brands and digital assets worldwide. Proto has become the fastest growing communications and marketing solution in retail, hospitality, entertainment, healthcare, education, financial services, tech and the arts. Proto is a 4X honoree at the CES Innovation awards and has been named to Fast Company's Most Innovative Companies list two years in a row. Proto is a VC and mega-celebrity backed technology company based in Los Angeles with satellite showrooms and distributors in New York, San Francisco, Las Vegas, Nashville, Toronto, London, Paris, Taipei, Milan, Brisbane, Jakarta, and Seoul. More info at www.protohologram.com.
Attachment
CONTACT: [email protected] 

Disclaimer: The above press release comes to you under an arrangement with GlobeNewswire. AfternoonHeadlines.com takes no editorial responsibility for the same.