Islanders Fans Votes Are In, The Fourth New York Islanders' Puppy With a Purpose® Will Be Named "Jethro"
New York Islanders partner with America's VetDogs to raise and train Jethro For A Veteran or First Responder with Disabilities
Future Service Dog 'Jethro' with America's VetDogs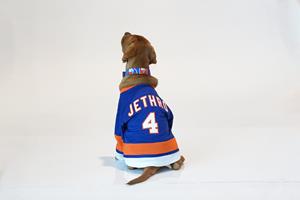 Future Service Dog 'Jethro' with America's VetDogs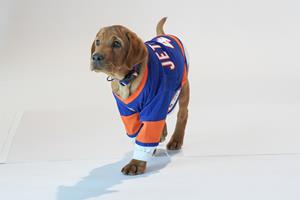 Smithtown, New York, Oct. 10, 2023 (GLOBE NEWSWIRE) — FOR IMMEDIATE RELEASE, October 10, 2023 (Smithtown, NY) – America's VetDogs, a New York based national non-profit that provides service dogs to military veterans, first responders and active-duty service members, is thrilled to partner again with the New York Islanders to co-raise a future service dog through their "Puppy with a Purpose" program.
Jethro, an 11-week-old, male yellow Labrador Retriever puppy, made his debut with the Islanders on September 14th on his social channel @NYIslesPup asking fans to participate in a name vote. He soon after made an appearance at the Islanders annual golf outing, making fast friends with the team and staff members. Today, October 10th, Jethro's name was announced during the team's seventh annual 'Pucks and Paws 2024' calendar photoshoot. The calendar, benefitting America's VetDogs, will go on sale in time for "Black Friday" shopping. Calendars will be available for purchase online via the Islanders website and at home games. 
Jethro, the nickname of late Islanders legend Clark Gillies, is a yellow Labrador. He will undergo basic training and socialization with the Islanders' staff, fans and public for the next 16-18 months. The Islanders will host Jethro at community events and select home games to assist in raising him to be a confident and calm future guide dog. Fans can follow Jethro on Instagram at @NYIslesPup to stay up to date on his training and local appearances.
Following his puppy raising, Jethro will return to America's VetDogs campus in Smithtown, NY to begin his formal service dog training with a Certified Service Dog Instructor. Concluding his training, Jethro will be matched at no cost with a veteran or first responder with disabilities.
"We are thrilled to once again partner with the New York Islanders to co-raise a service dog for a veteran or first responder with disabilities as part of America's VetDogs' Puppy with a Purpose program. Celebrating America's VetDogs' 20th anniversary with such a meaningful collaboration speaks volumes about our shared commitment to changing lives. This partnership exemplifies our dedication to providing life-changing assistance to those who have served our country and first responders who risk their lives every day. We look forward to the impact this partnership will have on the lives of those in need and the continued support from the Islanders organization and their passionate fans." – John Miller, President and CEO, America's VetDogs.
Jethro is the fourth dog the Islanders has partnered with the Smithtown based organization to raise and train. In August, the Islanders and the Guide Dog Foundation, sister organization to America's VetDogs, placed guide dog in training Monte with Long Island native Tom Ryan. The Islanders second dog Tori was placed with U.S. Navy Veteran and NYFD Officer Robert Roberto and the first dog Radar was successfully placed as a guide dog in August 2020 with gold medalist Paralympian swimmer and Long Island native Anastasia Pagonis.
"Partnering with America's VetDogs to co-raise Jethro, the fourth 'puppy with a purpose,' is a source of immense pride for the New York Islanders," shared Ann Rina, Executive Director of Community Relations at the New York Islanders. "This partnership not only allows us to contribute to a noble cause but also embodies the spirit of service and community that we hold dear. We are excited to play a role in nurturing Jethro into a future service dog, knowing the positive impact he will have on someone's life."
It costs over $50,000 to breed, raise, train, and place one assistance dog; however, all of the VetDogs' services are provided at no charge to the individual.  Funding comes from the generosity of individuals, corporations, and service and fraternal clubs.
About America's VetDogs
For 20 years, America's VetDogs (www.VetDogs.org) has trained and placed guide and service dogs to provide independence, enhanced mobility, and companionship to veterans with disabilities from all eras. In 2015, VetDogs opened its programs to first responders, including fire, police, and emergency medical personnel.  America's VetDogs is a 501(c)(3) not-for-profit organization founded by the Guide Dog Foundation and serves clients from across the United States.  VetDogs relies on contributions from generous individuals, corporations, service clubs, and foundations to fund its mission to help those who have served our country live with dignity and independence.  It costs over $50,000 to breed, raise, train, and place one assistance dog, but America's VetDogs provides its services completely free of charge to the individual. America's VetDogs has been accredited by both the International Guide Dog Federation and Assistance Dogs International. 
About New York Islanders
The New York Islanders Hockey Club is the proud winner of four Stanley Cup Championships and a record nineteen consecutive playoff series victories. The Islanders have had nine members inducted into the Hockey Hall of Fame and play in the National Hockey League's Eastern Conference. The Islanders Children's Foundation has helped countless youngsters in need around the world since its inception. Donations are raised through the efforts of our players, management, and employees, along with our fans and partners. UBS Arena at Belmont Park is the team's state of the art home and features world class premium hospitality, great sightlines from every seat, and a loud and intimate bowl. Isles Lab, the official team store of the New York Islanders, offers fans traditional NHL merchandise, unique collaborations and exclusive product. Isles Lab is located inside UBS Arena or can be shopped online at IslesLab.com.
Attachments
CONTACT: Allison Storck America's VetDogs 6313342615 [email protected] 

Disclaimer: The above press release comes to you under an arrangement with GlobeNewswire. AfternoonHeadlines.com takes no editorial responsibility for the same.