IQ Fiber Announces Network Deployment in Gainesville Florida
Residential fiber-optic internet service leader to expand to North Central Florida including the City of Gainesville and Alachua County
IQ Fiber Announces Network Deployment in Gainesville, Florida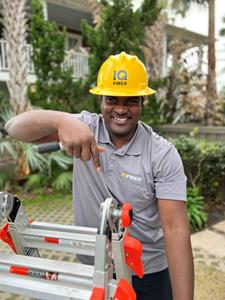 Jacksonville, Fla., May 31, 2023 (GLOBE NEWSWIRE) — IQ Fiber, Northeast Florida's only local residential fiber-optic internet service provider, announces it is expanding its 100% fiber-optic network to North Central Florida including the city of Gainesville. IQ Fiber's initial investment in Gainesville is estimated at nearly $40 million. IQ Fiber will be the first locally based residential fiber-optic company to enter the Gainesville market.
"It has always been a policy priority of mine to extend broadband competition in our community," said Gainesville Mayor Harvey Ward, Jr. "I'm pleased to see IQ Fiber expanding into the Gainesville market, and I hope their presence here will create a variety of opportunities for all our neighbors."
Headquartered in Jacksonville, IQ Fiber is deploying its network across Duval, Clay, Nassau and St. Johns counties. The North Central Florida expansion marks the company's first major network expansion outside of the Jacksonville metro region. The company will establish a satellite office in Gainesville and hire over 30 employees to support the expansion.
"We are excited to expand our network across North Florida so that Gainesville and Alachua County residents will finally have a modern internet choice," said Ted Schremp, CEO of IQ Fiber. "Our 100% fiber-optic network delivers the reliability and ultra-fast symmetrical speeds that residents and neighborhoods need along with a streamlined customer experience they deserve."
IQ Fiber's 100% fiber-optic network is capable of symmetrical speeds of up to 10 gigabits per second and is far superior to telephone or cable-based internet. The network consists of underground conduit and fiber-optic cables extending from the core internet backbone directly into individual homes, allowing for the fastest internet speeds available while supporting the explosive growth in internet usage and demand. Construction on the Gainesville and Alachua County network will begin this summer.
IQ Fiber offers simple month-to-month rates with no fees, surcharges or surprise price increases. IQ Fiber delivers symmetrical speeds along with whole-home Wi-Fi service and a simple app to manage the ever-growing number of Wi-Fi devices in the home.
IQ Fiber, headquartered in Jacksonville, is bringing high-speed, state-of-the-art 100% fiber-optic internet to areas of North Florida that do not currently have access to modern, symmetrical broadband services. IQ Fiber is privately funded and launched in August 2021. It recently announced an additional $150 million in follow-on equity funding.
About IQ Fiber
IQ Fiber is North Florida's only local fiber-optic internet service provider. Headquartered in Jacksonville, IQ Fiber is transforming the residential broadband market by offering a 100% fiber-optic network with a stress-free guarantee: no contracts, hidden fees, or data caps. Its network is supported by live, local customer service. IQ Fiber is focused on rapidly expanding its residential fiber network across Alachua, Clay, Duval, Nassau and St. Johns Counties. For more information, visit www.iqfiber.com. 
###
Attachment
IQ Fiber Announces Network Deployment in Gainesville, Florida
CONTACT: Maria Coppola IQ Fiber 9043123321 [email protected] 

Disclaimer: The above press release comes to you under an arrangement with GlobeNewswire. AfternoonHeadlines.com takes no editorial responsibility for the same.