[INVNT GROUP]™, the leading independent agency portfolio, advances global growth, launching virtual storytelling technology platform, and driving best-in-class strategic partnerships
[INVNT GROUP] THE GLOBAL BRANDSTORY PROJECT™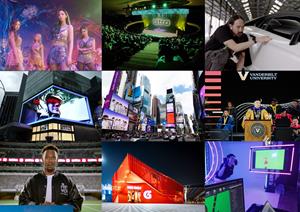 New York, NY, Oct. 03, 2023 (GLOBE NEWSWIRE) — [INVNT GROUP] THE GLOBAL BRANDSTORY PROJECT™ continues expanding its service offerings, growing its global team, and leveraging strategic business partnerships to redefine brand storytelling and audience engagement in the innovation-first marketing era.
The award-winning group represents a growing portfolio of innovative and complementary disciplines designed to help forward-thinking challenger brands everywhere, impact the audiences that matter, anywhere. Led by Scott Cullather, President & CEO of [INVNT GROUP] and CEO of INVNT.ATOM, the full-service group operates across 9 offices in 6 countries, leading clients including AWS (Amazon Web Services), PepsiCo, Xero, General Motors, Samsung, Emirates, Lamborghini, Spotify, Meta, Pfizer, SHRM, Netflix and more. [INVNT GROUP] was established as an evolution of the live global brand storytelling agency INVNT™, which is celebrating it's 15th year anniversary, helmed by Kristina McCoobery, CEO of INVNT and COO of [INVNT GROUP]. 
"Our expansive reach across geographies has bestowed upon us the incredible capability to launch in emerging markets and foster connections with pivotal audiences. As we continue this trajectory, we prioritize offering unparalleled value to our clients, stakeholders, teams, and shareholders while innovatively building communities worldwide," said Scott Cullather, President & CEO of [INVNT GROUP], and CEO of INVNT.ATOM.
The group recently expanded teams across various business units, including INVNT.ATOM, the digital innovation and Web3 agency based in Singapore, which also launched BZAR, the group's patent-pending, self-funded, content-led digital platform, built exclusively for brands and fans. BZAR is currently available-to-demo, enabling next-gen collaboration, connection, and co-creation with communities in the virtual world. With BZAR, brands can create custom and immersive experiences tailored precisely to their needs utilizing curated photorealistic environments, proactive immersive commerce, and Web3 integrated features to engage with their consumers, build communities, and drive new commercial opportunities.
Callum Smith joins the INVNT.ATOM team, as Director of Account Services reporting into Sharon Lewis, Senior Director of Accounts, INVNT.ATOM. Smith is a Web3 champion with a motorsport and Car Manufacturer (OEM) background, who previously led product, E-commerce, and NFT strategies at Group Lotus (Lotus Cars). As part of the appointment, Callum will relocate to London, UK, joining [INVNT GROUP]'s EMEA office, further enhancing INVNT.ATOM's innovation and Web3 service offerings in the EMEA region.
"I am elated to be a part of this truly global team. The world of Web3 is rapidly developing with new tech integrations like AI, and [INVNT GROUP]'s commitment to storytelling will be a driving force in shaping the space. As the first INVNT.ATOM employee in the EMEA region, I look forward to working with the business development team locally, applying my previous brand-side client Web3 knowledge, and assisting with building this region and our business offering going forward, while simultaneously expanding the breadth-of global projects for the agency," said Callum Smith.
In addition to growing teams, [INVNT GROUP] continues its strategic business partnership with MSM, the global talent and motorsport agency with longstanding associations with the prestigious SCUDERIA FERRARI, Formula 1™, and other organizations, granting unique access to next-level commercial opportunities. The group also counts on Trident3 as a strategic partner; the Web3 platform onboarding brands into the world of Web3, the metaverse, and NFTs, with a mission to simplify the process of how enterprises engage within the Web3 ecosystem; providing a streamlined solution to execute Web3 projects without relying on multiple vendors.
These partnerships offer best-in-class marketing, experiential, and commercial solutions, across respective industries. 
"At the heart of our vision lies a commitment to investment-worthy experiential moments that not only propel [INVNT GROUP]'s growth but also shape the future of the experiential industry on a global scale. This journey has been magnified by our strategic partnerships, acquisitions, and above all, our outstanding global team. Their dedication, coupled with the trust and impact of our clients, partners, and causes, has enabled us to pioneer in live brand storytelling since the founding of INVNT," said Kristina McCoobery, CEO of INVNT and COO of [INVNT GROUP].
###
ABOUT [INVNT GROUP]
[INVNT GROUP] THE GLOBAL BRANDSTORY PROJECT™ is a growing portfolio of complementary disciplines designed to help forward-thinking organizations everywhere, impact the audiences that matter, anywhere, with offices in New York, London, Sydney, Singapore, Dubai, San Francisco, Stockholm, Detroit, and Washington D.C. Led by President and CEO, Scott Cullather, [INVNT GROUP]™ was established as a growing evolution of the live global brand storytelling agency INVNT™, with a vision to provide engaging, well-articulated, impactful brand stories across all platforms. 
The GROUP consists of: modern brand strategy firm, Folk Hero™; creative-led culture consultancy, Meaning; production studio & creative agency, HEVĒ™; events for colleges and universities, INVNT Higher Ed; digital innovation division, INVNT.ATOM™; creative multimedia experience studio, Hypnogram™; ITP Live (Any Venue Video, Thunder Audio, In Sync), portfolio of full-service production for live entertainment; and the original live global brand storytelling agency, INVNT.
For more information visit www.invntgroup.com
Attachment
CONTACT: Jhonathan Mendez de Leon [INVNT GROUP] [email protected] 

Disclaimer: The above press release comes to you under an arrangement with GlobeNewswire. AfternoonHeadlines.com takes no editorial responsibility for the same.