Introducing the 2024 Kia EV9: Modern Refinement and All-Electric Capability Arriving in Canada This Year
Kia EV9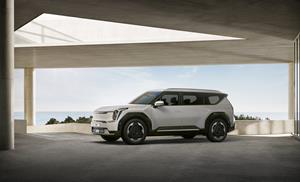 A segment above: All-electric EV9 debuts as Kia's first dedicated three-row EV SUV with space for adventure; premium accommodations rivaling luxury SUVs
Distinctive simplicity of form: "Opposites United" design language extended to a new typology with familiar Kia SUV cues
Next-generation interior material strategy and style: Dual-display cockpit features full digital instrumentation and multiple camera feeds1, alternatives to traditional leather trim including partially recycled materials
First-class second row: Available second-row power-adjustable seats with leg extensions, heating and ventilation; more legroom than many large luxury SUVs currently offer
Powerful on-road performance: EV9 GT-Line offers 379 hp and 516 lb.-ft. of torque, targets 0-to-100 km/h acceleration in 5 seconds2
True SUV capabilities: Available torque-vectoring dual-motor AWD, 7.8 inches of ground clearance, up to 2,320L of cargo behind first row, and up to 5000 lb. of towing capacity3
Standard 800V electrical architecture: Enables ultrafast recharging on high-speed DC chargers, designed to go from a 10 to 80 percent state of charge in under 25 minutes4
OTA-capable technology leader: Advanced technology includes upgradeable vehicle system controllers and infotainment features
Advancing the art of ADAS: Standard collision-avoidance and active assist technologies elevated to new levels with lidar-capable technologies5
Coming soon: Targeted to go on sale in Canada in late 2023
NEW YORK, April 05, 2023 (GLOBE NEWSWIRE) — Today, Kia unveiled the all-electric 2024 EV9 SUV for the first time in North America at the 2023 New York International Auto Show. As the first three-row EV SUV from Kia, the EV9 is the flagship of the global Plan S strategy, as well as a pioneer in its segment and the automotive industry.
"The launch of the EV9 marks an important milestone for Kia and showcases our ability to continuously go above and beyond for customers by offering innovative, best-in-class electric vehicles," says Elias El-Achhab, VP and COO of Kia Canada. "The EV9 will pioneer the SUV segment as a 3-row EV SUV for both Canadians and the automotive industry."
The EV9 is a beacon that points to the future of an electrified lineup for Kia as a mobility leader. Building on Kia's reputation of delivering vehicles with segment-above excellence, the EV9 brings the three-row SUV into the EV era with available features that matter most: generous interior volume and cargo space, towing capability, leading vehicle dynamics, rich interior appointments, and fast charging capability. Inside and out, the EV9 exemplifies the Kia design philosophy of "Opposites United," which masters the creative tension generated by the divergent values of nature and modernity to create a harmonious whole.
Developed on the proven E-GMP architecture dedicated to electric vehicles with fourth-generation battery technology, the EV9 enhances space with seating for up to seven passengers, with a long wheelbase and flat floor that provide both flexibility and comfort for all. Through integration of some of the latest in-vehicle technology, vehicle system over-the-air updates6, ultrawideband-based Digital Key7, and Onboard Power Generator (V2L) functionality, the EV9 is enabled to continue to evolve throughout the ownership experience. The EV9's standard 800V electrical architecture enables ultrafast recharging on high-speed DC chargers, designed to go from a 10 to 80 percent state of charge in under 25 minutes.8 The EV9 is expected to arrive in the Canada towards the end of 2023.
EV9 Exterior Design: A Triumph of Proportion
From first glance, the all-electric EV9 embodies the rugged yet sophisticated typology befitting a flagship SUV. Its muscular stance and dynamic character lines rise with smooth precision to pay homage to the Kia Design north star, the reimagined Kia logo. The EV9 brings to life the Concept EV9, which was guided by visualizing the simplicity of nature's perfection through the lens of the elements of nature.
At 5,010mm in length and 3,100mm wheelbase, the EV9 is slightly longer than the Telluride SUV and comparable in height (1,755mm) and width (1,980mm). With all three rows raised, the EV9 offers 521L of cargo space. When both rows of rear seats are folded, volume increases to 2,320L.
The boxy, triangular design language of the EV9 emphasizes the tension of its short overhangs and long wheelbase, pushed to the corners over the modular E-GMP electric underpinnings. At the front of the EV9 is the Tiger Face, a reinterpretation of the Kia "Tiger Nose" grille that highlights depth and dimensionality, flanked by slim LED headlights. The available Star Map LED animated Digital Pattern Lighting Grille can be personalized by the driver as part of five Dynamic Welcome Light formations, a first for Kia. Both fasciae exude a confident and recognizable front expression recreated with a futuristic touch. In the rear, slim taillights draw attention to the corners of the EV9's body. Flush door handles with automatic deployment underscore the clean side profile lines.
Design is in every detail of the EV9, including the available wheel options, which range from 19 to 21 inches. For a more design-driven appearance, the EV9 GT-Line adds model-exclusive styling, raised roof rails9, and 21-inch exclusive alloy wheels and tires.
EV9 Interior Design: A Modern Sanctuary
In keeping with the tenets of Kia's "Opposites United" ethos, the interior of the EV9 infuses cues from nature through creative contrast, innovative use of materials, and the interplay between humans and their environment. This post-industrial approach introduces a new level of refinement of craft to Kia.
"Innovation in materiality is a subtle alchemy that has lasting results, and the EV9 unlocks the next level of our design identity," said Jochen Paesen, vice president, interior design, Kia Design. "And thanks to clever packaging made possible by E-GMP, the EV9 features a spacious, three-row interior."
The interior design philosophy of the EV9 introduces the "Ten Must-Have Items," a new paradigm in Colour, Material and Finish (CMF) that will also be applied to future Kia models. In the interior of the EV9, this CMF approach comes to life through the use of non-leather polyurethane seating surfaces, select BTX-free interior trim, and select fabrics and carpets composed of partially recycled materials. From the headliner of the EV9 to a variety of high-touch areas within the cabin, these forward-thinking materials offer a tactile quality to occupants in all three rows and deliver a well-appointed cabin without the use of animal products.
Reductionism is a motif that envelops the cabin of the EV9. Centrally mounted, hidden-until-lit haptic switches for key infotainment features appear when the EV9 is turned on. The dual-level, floating center console stretches from the first to the second row, offering under-tray stowage to front passengers and cupholders and an available sliding storage console for rear passengers. Hidden in front of the driver is an optional, full-color head-up display. An available Full Display Mirror® replaces the traditional rear-view mirror with a camera view with a flick of the lower tab10. The optional 14-speaker, 708-watt Meridian® Premium Audio adds impressive levels of tonal clarity sand serenity11. Available LED lighting illuminates the Kia logo on the steering wheel.
Every seat inside the EV9 is considered executive-class, including the second row of seats. First and second passenger row occupants are treated to an available "Relaxation Mode" which offers comfort with power operated leg rests, and second-row creature comforts include 8-way power adjustments enhanced with heating and cooling. High-power USB-C outlets throughout the cabin allow for device recharging for all.
The EV9 will be available from launch in both six- and seven-seat configurations. The EV9's available V2L outlet located in the cargo area can help power tailgating parties, and standard tri-zone HVAC ensures true temperature control in front and back.
EV9 Technology: Connected and Ultramodern
The EV9 features Kia's next-generation, ultramodern Connected Car Navigation Cockpit (ccNC) operating system. Mirroring the exterior styling, the ccNC display interface takes inspiration from the rising strokes, smooth curves, and high contrast of the Kia logo. The ccNC operating system processes faster and in higher fidelity, with frequently used Quick Controls available with a swipe on the screen. The EV9 will also be the first Kia model to offer vehicle system over-the-air updates, a strategic move towards software-defined vehicles, as well as navigation-based charging guidance using arrival time and distance-to-empty estimates. The EV9 is designed to be a mobile power source, thanks to an Integrated Charging Control Unit (ICCU) and V2L12.
The EV9 will offer standard, advanced ultrawideband-based Digital Key, which allows customers to use their compatible smart devices as virtual vehicle keys to lock, unlock, and drive. Furthermore, these keys can be shared with friends and family over text messages on available devices. This latest technology allows the driver to unlock the EV9 without the need to hold a smartphone.
EV9 ADAS: Advancing the Art
The EV9 refines and expands Kia's roster of standard and available Advanced Driver Assistance Systems (ADAS). Debuting on the EV9 for the Kia brand in North America are Advanced Highway Driving Assist (AHDA)13, and Lane Following Assist 2 (LFA-2)14. Standard Highway Driving Assist 2 (HDA-2) is a driver convenience system that helps to maintain a predetermined distance from the vehicle detected in front, keep the vehicle within detected lane markers on certain highways, and assist in lane changes under certain conditions. LFA-2 is a driving convenience feature that helps the vehicle stay in the center of detected lane markers. Available AHDA utilizes lidar-based technology.
Central to the active driver assist technology on the EV9 is Forward Collision-Avoidance Assist (FCA-2)15, which is designed to help detect and prevent collisions from occurring under certain conditions. Standard FCA has been enhanced on the EV9 to, in certain circumstances, detect: vehicles, pedestrians, and cyclists in front of the vehicle while driving (FCA-CPC); oncoming vehicles while turning left at an intersection (FCA-JT); and crossing vehicles while passing through an intersection (FCA-JC). The system is also designed to help provide a degree of braking and/or steering input to help prevent or minimize certain collisions if the system detects: oncoming vehicles while passing other vehicles (FCA-LO); vehicles in front of the car while changing lanes (FCA-LS); and obstacles, pedestrians, or other vehicles in front of the car while driving straight (FCA-ESA). FCA is designed to, in certain instances, help reduce collision damage with a direct oncoming vehicle through audible and visual warnings, as well as by applying the brakes (FCA-DO). Blind-Spot Collision Warning (BCW) and available Blind-Spot View Monitor (BVM) are designed to help display and detect vehicles approaching from behind in the next lane and, in a variety of circumstances, applying brakes to help mitigate some collisions while making lane changes (FCA-BCA).
The EV9 will also feature some of the latest features in the active driver assistance suite16, including High Beam Assist (HBA)17, Intelligent Speed Limit Assist (ISLA), Lane Keeping Assist (LKA-2), Safe Exit Assist (SEA), Safe Exit Warning (SEW)18, and Smart Cruise Control with Stop & Go.
Available Rear-View Monitor and Surround-View Monitor19 are designed to provide a wider picture in reversing and parking scenarios, using cameras around the EV9 to display a 360-degree view. Optional Remote Smart Parking Assist 2 allows remote parking in, or exiting from, certain parking spots with the driver operating the EV9 from outside the vehicle, as well as smart parking while the driver is inside the vehicle20. Rear Cross-Traffic Collision-Avoidance Assist and Parking Distance Warning Forward and Reverse are designed to facilitate parking maneuvers in a variety of circumstances.
In addition to the active driver assist technology, the EV9 arrives standard with 10 airbags, including a front-row center airbag intended to reduce front-passenger impacts in certain collisions21.
EV9 Powertrain: Designed to Perform
The EV9 is the second Kia model based on the E-GMP platform, and the first to feature fourth-generation battery technology designed for improved energy density. In Canada, the EV9 will be available with a 99.8-kWh battery with a single-motor configuration targeting 480 km of range or a dual-motor, 283-kW (379-hp) torque vectoring all-wheel-drive configuration with 516 lb.-ft. of torque.
With a maximum DC charging speed of up to 230kW, the EV9 can facilitate quick charging with compatible DC chargers, while the 11kW onboard charger enables expedient Level 2 charging, as well.
EV9 Availability
The EV9 is expected to make its on sale debut in Canada towards the end of 2023. Pricing, availability, specific trim details, and Canadian rated range for the EV9 are subject to future announcements.
About Kia Canada
Kia Canada Inc., founded in 1999, is a subsidiary of Kia Corporation based in Seoul, South Korea. The company employs over 170 people at its headquarters in Mississauga, Ontario, as well as in locations across Canada and at its regional office in Montréal, Québec. Kia offers award winning products that are dynamic, stylish and innovative and services that are meaningful and convenient through a network of 197 dealers across the country. The company's brand slogan – 'Movement that inspires' reflects Kia's desire to create the space for you to get inspired and more time to bring your ideas to life.    
To learn more, visit kia.ca or Facebook, LinkedIn, Twitter and Instagram.
For media related inquiries, please contact [email protected]. 
---
1 Distracted driving can result in the loss of vehicle control. When operating a vehicle, never use a vehicle system that takes your focus away from safe vehicle operation.
2 Actual results may vary depending on options, driving conditions, driving habits, and your vehicle's condition. Verification of these results should not be attempted. Always drive safely and obey all traffic laws.
3 Towing may significantly reduce electric range and requires additional equipment. See Owner's Manual for towing instructions. Always use caution while towing.
4 Charge time based on Kia Corporation testing. Actual charge time may vary with options, driving conditions, driving habits, vehicle maintenance, charging practice, battery age, weather, temperature, and your vehicle's condition. Battery capacity will decrease with time and use. Frequent use of DC Fast charging can negatively impact battery performance and durability, and Kia recommends minimizing use of DC Fast charging.
5 No system, no matter how advanced, can compensate for all driver error and/or driving conditions. Always drive safely.
6 Kia Connect only available on select models and trims. Specific functionality may vary between models and trims. Destination Search is only available on vehicles with a navigation head unit. Certain functions are only accessible on the smartphone app and/or customer web portal and/or in-vehicle head unit. Service is free for the first three years from the day the vehicle was first registered. Monthly subscription may be applicable after the free period. Please consult your dealer for details.
7 Kia Digital Key requires an eligible Kia Connect subscription and a compatible smart device with an active data plan. Normal cellular service rates may apply when using a smart device.
8 Frequent use of DC fast charging can negatively impact battery performance and durability, and Kia recommends minimizing use of DC Fast charging.
9 Roof rail crossbars and roof rack attachments sold separately and not included. Always carry cargo safely.
10 Full Display Mirror® is a registered trademark of Gentex.
11 Meridian® is a trademark of Meridian Audio Ltd.
12 The Onboard Power Generator can be used until the battery's charge falls to 20 percent.
13 When engaged, Highway Driving Assist and Advanced Highway Driving Assist are not substitutes for safe driving, may not detect all objects surrounding the vehicle, and only function on certain federal highways. Always drive safely and use caution.
14 When engaged, Lane Following Assist is not a substitute for safe driving and may not detect all objects around the vehicle. Always drive safely and use caution.
15 When engaged, Forward Collision-Avoidance Assist is not a substitute for safe driving and may not detect all objects in front of vehicle. Always drive safely and use caution.
16 Advanced driver assistance systems are not substitutes for safe driving and may not detect all objects around the vehicle. Always drive safely and use caution.
17 When engaged, High Beam Assist does not operate below certain speeds, or in some lighting and driving conditions. Please be aware of your surroundings and exercise proper road etiquette when operating a vehicle using the high beams.
18 When engaged, Safe Exit Warning is not a substitute for one's attention and may not detect all objects surrounding the vehicle. Always pay attention to traffic and to the area around your vehicle when exiting the vehicle.
19 Surround View Monitor is not a substitute for safe driving and may not detect or display all objects surrounding vehicle. Always drive safely and use caution.
20 Remote Smart Parking Assist may not detect all objects around the vehicle. Please see the Owner's Manual for limitations, warnings and instructions.
21 For maximum protection, always wear your seat belt. Please refer to the Owner's Manual for additional important safety information regarding airbags, including additional cautions and warnings.
A photo accompanying this announcement is available at https://www.globenewswire.com/NewsRoom/AttachmentNg/4b33d91d-ada3-486d-b76d-370414f14653

Disclaimer: The above press release comes to you under an arrangement with GlobeNewswire. AfternoonHeadlines.com takes no editorial responsibility for the same.