Introducing Momcozy HF006 CozyFitClasp Wearable Pump Bra: Where Comfort Meets Style
NEW YORK, THE UNITED STATES, Nov. 08, 2023 (GLOBE NEWSWIRE) — Momcozy proudly presents the HF006 CozyFitClasp wearable breast pump bra, a new pumping solution for modern moms balancing breastfeeding with busy lifestyles. The upgraded 3 clasps design accommodates changing breast sizes without compromising on style. Not just a piece of underwear, the new CozyFitClasp pumping bra is a versatile and multifunctional asset for moms in their nursing and pumping journey.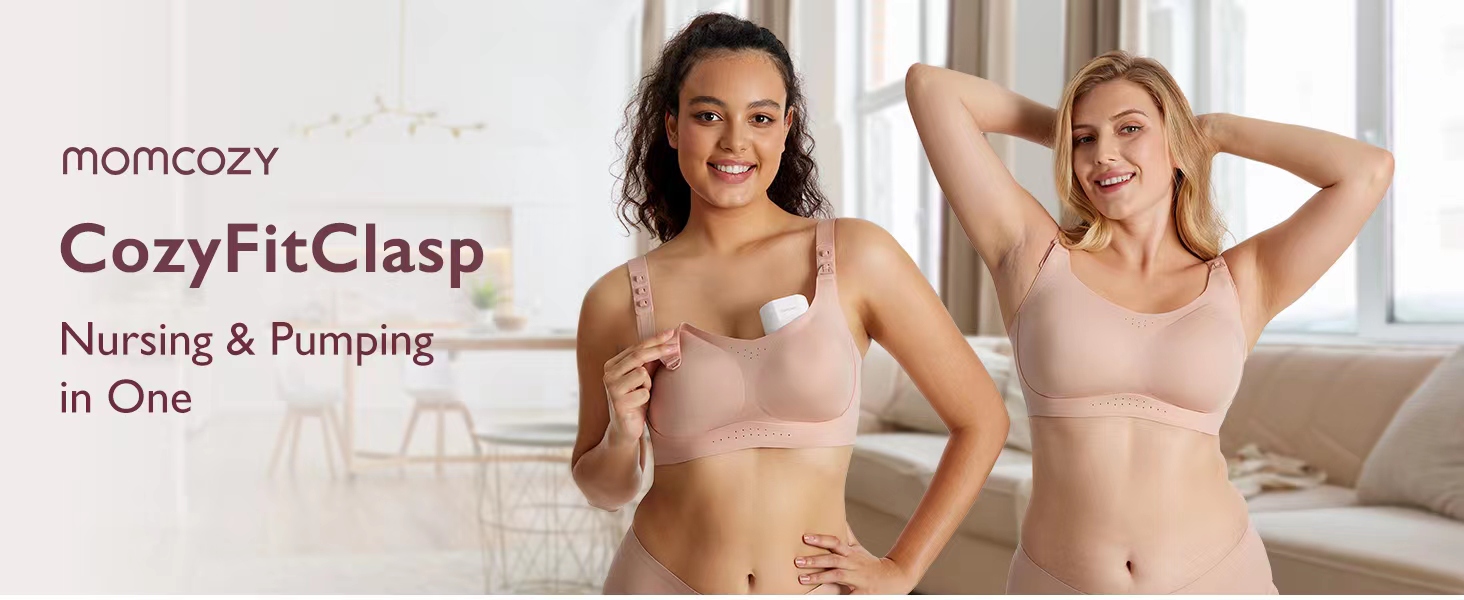 Traditional ill-suited breast pump bras add to the discomfort of sore and cracked nipples. Standard nursing bras are rarely flexible enough to fit wearable pumps. The limited clasp placements fail to adapt to changing breast sizes during lactation. For mothers who prefer wearable pumps due to their convenience and mobility, adjustable and customizable solutions are a must.
Effortless Feeding in Any Situation
Whether at home, the office, or in their leisure time, busy moms can always find ease and joy by using the CozyFitClasp bra. Simplifying the lives of multitasking moms, the in-house 3 clasps design allows for quick switching between clasp placements for easy access during nursing or pumping. 
Featuring personalized placements of clasps, Momcozy's new pumping bra takes comfort to the next level by adapting to different breast sizes during engorgement and milk reduction. This revolutionary design also ensures that moms will no longer feel anxious or embarrassed about milk leakage. Nursing and feeding are now a breeze in the workplace, the gym, or at parties. 
All-Day Ease for Busy Lifestyles 
Whether it's a hectic day out or a peaceful nursing pumping session at home, the tailored fit can be a reliable 24/7 companion. The CozyFitClasp bra has semi-fixed cups with a W-shaped structure. This provides ample support and a pleasant lift, enabling moms to move more freely and confidently. 
For busy working moms who prefer wearable pumps for mobility, this newly launched bra complements most wearable breast pumps in the market. The adjustable shoulder straps also prevent the inconvenience of mismatched bras and breast pumps, offering a reliable choice for daily wear. 
Stylish Appearance for Extra Comfort
Soft in fabric and strong in support, this new bra is a blend of functionality, style, convenience, and comfort. Redefining the feeding experience, the gentle material embraces lactating breasts with extra care and comfort. The thin padding maintains a seamless look under T-shirts and snug-fitting clothing, delivering a stylish appearance without sacrificing self-comfort. The one-hand nursing clasp saves breastfeeding moms time and hassle.  
Momcozy, dedicated to empowering modern moms in nurturing new lives, prioritizes comfort and convenience in product designs. The core mission of the HF006 bra's is to help moms maintain their beauty and vitality throughout their journey into motherhood, from pregnancy to breastfeeding and beyond.
About Momcozy
Since 2018, Momcozy has been bringing the best in comfort to mothers around the world with innovative wearable breast pumps, nursing bras, and other mom care essentials. Available in over 40 countries, Momcozy aims to make moms' lives easier from pregnancy to early motherhood with continuous product innovation and a commitment to cozy, comfortable designs. Learn more at https://momcozy.com/
CONTACT: Anna Jiang Momcozy pr at momcozy.com

Disclaimer: The above press release comes to you under an arrangement with GlobeNewswire. AfternoonHeadlines.com takes no editorial responsibility for the same.