Insilico Medicine Announces IND Approval of Oral 3CLpro Inhibitor ISM3312 for COVID-19
Insilico Medicine advances generative AI-designed COVID-19 drug.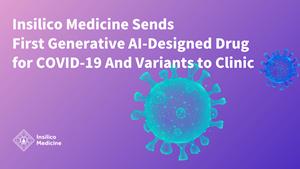 New York, Feb. 23, 2023 (GLOBE NEWSWIRE) —
ISM3312 is a highly selective 3CLpro inhibitor with a novel molecular structure optimized from compounds designed by Chemistry42, Insilico's generative chemistry AI platform.
ISM3312 has a novel molecular structure that provides broad anti-coronavirus activity, excellent single agent oral bioavailability, and potential drug-resistant mutations.
The clinical trial of ISM3312 will explore the tolerability, safety, and PK profile of the drug in humans, as well as its efficacy and safety in different subgroups of patients with COVID-19.
Insilico Medicine, a clinical-stage biotech company powered by generative AI, today announces that China National Medical Products Administration (NMPA) has approved the Investigational New Drug (IND) application for ISM3312, an orally available 3CLpro inhibitor generated and designed with the support of Insilico's proprietary generative chemistry platform Chemistry42 for the treatment of COVID-19.
ISM3312 is a highly selective small molecule inhibitor with a novel molecular structure optimized from compounds which were generated and designed by Chemistry42 based on the structure of 3CL protease. It binds to the target protein in a unique, irreversible, covalent binding mode,  potentially providing a broad spectrum of anti-coronavirus activities, excellent single agent oral bioavailability, and drug-resistant mutations.
In preclinical studies, ISM3312 significantly reduces viral load in lung tissue and decreases lung inflammation. It also demonstrated broad spectrum anti-coronavirus activities, not only for SARS-CoV-2 and its popular variants, but also for other types of coronaviruses. 
Non-clinical pharmacokinetic studies show that ISM3312 has promising oral absorbability, permeability, and bioavailability. Compared to existing 3CLpro inhibitors (e.g., Nirmatrelvir and Ensitrelvir), it retains a favorable in vivo efficacy at low doses, and its expected clinical efficacy is independent of co-administration with CYP3A and P-gp inhibitors (e.g., Ritonavir),  which is expected to further reduce the drug-drug interaction (DDI) issue and side effects.
Drug-resistant strains of COVID-19 may emerge with use of Paxlovid™ and other similar approved drugs given the highly mutable nature of coronaviruses. ISM3312 has the potential ability to overcome clinical resistance which may provide a solution to the problem of resistant strains caused by the widespread use of drugs with the same method of action in current clinical treatment.
"Insilico fully utilized its unique features in this internal COVID R&D program by leveraging AI capabilities with R&D expertise to design an innovative 3CLpro inhibitor with novel structure and molecular backbone," said Feng Ren, PhD, co-CEO and Chief Scientific Officer of Insilico Medicine. "ISM3312 has significant differences and distinct advantages from existing 3CL protease inhibitors. We are committed to accelerating clinical trials through fast-tracking development policy of the treatment for COVID-19 to benefit patients worldwide."
As a small molecule drug generated and designed by a generative chemistry AI platform, ISM3312 can be efficiently prepared with a two-step synthesis from simple commercially available starting materials, which may be suitable for chemistry manufacturing and control to ensure accessibility worldwide. Insilico will soon initiate clinical trials of ISM3312 in China to explore the tolerability, safety, and pharmacokinetic profile of the drug in humans, as well as its efficacy and safety in different subgroups of patients with COVID-19, thus providing an alternative option for health management in the post-pandemic era.
"There  remains  an urgent need for conducting well-designed clinical trials for scientific evaluation of potential COVID-19 therapies such as ISM3312," said Sujata Rao, M.D., Senior Vice President, Head of Clinical Development at Insilico Medicine. "We are committed  to exploring  ongoing  unmet medical need to include  subgroups underrepresented in COVID-19 trials as well as in patients who may have variants that are more resistant to antiviral drugs."
Insilico initially trained its generative AI platform on viral structures and knowledge discovered from the SARS pandemic. The company identified 3CL protease as the target in early 2020 by using the target discovery platform PandaOmics, then published its first set of novel compound structures designed using its generative chemistry platform Chemistry42 in February 2020 and filed a related patent application in April 2020.
"Generative AI is transforming every area of human development," says Alex Zhavoronkov, PhD, founder and CEO of Insilico Medicine. "The invention of ChatGPT has consumerized generative AI, however, generative AI is not new and our company has been working in the field since the publication of our first peer-reviewed papers in this space in 2016. We're extremely happy to announce that our second small molecule therapeutic generated using generative AI is now entering human clinical trials and there is a very clear timeline to demonstrate the discovery and development cycle." 
Insilico Medicine is an AI-driven biotech company pioneering the application of generative AI to drug discovery and development since 2014. Since 2021, Insilico has nominated 10 preclinical compound candidates discovered and designed by the generative AI platform Pharma.AI, covering the disease areas of fibrosis, oncology, and immunology. The most advanced is Insilico's anti-fibrosis program. The Company is planning to conduct a global multi-center Phase II clinical trial for its anti-fibrosis drug which was also granted FDA orphan drug designation in February 2023.
About Insilico Medicine
Insilico Medicine, a clinical stage generative artificial intelligence (AI)-driven drug discovery company, is connecting biology, chemistry, and clinical trials analysis using next-generation AI systems. The company has developed AI platforms that utilize deep generative models, reinforcement learning, transformers, and other modern machine learning techniques for novel target discovery and the generation of novel molecular structures with desired properties. Insilico Medicine is developing breakthrough solutions to discover and develop innovative drugs for cancer, fibrosis, immunity, central nervous system diseases, infectious diseases, autoimmune diseases, and aging-related diseases.
Website: www.insilico.com 
Attachment
Insilico Medicine advances generative AI-designed COVID-19 drug.
CONTACT: Brita Belli Insilico Medicine 475-225-0843 [email protected] 

Disclaimer: The above press release comes to you under an arrangement with GlobeNewswire. AfternoonHeadlines.com takes no editorial responsibility for the same.