Infrared LED Market revenue to exceed USD 2.5 Billion by 2035, Says Research Nester
Major infrared (IR) LED market players include Epista Corporation, Lite-On Technology Corp, Ams-Osram AG, Ushio America, Inc., Vishay Intertechnology, Inc., Lextar Electronics Corp., Luminous India, Lumileds Holding B.V, Kingbright Company, LLC, and GJD Manufacturing Ltd.
New York, Oct. 12, 2023 (GLOBE NEWSWIRE) — The global infrared LED market size is poised to grow at a CAGR of over 14% from 2023 to 2035. The market is anticipated to garner a revenue of USD 2.5 Billion by the end of 2035, up from a revenue of USD 680 Million in the year 2022. The IR LED market is expected to expand significantly due to the growing popularity of surveillance systems for security and safety reasons. By providing additional brightness and enhancing the camera's ability to pick up moving objects in low-light situations, infrared LEDs can help improve motion identification precision. Infrared LEDs emit light that is invisible to humans but detectable by the image sensor in cameras. Over one billion surveillance cameras were installed globally at the end of 2021.
Request Free Sample Copy of this Report @ https://www.researchnester.com/sample-request-5053
Infrared LED Market: Key Takeaways
Market in North America region to propel the highest growth
The Surveillance segment to garner the highest growth
Market in Asia Pacific to grow at the highest rate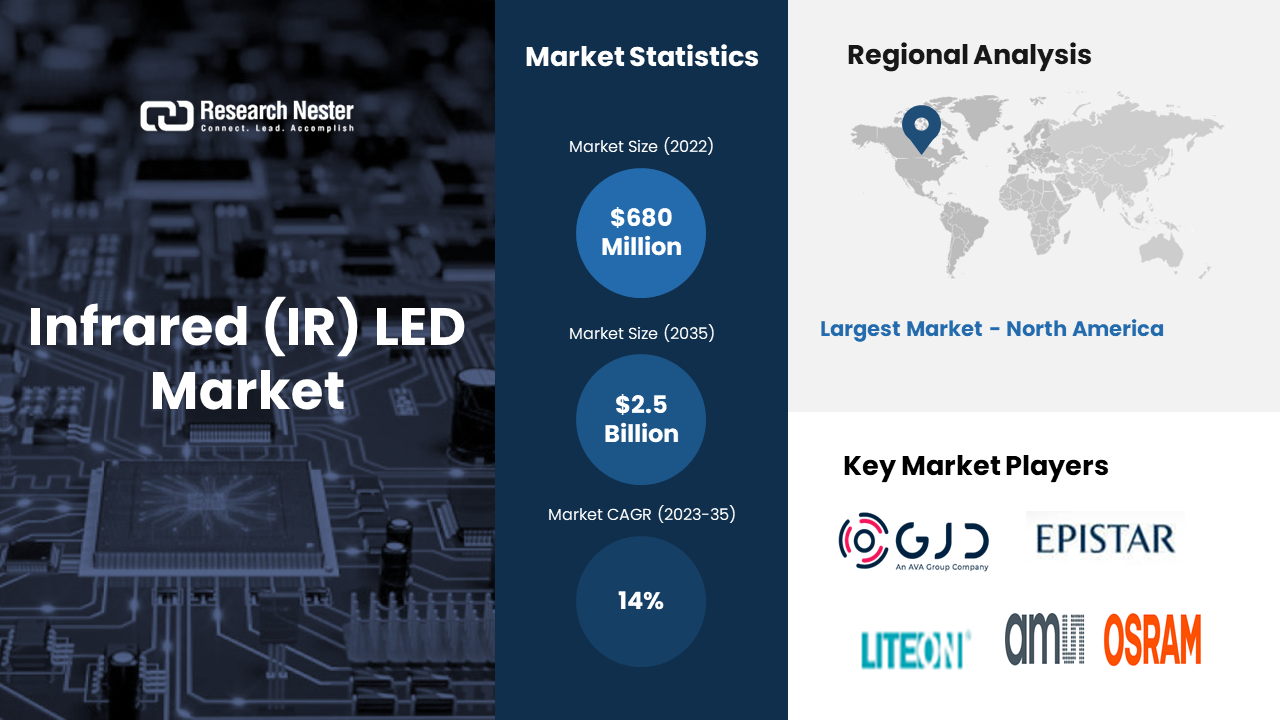 Rising Benefits of the Infrared LED is to Boost the Growth of the IR LED Market
An infrared sensor is an instrument that detects things or modifications to the environment by using infrared technology. Temperature, mobility, and closeness are just a few of the physical attributes that infrared sensors can sense. An infrared light-emitting diode (IR LED) is a type of LED that generates infrared rays with wavelengths ranging from 700 nm to 1 mm. Several IR LEDs may emit infrared light of varying wavelengths, just as ordinary LEDs emit light of varying colors. Furthermore, the spectral sector of 940 nm-1020 nm in the Asia Pacific infrared LED market will also experience constant growth due to an increasing number of automobile firms using automotive technologies such as gesture control, driver monitoring, and so on.
Infrared LED Industry: Regional Overview
The global IR LED market is segmented into five major regions including North America, Europe, Asia Pacific, Latin America, and the Middle East and Africa region.
Rising Demand for ADAS in the Vehicles to Elevate the Market Growth in North America
The rising incidence of traffic accidents is growing demand for improved safety features like ADAS systems. Governments in the United States are legislating the adoption of enhanced safety features in automobiles, which is propelling the ADAS system forward. The publication of Ensuring American Leadership in Automated Vehicle Technologies: Automated Vehicles 4.0 (AV 4.0) represents an additional watershed moment in American innovation. The White House and the United States Department of Transportation (USDOT) created AV 4.0 to bring together efforts in automated vehicles throughout 38 Federal departments, independent agencies, commissions, and The President's Executive Offices,
Rising Investment in the Development of IR LED to Elevate Market Growth in Asia-Pacific
The leading manufacturer of infrared LED in Taiwan, Everlight estimated capital investment of approximately USD 33.1 million for IR LED, automotive LED, and other products in coming years. The country recently organized a number of exhibitions in partnership with regional players. Moreover, the rising installation of security cameras across various nations in the region is also expected to drive the growth of infrared (IR)LED market growth in the region. At least 200 million cameras are installed throughout China. This is the country with the most security cameras installed anywhere in the globe.
Make an Inquiry Before Buying this Report @ https://www.researchnester.com/inquiries-before-buying-5053
Infrared LED Segmentation by Spectral Range
Short-Wave
Medium-Wave
Long-Wave
Infrared LED Segmentation by Application
Imaging
Biometrics
Surveillance
Lighting
Remote Sensing
Infrared LED market from the surveillance segment is to garner the largest revenue share by the end of 2035. Moreover, the biometric segment is expected to be responsible for a notable market share over the projected time frame. The growth of the segment is majorly attributed to the rising use of digital banking and government initiatives to increase the adoption of digital banking. Currently, around 3 billion people throughout the world use digital financial services. Moreover, by 2026, it is predicted that about 53% of the worldwide population is expected to have a connection to digital banking.
Infrared LED Segmentation by Technology
IR LED Chip
IR LED Package
The IR LED chip segment is to dominate the infrared LED market growth during the forecast period. The growth of the segment is majorly due to the rising demand for smart automated home devices. Globally, there are approximately 300 million smart homes. In 2023, around 60 million US households were actively employing smart home devices. Smart home device owners in the United States spent a standard of USD 1,172 on intelligent-tech appliances for their homes. Infrared LED chip having a wavelength of 940nm: appropriate for usage in remote controllers, such as domestic appliance remote controllers. Furthermore, 808nm Infrared LED is excellent for application in healthcare appliances, space optical communication, infrared illumination, and solid-state laser pumping sources.
Top players includes in the global infrared LED market are Epista Corporation, Lite-On Technology Corp, Ams-Osram AG, Ushio America, Inc., Vishay Intertechnology, Inc., Lextar Electronics Corp., Luminous India, Lumileds Holding B.V, Kingbright Company, LLC, and GJD Manufacturing Ltd.
Request for Customization of this Report @ https://www.researchnester.com/customized-reports-5053
Recent Developments in the Market
Clarius Medium Hybrid IP IR/WL LED illuminator was recently introduced by GJD Manufacturing Ltd., an AVA Group Company. It brings together LED technologies: white light and infrared. Clarius Hybrid has been intended to work in combination with IP cameras to provide event-triggered light exposure that both lights and deters burglars.
Ams OSRAM, a worldwide leading provider of optical solutions, has announced the initial member in the OSLON black family of infrared LEDs. The new LEDs allow producers to forgo the need for supplementary lenses, lowering the cost and complexity of their systems. The new emitters' improved spectrum of illumination results in increased visual distribution of power and uniformity for better, more dependable IR imaging in the cabin
About Research Nester
Research Nester is a one-stop service provider with a client base in more than 50 countries, leading in strategic market research and consulting with an unbiased and unparalleled approach towards helping global industrial players, conglomerates and executives for their future investment while avoiding forthcoming uncertainties. With an out-of-the-box mindset to produce statistical and analytical market research reports, we provide strategic consulting so that our clients can make wise business decisions with clarity while strategizing and planning for their forthcoming needs and succeed in achieving their future endeavors. We believe every business can expand to its new horizon, provided a right guidance at a right time is available through strategic minds.
CONTACT: Contact US AJ Daniel Corporate Sales, USA Research Nester Email: [email protected] USA Phone: +1 646 586 9123 Europe Phone: +44 203 608 5919

Disclaimer: The above press release comes to you under an arrangement with GlobeNewswire. AfternoonHeadlines.com takes no editorial responsibility for the same.