In 2023, Businesses Missing Crucial Information for Building Inclusive Cultures
Makes NDEAM as Vital as Ever for Understanding Disability Inclusion Connections to Success, Ontario Disability Employment Network Affirms
October is National Disability Employment Awareness Month (NDEAM)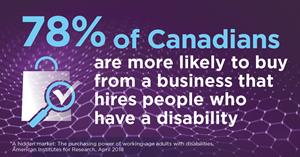 Whitby, ON, Oct. 02, 2023 (GLOBE NEWSWIRE) — Ample research shows connecting disability inclusion to broader business objectives and the company mission is vital for continued growth and success, but a new study found most companies don't even know how many people in their workforce have a disability.
This means that, with disability on the rise as the population ages, many businesses are missing crucial data they need to strategically plan for prospering by creating an inclusive culture.
"This makes the education and awareness-raising that happens during National Disability Employment Awareness Month (NDEAM) vital for understanding disability inclusion connections to success," affirms Jeannette Campbell, CEO of the Ontario Disability Employment Network (ODEN).
NDEAM is an annual October campaign promoting disability inclusion in business and the workplace. NDEAM began in the U.S. following World War Two. Here in Canada, it's being recognized in more communities across the country each year.
"The findings of the Boston Consulting Group (BCG) study are somewhat frustrating," says Campbell, "but also unsurprising. They're further evidence there's still a major lack of disability awareness despite the conversation about disability-inclusive hiring has been going on for decades."
Campbell is referring to a new international study published in May by BCG titled, Your Workforce Includes People with Disabilities: Does Your People Strategy?
Most businesses reported only 4% to 7% of their employees have a disability.
The survey found, however, that in actuality, 25% of employees "have a disability or health condition that limits a major life activity."
BCG surveyed 28,000 employees in 16 countries.
"Too many businesses are still missing out on talent and opportunities. The lack of awareness creates attitudinal barriers that hinder businesses — and the communities they serve — from experiencing the benefits of disability inclusion and innovation," Campbell says.
"The findings of the BCG study are also a sign that while progress is being made, there's still a general lack of real commitment to disability inclusion in business and employment. Awareness and commitment go together. If you're committed to something, you put all your effort into it, including learning everything you can about it."
Businesses committed to disability inclusion make sure they reflect the communities they serve, Campbell points out.
"That's why it's vital to make the disability inclusion connection on all its levels. There's an integral, multi-faceted relationship between disability inclusion, and employment and business success for everyone involved."
On one level, Campbell explains, it's about understanding the benefits of disability inclusion; knowing how to make connections with community-based employment service providers and the disability talent pool; understanding the need for and importance of accessibility; understanding that disability is diverse and not always visible; and realizing why disability needs to be part of the DEI conversation.
There are also links to profitability, innovation, overall business success and employee retention, she notes.
For disability-inclusive businesses, profit margins are 30% higher and revenue increases 28%, according to research by Accenture. Business leaders who make all the disability inclusion connections are six times more likely to be running high-performing companies, a Deloitte study found.
NDEAM, Campbell notes, presents an opportunity for businesses to look at how well they're making all the disability inclusion connections, by reviewing their policies, practices and procedures, and the inclusiveness of their company culture.
"Inclusion doesn't just help you keep valuable employees who have a disability," notes Campbell. "There's a lot of research that shows it helps you keep employees in general. When there's inclusion, people feel safe, welcome and valued, and they want to work for that company."
The BCG study, for example, found that when a company is people-focused with a healthy culture, all employees are 50% more likely to stay.
Another two-year study found that inclusive, high-performing companies are as much as eight times stronger at innovation, customer service and employee retention.
"Businesses that don't fully embrace disability inclusion and the change it's driving; that don't make all the connections, miss market opportunities and alienate a growing consumer market. Overall, they won't be well positioned for continued success," Campbell emphasizes.
People who have a disability are the world's largest minority group, and it's growing. A 2022 World Health Organization report notes the number has increased to 16% from 15% of the world's population, or about 1.3 billion people.  
Currently, 6.2 million Canadians have a disability, or about 22% of the population. By around 2035, that number is expected to reach 25% as the population ages.  
This increasing disability means the disability consumer market is growing. Consumer spending by Canadians who have a disability is on the rise. By 2030, it will reach $316 billion, up from $165 billion in 2017.
Globally, there are well over five billion consumers in the disability consumer market — the over one billion people who have a disability plus their family and friends. Their combined spending power is almost US$13 trillion.
Reflecting all of this, ODEN's 2023 NDEAM campaign theme is, Making the Disability Inclusion Connection.
During NDEAM, ODEN will publish a two-part article series to help businesses understand the many levels of disability inclusion connections; barriers to employment and inclusion; and strategies for successfully making all the connections. Part one will be published October 5. The second instalment is October 19.
On October 24, ODEN will release a new episode of its You Can't Spell Inclusion Without a D podcast, launching an occasional series called Making the Journey. It's a series of one-on-one conversations with business leaders who've successfully made the disability-inclusive hiring journey in their companies. The first episode is a fireside chat with Joe Hoffer. He is a partner in the London, ON, law firm, Cohen Highley LLP. The firm has been a disability-inclusive employer for several years, and sets an example for other businesses in Southwestern Ontario to follow.
Light It Up! For NDEAM TM is the flagship national event of ODEN's NDEAM campaign. The fourth annual Light It Up! For NDEAM takes place Thursday, October 19. Hundreds of businesses, structures, municipal signs and world-renown landmarks across Canada will be specially lit purple and blue for one night.
"Light It Up! For NDEAM is much more than a one-night, co-ordinated lighting event to raise awareness," explains Campbell. "It's quickly become a national movement that ignites conversation about why businesses need to make all the connections to disability inclusion."
She adds, "There's more conversation about disability inclusion than ever before, and it's good to see this happening. NDEAM continues to be a vital month because it helps raise awareness, and keep the focus on disability inclusion going year-round."
-30- 
ABOUT ODEN: The Ontario Disability Employment Network (ODEN), created in 2008, is a professional body of more than 130 employment service providers united to increase employment opportunities for people who have a disability. Members are from every corner of the province and support people of all disability types. Beyond Ontario, ODEN (odenetwork.com) has connections with organizations in other provinces and territories of Canada. Light It Up! For NDEAMTM is a trademark of the Ontario Disability Employment
Attachment
CONTACT: Dean Askin Ontario Disability Employment Network 416 818 1514 [email protected] Dave Bennett Xposure PR 905 339 6668 [email protected] 

Disclaimer: The above press release comes to you under an arrangement with GlobeNewswire. AfternoonHeadlines.com takes no editorial responsibility for the same.