iLending Industry Insights – State of Auto/Car Loan Refinance
The Latest Industry Overview from the Top Car Loan Refinance Company
Figure 1 – Federal Reserve Economic Data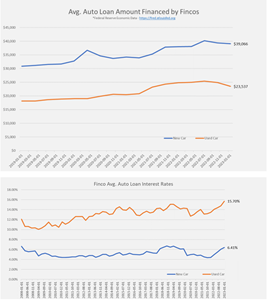 Manheim Used Vehicle Value Index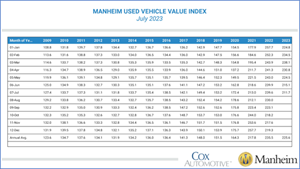 Englewood CO, Aug. 16, 2023 (GLOBE NEWSWIRE) — iLending, a national leader in automotive refinancing, is pleased to announce the next installment of our report on the State of the Car Loan Refinance Industry. These insights are based on our internal data coupled with industry and consumer information. The intent of the publication is to provide meaningful insight for those interested in the auto loan refinance market, as well as for consumers that may be considering refinancing their existing auto. 
Late last year, iLending highlighted a number of economic factors that impacted the Auto Refinance industry, specifically inflation and used car prices.  As we move into the 2nd half of 2023, there continues to be downward pressures on the industry, but positive signs are pointing towards recovery.
The auto refinance space continues to be robust and in flux. Lenders continue to manage their way through balancing their businesses, which includes their appetite for car loan refinance lending. A large portion of Americans are still struggling, keeping more of an eye on their finances, debt and seeking to free up cash flow.  
"Market conditions are what they are.  We've positioned iLending to withstand the challenging environment we've come to find ourselves in over the past 18 months." commented iLending President Nick Goraczkowski. "Even with the challenges being faced, we are fully committed to helping those that need to refinance right now, while continuing to invest and prepare to help even more as rates come back down."
Inflation Cooling
Inflation has shown signs of cooling down, easing downward for 12 straight months and reaching its lowest point in quite some time. This positive development has sparked hope within the industry that it could pave the way for interest rate reductions in the near to mid-term future.
According to recent data released by the Federal Reserve, the Consumer Price Index (CPI) has been steadily declining, indicating a slowdown in inflationary pressures. This trend has been welcomed by economists and market analysts who have been closely monitoring the impact of rising prices on the economy.
As the Federal Reserve continues its efforts to manage inflation, iLending will closely monitor for any signals of potential interest rate adjustments. The hope is that this sustained period of cooling inflation will create an environment conducive to lower borrowing costs, and potential interest rate reductions providing a much-needed boost to our clients.
Interest Rates & Interest Rate Environment
The Auto Refinance Industry continues to feel the heat as the interest rate environment remains challenging, despite recent positive news on inflation. The Federal Reserve, in its ongoing efforts to stabilize the economy, raised interest rates once again in August, leaving industry experts wondering if this trend will continue and what to expect in the coming months.
iLending has been grappling with the impact of rising interest rates. Even though inflation numbers have shown improvement, the persistent increase in interest rates has put pressure on the industry. Consumers looking to refinance their auto loans are finding it increasingly difficult to secure favorable rates, leading to concerns about the overall health of the industry.
"Car Loan Refinancing has been facing a challenging environment due to the continuous tinkering with interest rates by the Federal Reserve," said Goraczkowski, "While the recent news on inflation is encouraging, the upward trajectory of interest rates has created uncertainty and made it harder for consumers to find affordable refinancing options.  "
Despite the current challenges, iLending remains optimistic about the mid-to-long-term prospects of the Auto Refinance Industry and its ability to help families save money. They believe that with careful planning and strategic initiatives done to date, iLending is navigating through the current interest rate environment and continues to provide valuable refinancing options to consumers.  The amount that consumers are refinancing on their vehicles has continued to grow over time, topping out at over $25K in the summer of 2022.  As this value grows, refinancing can have a larger and larger impact on the client.
See Figure 1 – *Federal Reserve Economic Data – https://fred.stlouisfed.org
New & Used Car Prices 
The auto industry saw record-high car values early this year and in 2022, however, with a potential inventory surplus, there are signs values will decline due to price wars that will send prices plummeting.  The Manheim Used Car Index indicates wholesale used-vehicle prices are still declining over the first half of the year.
As loan amounts have increased, it's clear people are hanging onto their vehicles longer and longer, forgoing trade-ins.  These trends make car loan refinance attractive to many customers. Volume drops, less likely to trade in and keep their cars longer.  Making Refinance and valid options moving forward.
The growing trend of extended ownership is especially creating an opportunity for those who want budget-friendly solutions. Refinancing is becoming more appealing, giving people the chance to review their car loans, take advantage of potentially lower interest rates, and adjust their financing terms to fit their extended ownership plans. This shift is a win-win situation, allowing car owners to get the most out of their vehicles while potentially saving on their financial commitments.
As the automotive industry keeps evolving, it's a good idea for consumers to stay informed, keep an eye on market trends, and explore creative ways to make the most of their investments. Whether it's considering possible price adjustments or embracing the idea of extended ownership, things are changing, opening exciting possibilities for both car buyers and owners. 
Summary
Based on the factors above, iLending believes the opportunity for consumers to qualify for and save money by refinancing their existing auto loans is: Above Average for mid- and sub-prime borrowers and Challenged for Prime borrowers due to increased interest rates.
As rates have increased, the population of Americans that can save by obtaining a lower interest rate than what they have currently has decreased.  However, there are opportunities to extend the term to save on payments, as well as depending on the Lender, clients can skip one, two, and sometimes even three payments.  
As previously stated, we believe those that need to save money continue to be a huge need, specifically to combat rising housing costs, groceries, fuel, travel, and household goods or even for customers to start to think about the holiday season.  Despite the in-flux rate environment, iLending remains able to help many Americans save money on their monthly car payment and increase their cash flow. iLending focuses on car loan refinance and has the easiest, quickest, and safest process available.
— — — —
About iLending
Founded in 2006, iLending has facilitated $3.5 Billion in loans and is the national leader in car refinancing, saving consumers an average of $125 per month on their car payments. iLending has helped over 146,000 families save more than $230 million in payments or over 5% in interest rate reduction on average.  
Through a best-in-class, technology-driven process, and strategic partnerships with lenders nationwide, iLending offers terms that consumers cannot find on their own. iLending exists to empower families by reducing financial stress and improving peace of mind. We are a BBB Accredited Business and maintain an A+ rating. www.ilendingdirect.com
Attachments
Figure 1 – Federal Reserve Economic Data
Manheim Used Vehicle Value Index
CONTACT: Chad Nordhagen iLending 303.607.6220 [email protected] 

Disclaimer: The above press release comes to you under an arrangement with GlobeNewswire. AfternoonHeadlines.com takes no editorial responsibility for the same.