Hedgeweek Honors Sondhelm Partners as Best Third-Party Marketing Firm in US Emerging Manager Awards for 2023
Best 3rd Party Marketing Firm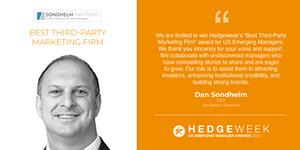 ALEXANDRIA, Va., June 09, 2023 (GLOBE NEWSWIRE) — Sondhelm Partners today announced that it has been recognized as the Best Third-Party Marketing Firm in the Hedgeweek US Emerging Manager Awards for 2023.
Sondhelm Partners also won the Hedgeweek US Awards for 2022 in the Best Third-Party Marketing Firm category.
The annual Hedgeweek Emerging Manager US Awards recognize excellence among service providers and fund managers in the United States. The service provider categories, which include Best Third-Party Marketing Firm, span all the key areas of the broader hedge fund industry.
Hedgeweek is a highly respected leading source of news, features, and information on the hedge fund industry. Its range of analysis, curated events, and data help inform, educate, and encourage collaboration between asset managers, allocators, and service providers.
"We are thrilled to win a prestigious Hedgeweek award for the second year in a row," said Sondhelm Partners CEO Dan Sondhelm. "We thank Hedgeweek for the recognition and the hedge fund industry for the confidence."
"We also want to thank our clients for working with us, our strategic partners for their trust and collaboration, and our relationships – investors, intermediaries, and journalists – who are interested in unique investment opportunities in the boutique asset manager universe," said Sondhelm. "I want to thank my team for their experience, commitment, and tenacity in working with clients. This has been key to earning this recognition."
"Sondhelm Partners is a well-deserved winner in the third-party marketing category," said a Hedgeweek spokesperson. "Operating in a highly competitive space, Sondhelm has demonstrated real skill, judgment, and tenacity in representing client interests and asset raising during a tough time for the hedge fund space – this accolade is richly deserved."
The competition among service providers was based on a nationwide survey of more than 100 investment fund managers and other key industry participants. Almost 16,000 votes were cast, with 45% of those coming from managers, 18% from allocators, and 37% from service providers.
Voting for the awards was conducted via an online poll of Hedgeweek users. Participants were asked to choose from the shortlisted firms in each category.
Firms nominated to the Best Third-Party Marketing Category, in addition to Sondhelm Partners, include Agecroft Partners, Clearglass Capital Partners, PJT Park Hill, and Profor Advisors.
"Gone are the days where you build a hedge fund, and investors will find you, especially if you are a better money manager than a marketer," said Sondhelm. "It is important to look the part of a serious hedge fund and do the right things consistently to get your story to the right investors."
Winners of the Hedgeweek Emerging Manager US Awards attended a Reception for Fund Managers, Allocators, and Service Providers last night at Convene in New York City. Hedgeweek also hosted its annual Hedge Fund US Emerging Manager Summit.
ABOUT SONDHELM PARTNERS
Sondhelm Partners helps boutique and name-brand asset managers globally focus on growth. Many of our clients are hidden gems, companies brimming with potential that may not yet be in the investor spotlight. By helping them to tell their unique stories effectively, we make these companies shine brighter in the market. Our guidance enables these companies to attract investors, enhance credibility, and establish strong brands. Our work bridges the gap between potential and recognition, transforming promising companies into notable market successes.
We have a track record of successfully raising billions of dollars of capital for clients from financial advisors, institutional investors, and other audiences. Our efforts have won multiple industry awards. We leverage our industry knowledge, experience, and relationships to provide expert marketing, public relations, sales, and strategic partnership solutions.
We work with a wide range of financial services clients, including retail asset managers such as mutual funds and ETFs; institutional asset managers; alternative asset managers such as hedge funds, private equity, credit, and real estate funds; wealth managers and RIAs; investment banks and research firms; fintech companies; and industry service providers.
Dan Sondhelm, who founded the boutique firm in 2016, frequently contributes to and interviews with the financial news media, such as FundFire, Ignites, Traditional Fund Intelligence, MFWire.com, Business Insider, Reuters, Nasdaq, and Advisorpedia, among others. He also presents at or moderates industry conferences and webinars and speaks on-site and virtually to industry boards of directors.
FOR MORE INFORMATION
For more information, please contact Dan Sondhelm, CEO of Sondhelm Partners, at 703-597-3863 or [email protected], or visit www.sondhelmpartners.com.
Securities offered through Compass Securities Corporation member FINRA/SIPC 50 Braintree Hill Park, Suite 105, Braintree, MA 02184 (781) 535-6083 fax (781) 535-6084.
A photo accompanying this announcement is available at:
https://www.globenewswire.com/NewsRoom/AttachmentNg/aaf7903f-5ad1-4258-892b-06d68ce0deff
Disclaimer: The above press release comes to you under an arrangement with GlobeNewswire. AfternoonHeadlines.com takes no editorial responsibility for the same.