Hardee's Virginia Franchisee Now Serves Breakfast Until Noon Every Day
Boddie-Noell Recognizes Hardee's Breakfast Lovers Like Convenience
Hardee's Breakfast Biscuit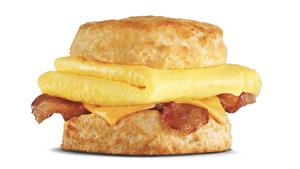 RICHMOND, Va., Nov. 10, 2023 (GLOBE NEWSWIRE) — What's better than enjoying a Hardee's® Made From ScratchTM Breakfast Biscuit and other breakfast menu items until noon on weekends? It's enjoying a Hardee's breakfast until noon every day.
Hardee's throughout Virginia are extending breakfast time until noon each day of the week. It's an expanded option for customers of one of the most recognizable and popular breakfast menus out there.
There's no shortage of what works well with a Hardee's breakfast until noon. It includes the iconic Breakfast Biscuit and all its mouth-watering options from freshly cracked fried egg to sausage, bacon, ham, pork chops, gravy and more. And a new surprise: the classic Cinnamon "N' Raisin Biscuit is back for a limited time through early January 2024.
"We want to build on what our customers crave – and that's starting their day with a Hardee's breakfast whether it's 5 a.m. or up until mid-day," said Mike Boddie, president of Hardee's franchise operator Boddie-Noell Enterprises. The company is the largest Hardee's franchise operator in the nation and operates 159 restaurants across Virginia from the coast to the mountains.
"Boddie-Noell-owned Hardees's actually first introduced made-fresh breakfast biscuits to our customers in Virginia back in the 1970s before any other Hardee's locations in the nation and it's what we're best known for. So why not offer breakfast daily until noon?," Boddie said.
'Breakfast until noon' has been on weekends only for a year in select locations for Virginia Hardee's. Its been highly popular so it's logical to now roll it out every day to most of the company's North Carolina restaurants as well. Breakfast and biscuits are available at every one of Boddie-Noell's 331 restaurant locations in four states.
To demonstrate just how seriously Hardee's and Boddie-Noell take their breakfast and biscuits: one of Boddie-Noell's biscuit makers in Virginia Beach has just been named the best Hardee's biscuit maker in the United States. Tony Robinson's biscuits were judged the best out of 1,700 competing Hardee's restaurants in an annual competition held by Hardee's.
"We take our breakfast very seriously and bake the best-possible biscuits – that's why we hold our own annual Boddie-Noell competition for the best biscuit maker and have for 40 years," Boddie said. "It's especially gratifying to see our own new biscuit-making winner be judged a few months later as the very best for Hardee's in the nation." Robinson bakes his prize-winning biscuits each morning at his restaurant on Independence Boulevard in Virginia Beach.
About Boddie-Noell Enterprises
Boddie-Noell is proud to have been a Hardee's franchise operator for more than 60 years. Family-owned, Boddie-Noell is the largest Hardee's franchisee in the United States with 331 restaurant locations in four states. The company is based in Rocky Mount, N.C. For more information, visit www.bneinc.com.
A photo accompanying this announcement is available at https://www.globenewswire.com/NewsRoom/AttachmentNg/8f03c605-ba34-496b-9e50-f6e257eb587c

Disclaimer: The above press release comes to you under an arrangement with GlobeNewswire. AfternoonHeadlines.com takes no editorial responsibility for the same.