Guthrie to Acquire Our Lady of Lourdes Memorial Hospital and Affiliates
Dr. Edmund Sabanegh and Kathy Connerton at Press Conference Announcing Partnership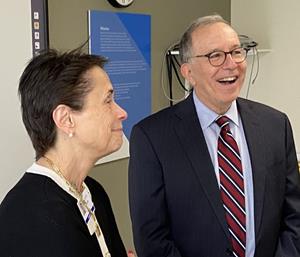 Guthrie's President and CEO Addresses the Media During Announcement Presser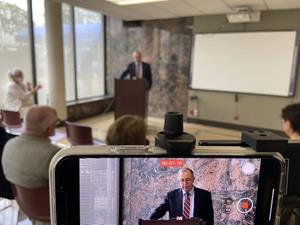 Sayre, Pa., June 08, 2023 (GLOBE NEWSWIRE) — The Guthrie Clinic has entered into an agreement with Ascension that transfers ownership of Our Lady of Lourdes Memorial Hospital​ (Lourdes Hospital), its locations and related physician practices ​from Ascension to Guthrie. The transition will sustain and improve access to care for patients in Binghamton and surrounding communities.  
"We are excited to bring Lourdes into our Guthrie family, with many shared values and mutual commitment to patient-centered care," said Edmund Sabanegh Jr., MD, MBA, President and CEO of Guthrie. "Like Lourdes, Guthrie has a strong tradition of serving our communities, providing care to patients where they are. This transaction will enable a continuation of this joint tradition and strengthen our investments in care delivery, patient outcomes and experience for the greater Binghamton community." 
Binghamton, N.Y.-based Lourdes will join Sayre, PA.-based Guthrie's integrated delivery system, including one of the nation's longest established group practices. With a network of 700 providers in over 50 specialties and subspecialties, Guthrie offers a comprehensive range of high-quality medical and surgical care, as well as home health, hospice, residential and long-term care, in New York and Pennsylvania. 
"Lourdes has been committed to our Mission of serving all persons, with special attention to those who are most vulnerable, a commitment we have acted upon in Binghamton since 1925. As a regional provider, Guthrie is well positioned to carry on this legacy, serving the community through an integrated care delivery system," said Kathy Connerton, President and Chief Executive Officer of Lourdes. "This transition will ensure that the Binghamton community has sustainable, quality healthcare access long into the future. 
​The transition will include all current Lourdes services, facilities, providers and associates. Lourdes provides 24/7 emergency and acute care; specialty care; ambulatory surgery; a cancer center; a health and wellness center; and a network of primary care providers serving the region. 
The transaction is expected to close by early 2024, subject to standard regulatory approvals. Until that time, Guthrie and Lourdes will continue to operate independently. Both are committed to creating a smooth transition for patients, associates and physicians, with no disruption in services or procedures. 
"We have great respect and admiration for the experience, dedication and expertise of our colleagues at Lourdes," Dr. Sabanegh said. "We look forward to welcoming these caregivers and associates, and to working together during this time of transition and beyond." 
Click the following links for recordings related to the announcement. 
Press conference: https://youtu.be/CJH96EAb1i0
B-roll: https://youtu.be/8C9tRm3EsW8
The Guthrie Clinic is a non-profit multispecialty health system that integrates clinical and hospital care with research and education. Based in Sayre, Pennsylvania, The Guthrie Clinic is one of the nation's longest established group practices, founded in 1910 by Dr. Donald Guthrie with a vision of providing patient-centered care through a clinically-integrated network of employed providers. It is an industry leader in the use of technology and electronic medical records to provide high-quality care. Among The Guthrie Clinic's 6,500 caregivers are more than 700 physicians and advanced practice providers, representing the spectrum of medical specialties and sub-specialties. The Guthrie Clinic is a five-hospital system with a large network of outpatient facilities that spans nearly 9,000 square miles in Pennsylvania and upstate New York. It is dedicated to training the next generation of health care leaders, offering seven residencies and three fellowships.  
Visit us at www.Guthrie.org. Follow us at Twitter.com/GuthrieClinic, Facebook.com/TheGuthrieClinic, Linkedin.com/company/TheGuthrieClinic, and Instagram.com/TheGuthrieClinic.  
### 
Attachments
Dr. Edmund Sabanegh and Kathy Connerton at Press Conference Announcing Partnership
Guthrie's President and CEO Addresses the Media During Announcement Presser
CONTACT: Kathy Cramer Guthrie 570-887-4415 [email protected] 

Disclaimer: The above press release comes to you under an arrangement with GlobeNewswire. AfternoonHeadlines.com takes no editorial responsibility for the same.