GUTHRIE CORNING HOSPITAL NAMED PROVISIONAL LEVEL III TRAUMA CENTER
Guthrie Corning Hospital Named Provisional Level III Trauma Center
Guthrie Corning Hospital Named Provisional Level III Trauma Center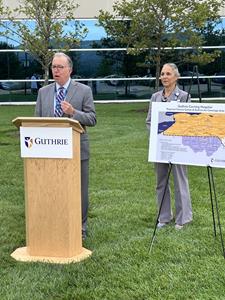 Corning, N.Y., Aug. 29, 2023 (GLOBE NEWSWIRE) — Officials at The Guthrie Clinic announced today that Guthrie Corning Hospital has been designated a Provisional Level III Adult Trauma Center by the New York State Department of Health (NYSDOH), effective August 28, 2023.
"Guthrie Corning Hospital now joins Guthrie Robert Packer Hospital and Guthrie Troy Community Hospital as designated/accredited trauma centers," said Dr. Edmund Sabanegh, President and CEO of The Guthrie Clinic. "With this new designation for Corning Hospital, multiple rural communities in our 12-county region will benefit from having access to trauma care close to home when they need it most."
The Level III designation requires hospitals to have a 24-hour trauma team in place, and emergency medical supplies and specialized equipment designed specifically for treating traumatic injuries. A Level III Trauma Center increases the level of care available to those facing medical emergencies and provides critical support in emergency situations. Provisional status is granted to new trauma programs in New York until they are verified by the American College of Surgeons.
Guthrie's Robert Packer Hospital is an accredited Level I Trauma Center and Guthrie Troy Community Hospital is an accredited Level IV Trauma Center by the Pennsylvania Trauma Systems Foundation.
"Becoming a Level III Trauma Center reaffirms Guthrie's commitment to our community's wellbeing," said Dr. Anne Rizzo, Trauma Medical Director. "This designation puts Guthrie at the forefront of health care systems in rural settings and solidifies our dedication to providing reliable and accessible emergency services for our patients."
"I am profoundly grateful to the caregivers who played a vital role in obtaining Level III designation," said Dr. Sabanegh. "Their compassion, skill, and guidance are a testament to Guthrie's legacy of providing high-quality trauma care to those in need. We remain unwavering in our commitment to keep care local for our communities."
###
The Guthrie Clinic is a non-profit multispecialty health system that integrates clinical and hospital care with research and education. Based in Sayre, Pennsylvania, The Guthrie Clinic is one of the nation's longest established group practices, founded in 1910 by Dr. Donald Guthrie with a vision of providing patient-centered care through a clinically-integrated network of employed providers. It is an industry leader in the use of technology and electronic medical records to provide high-quality care. Among The Guthrie Clinic's 6,500 caregivers are more than 700 physicians and advanced practice providers, representing the spectrum of medical specialties and sub-specialties. The Guthrie Clinic is a five-hospital system with a large network of outpatient facilities that spans nearly 9,000 square miles in Pennsylvania and upstate New York. It is dedicated to training the next generation of health care leaders, offering seven residencies and three fellowships.     
Visit us at www.Guthrie.org. Follow us at Twitter.com/GuthrieClinic, Facebook.com/TheGuthrieClinic, Linkedin.com/company/TheGuthrieClinic, and Instagram.com/TheGuthrieClinic.
###
Attachments
Guthrie Corning Hospital Named Provisional Level III Trauma Center
Guthrie Corning Hospital Named Provisional Level III Trauma Center
CONTACT: Kathy Cramer Guthrie 570-887-4415 [email protected] 

Disclaimer: The above press release comes to you under an arrangement with GlobeNewswire. AfternoonHeadlines.com takes no editorial responsibility for the same.