Greenfield Global Expands Its Portfolio of High-Purity Solvents and Specialty Alcohols in Canada
Greenfield Global Warehouse in Milton, Ontario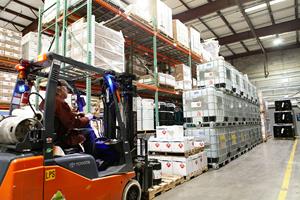 Mississauga (Ontario), Aug. 17, 2023 (GLOBE NEWSWIRE) — Greenfield Global Inc., a leading global producer of ethanol and high-purity solvents, is excited to announce the expansion of its product portfolio and distribution footprint catering to the Canadian market. Through the establishment of a new purpose-built warehouse located in the Greater Toronto Area, Greenfield is meeting escalating demands across various Canadian industries for access to essential, mission-critical quality materials, including Methanol, Acetone and Acetonitrile – all now available within Canada.
"At Greenfield, we understand the significance of providing local access to high-purity solvents. The new warehouse, located in Milton, Ontario, will further elevate our commitment to a reliable supply chain, currency consistency and shorter lead times for our Canadian customers," said Donald Williams, Director, Supply Chains at Greenfield Global. "As part of the Pharmco® by Greenfield Global product line, we offer a comprehensive selection of high-purity solvents and alcohols, catering to multiple industries and businesses including manufacturing of pharmaceuticals, flavors, and industrial products, as well as hospitals, labs, and universities. Our new warehouse will allow for even faster deliveries and testing solutions at competitive prices."
Set to be completed by the end of September 2023, Greenfield Global's new warehouse has been designed to offer significant benefits to enhance the Canadian customer experience for customers of all sizes:
Expanded Line of Products: Businesses can now anticipate competitive pricing and an access to a range of high-purity solvents within Canada. Elevating convenience further, Greenfield also offers the flexibility of custom packaging sizes spanning from totes down to pails. Click here for the complete list of products available through our new Canadian warehouse.
Local Warehousing: Customers located in Canada will experience lead times of 1-2 days, reduced logistics costs, and the ability to transact in Canadian dollars.
Customer Care: Greenfield's Canada-based Customer Care team is committed to helping businesses wherever they are in the purchasing process and improving access to a broad portfolio of quality products.
Regulatory Expertise: With more than 30 years of experience, Greenfield helps customers through all regulatory considerations for the products they need.
To learn more about the exciting developments at Greenfield Global, please visit the official website at https://www.greenfield.com.
About Greenfield Global Inc.:
Since 1989, Greenfield Global has been the leading supplier of high-purity alcohols, specialty solvents, custom blended solutions and fuel ethanol to businesses worldwide, ranging from Fortune 500 companies to sole proprietorships.
Greenfield's primary markets are renewable fuels, beverage alcohols, life science, food, flavor, fragrance, personal care and industrials. Annually, the company fulfills over 35,000 orders in more than 50 countries through its extensive global supply chain, which includes 5 alcohol distilleries, 5 blending and packaging facilities, and 8 warehouses allowing Greenfield to deliver within 1-3 days. The company also operates one of the largest anaerobic digestion facilities in North America, converting more than 120,000 MT of source-separated organics every year to produce renewable natural gas.
Greenfield's low-carbon ethanol helps industry decarbonize and meet net-zero targets, while its team of researchers and engineers continue to innovate and produce other sustainable fuels and chemicals such as green hydrogen, green methanol, sustainable aviation fuel and renewable natural gas.
The company's mission statement is to unlock the potential of people, partnerships and nature to accelerate sustainable solutions for the health of the planet.
Headquartered in Toronto, Canada, Greenfield Global is family owned and operated and has been awarded "Canada's Best Managed Companies" Platinum-level designation since 2015.
Attachment
Greenfield Global Warehouse in Milton, Ontario
CONTACT: Valérie Picher Greenfield Global Inc. (647) 289-5873 [email protected] 

Disclaimer: The above press release comes to you under an arrangement with GlobeNewswire. AfternoonHeadlines.com takes no editorial responsibility for the same.