GREATER GOOD CHARITIES IN PARTNERSHIP WITH SOUTHWEST AIRLINES AND LUCKY DOG ANIMAL RESCUE TRANSPORTS HUMANITARIAN SUPPLIES TO MAUI AND OPERATES EMERGENCY AIRLIFT OF MORE THAN 130 SHELTER PETS FROM THE ISLAND TO THE PACIFIC NORTHWEST
Emergency Airlift Onboard Southwest Airlines Aircraft Makes Room for Influx of Pets at Maui Humane Society Due to Wildfires
GREATER GOOD CHARITIES IN PARTNERSHIP WITH SOUTHWEST AIRLINES AND LUCKY DOG ANIMAL RESCUE TRANSPORTS HUMANITARIAN SUPPLIES TO MAUI AND OPERATES EMERGENCY AIRLIFT OF MORE THAN 130 SHELTER PETS FROM THE ISLAND TO THE PACIFIC NORTHWEST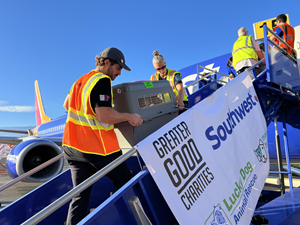 GREATER GOOD CHARITIES IN PARTNERSHIP WITH SOUTHWEST AIRLINES AND LUCKY DOG ANIMAL RESCUE TRANSPORTS HUMANITARIAN SUPPLIES TO MAUI AND OPERATES EMERGENCY AIRLIFT OF MORE THAN 130 SHELTER PETS FROM THE ISLAND TO THE PACIFIC NORTHWEST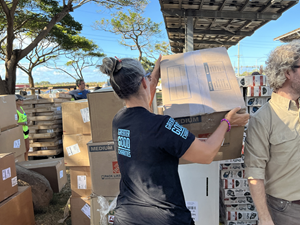 Seattle, Wash., Aug. 21, 2023 (GLOBE NEWSWIRE) — In the wake of the Maui wildfires, Greater Good Charities in partnership with Southwest Airlines® and Lucky Dog Animal Rescue, delivered humanitarian supplies to Maui and utilized a donated Southwest Airlines aircraft to operate an emergency airlift of more than 130 shelter pets from the Island to Portland, Ore. to find new homes.
"We want to support the people and pets of Maui that have been devastated by the wildfires," said Liz Baker, CEO of Greater Good Charities. "This donation of humanitarian supplies and emergency shelter pet airlift is part of Greater Good Charities' plan to provide immediate support and aid in the island's long-term recovery."
This emergency airlift makes room for the expected influx of injured and displaced pets that will arrive at Maui Humane Society because of the wildfires. Only shelter pets at Maui Humane Society prior to the wildfires were transported to Portland.
"Our Hearts are with the people of Hawaii and the communities who are affected by the wildfires, and we have many efforts underway across the company to offer our assistance and support," said Laura Nieto, Managing Director Corporate Responsibility at Southwest Airlines. "In addition to supporting local and national relief organizations to bring aid to Maui, Southwest and our Employees have put their Hearts into action to join this effort to transport shelter cats and dogs in-cabin to Portland in hopes of finding forever homes."
The Southwest aircraft arrived in Maui on August 17, carrying hundreds of Good Packs filled with survival and comfort supplies that include t-shirts, blankets, flashlights, socks, and hygiene kits. The next morning, the Greater Good Charities' team and Southwest Employees on the ground in Maui loaded in the more than 130 shelter pets from Maui Humane Society to be flown to Portland and received by Oregon Humane Society and other shelters to prepare for new homes.
"We are incredibly grateful for the extraordinary response and offers of support we have received from organizations ranging from those in our local community to national organizations during this devastating time," said Lisa Labrecque, CEO of Maui Humane Society. "The efforts organized by Greater Good Charities will help Maui's community by providing space in our shelter and in foster homes, to allow for the ongoing medical care, sheltering, and supplies that pets and their owners affected by the wildfires will need. A new normal has developed here in Maui, and we will need assistance for months and even years to come."
"As someone who grew up in Hawaii, I am proud to be part of this effort to bring much needed relief to our Maui Ohana," said Mirah Horowitz, Founder and CEO of Lucky Dog Animal Rescue. "This partnership between Greater Good Charities, Southwest Airlines, and Lucky Dog Animal Rescue will make it possible for Maui Humane Society to care for even more pets displaced by the wildfires and ensure they have care until they can be reunited with their families."
"Our staff and volunteers are ready to welcome these pets and hope this provides some relief to the community in Maui who have been devastated by this crisis." says Dr. Steve Kochis, Oregon Humane Society Chief Medical Officer. "We are fortunate to have a dedicated Rescue Center that was built for disaster response and large intakes of animals. OHS will continue to support Maui in the recovery efforts in any way we can.
Greater Good Charities worked with veterinarians on the ground in Maui to ensure the safety and health of the shelter pets on the flight. A licensed veterinarian accompanied the flight of shelter pets to Portland and all the shelter cats and dogs will be evaluated and receive any follow-up medical care needed before being put up for adoption. 
To learn more how to support Greater Good Charities disaster response in Maui, please visit greatergood.org.
                                                                                                # # #
ABOUT GREATER GOOD CHARITIES
Greater Good Charities is a 501(c)(3) global nonprofit organization that works to help people, pets, and the planet by mobilizing in response to need and amplifying the good. Greater Good Charities, with a 100/100 rating on Charity Navigator, has invested more than $575 million in impact, including cash grants, in-kind supplies, and programmatic support, to charitable partners in 121 countries since 2007. To learn more about how Greater Good Charities is amplifying the good across the globe, please visit greatergood.org or follow Facebook, Instagram, X, YouTube and TikTok.
ABOUT SOUTHWEST AIRLINES CO.
Southwest Airlines Co. operates one of the world's most admired and awarded airlines, offering its one-of-a-kind value and Hospitality at 121 airports across 11 countries. Southwest took flight in 1971 to democratize the sky through friendly, reliable, and low-cost air travel and now carries more air travelers flying nonstop within the United States than any other airline1. Based in Dallas and famous for an Employee-first corporate Culture, Southwest maintains an unprecedented record of no involuntary furloughs or layoffs in its history. By empowering its more than 71,0002 People to deliver unparalleled Hospitality, the maverick airline cherishes a passionate loyalty among more than 126 million Customers carried in 2022. That formula for success brought industry-leading prosperity and 47 consecutive years3 of profitability for Southwest Shareholders (NYSE: LUV). Southwest leverages a unique legacy and mission to serve communities around the world including harnessing the power of its People and Purpose to put communities at the Heart of its success. Learn more by visiting Southwest.com/citizenship. As the airline with Heart, Southwest has set a goal to work toward achieving net zero carbon emissions by 2050. Southwest has also set near-term targets and a four-pillar strategy to achieve its environmental goals. Learn more by visiting Southwest.com/planet.
ABOUT MAUI HUMANE SOCIETY
Maui Humane Society is the island's only open admission shelter, accepting all animals in need. The organization cares for over 4900 animals a year. The shelter has a robust foster and volunteer program, transfers hundreds of animals through Wings of Aloha flights to adoption-guaranteed homes, practices TNR as a humane method of reducing the community cat population and provides food and supplies at no cost to disadvantaged pet owners through the 4EverPets community outreach program. Visit http://www.mauihumanesociety.org for more information.
ABOUT LUCKY DOG ANIMAL RESCUE
Lucky Dog Animal Rescue is a volunteer-powered 501(c)(3) nonprofit dedicated to rescuing homeless, neglected, and abandoned animals from certain euthanasia and finding them loving forever homes. Lucky Dog relies on a network of volunteers and fosters to facilitate adoptions and provide temporary homes for the dogs and cats available for adoption. Lucky Dog has rescued over 26,000 animals since its founding in 2009. To learn more about Lucky Dog Animal Rescue, please visit luckydoganimalrescue.org or follow Facebook, Instagram, X, YouTube and TikTok.
Attachments
GREATER GOOD CHARITIES IN PARTNERSHIP WITH SOUTHWEST AIRLINES AND LUCKY DOG ANIMAL RESCUE TRANSPORTS HUMANITARIAN SUPPLIES TO MAUI AND OPERATES EMERGENCY AIRLIFT OF MORE THAN 130 SHELTER PETS FROM THE ISLAND TO THE PACIFIC NORTHWEST
GREATER GOOD CHARITIES IN PARTNERSHIP WITH SOUTHWEST AIRLINES AND LUCKY DOG ANIMAL RESCUE TRANSPORTS HUMANITARIAN SUPPLIES TO MAUI AND OPERATES EMERGENCY AIRLIFT OF MORE THAN 130 SHELTER PETS FROM THE ISLAND TO THE PACIFIC NORTHWEST
CONTACT: Greater Good Charities [email protected] 

Disclaimer: The above press release comes to you under an arrangement with GlobeNewswire. AfternoonHeadlines.com takes no editorial responsibility for the same.