Gravity Diagnostics' Julie Brazil, COO, and Karen Hargett, CHRO, Named as Cincinnati Business Courier 2023 C-Suite Award Winners
Gravity Diagnostics' Julie Brazil, COO, Named as Cincinnati Business Courier 2023 C-Suite Award Winner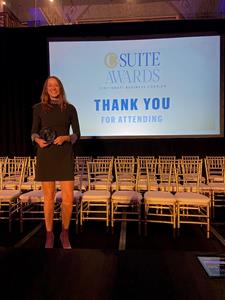 Gravity Diagnostics' Karen Hargett, CHRO, Named as Cincinnati Business Courier 2023 C-Suite Award Winner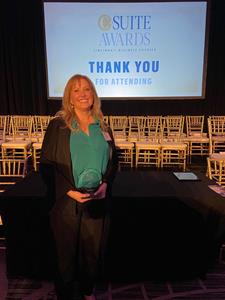 Covington, KY, Oct. 13, 2023 (GLOBE NEWSWIRE) — FOR IMMEDIATE RELEASE
COVINGTON, KY – Julie Brazil, COO, and Karen Hargett, CHRO, of Gravity Diagnostics have been named as category winners for the 2023 Cincinnati Business Courier C-Suite Awards.
Julie Brazil, Gravity's COO and Co-Founder, was awarded the top honor in the Chief Operating Officer for a Privately Held Company category. She credits her biggest win as the adaptability to whatever landscape the business meets and the team's ability to work together regardless of the circumstance. She is proud to lead an industry-changing organization without having to compromise commitments to compliance and customer care. Read her full winner profile here.
Jaclyn Trent, Sr. Director of Sales for Gravity who accepted the award on Julie's behalf, stated in her speech, "She challenges us to think bigger, to become experts in our field, and to do more each day to not only make ourselves better but others around us better. The Gravity team has excelled under the leadership of Julie. We thank her for the continued commitment to the patients we serve, the accounts we support, and the guidance she provides for every Gravity employee."
Karen Hargett, Gravity's Chief People Officer, was awarded the top honor in the Chief Human Resources Officer category. Her commitment to empowering employees to reach their full potential was a standout among the finalists. Read her full winner profile here. She credits Gravity's winning strategy to working on a leadership team that truly believes in the importance of its people, stating in her acceptance speech, "There's no way you can be successful in HR if you don't have a passion for it, and to do it at a company and with people that share that passion I feel incredibly lucky. The leaders I work with include HR in their decision making, and that's the difference. We're not afraid to challenge each other and I'm grateful to have a team that recognizes how critical our people are."
The Cincinnati Business Courier recognizes top executives and their performances in regional business and nonprofits. 45 finalists and 16 winners in 8 categories were selected by independent judges. This was the ninth year for this annual recognition.
About Gravity Diagnostics  
Gravity Diagnostics is a state-of-the-art CAP-accredited and CLIA-certified laboratory licensed in all 50 states providing innovative laboratory testing in the areas of COVID-19, upper respiratory, toxicology, pharmacogenetics, sexually transmitted infections, and blood hematology. The company is an advocate for physicians, patients, and their communities, supporting them with unsurpassed integrity, regulatory compliance, and clinical expertise. Gravity currently serves over 1,000 customers from small private practices to universities to Fortune 500 companies. Learn more at gravitydiagnostics.com.  
###
Attachments
CONTACT: Molly Wheeler Gravity Diagnostics [email protected] 

Disclaimer: The above press release comes to you under an arrangement with GlobeNewswire. AfternoonHeadlines.com takes no editorial responsibility for the same.