GoodCook Shares Top Product Recommendations to Elevate Summer Entertaining
Make summer planning a breeze with the new GoodCook BestBake™ MultiMeal™ Bakeware, available at Walmart, and seasonal kitchenware favorites
GoodCook Shares Top Product Recommendations to Elevate Summer Entertaining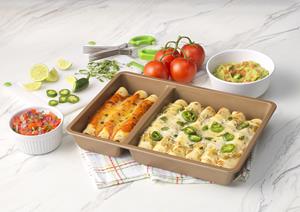 RANCHO CUCAMONGA, Calif., July 27, 2023 (GLOBE NEWSWIRE) — GoodCook®, the leading kitchenware brand in America that makes quality cooking essentials for everyone, is helping families everywhere master summer party dishes with its new-to-market bakeware and tools. With the dependable, easy-to-use products, home cooks will be turning up the heat in the kitchen and cooking up delicious meals that will serve nicely at any summer event.
With the warmer weather officially underway, and festivities coming in hot, GoodCook has all the essentials that will equip hosts to prepare flavorful feasts with ease. Introducing the GoodCook BestBake™ MultiMeal™ Bakeware: the all-new bakeware designed to allow for easy, personalized meals and desserts with two to three baking sections on one pan. A more helpful choice when cooking and baking for multiple family members and friends this summer, particularly those with dietary restrictions or selective tastes, the bakeware is the ultimate culinary time saver – so you can spend more time catching up with loved ones – and is ideal for mastering meal prep.
To further ensure that recipes go off without a hitch, the GoodCook Digital Folding Thermometer has a rapid-response design to provide a fast and accurate reading in less than three seconds, while the GoodCook Hand-Held Spiralizer is ideal for elevating summer salads and other farm fresh, veggie-packed meals. Designed with functionality and ease in mind, the helpful tools deliver quality performance every time, helping hosts create memorable entertaining experiences that guests will enjoy all season long.
Whether families are planning a casual summer barbeque or a more elaborate dinner, GoodCook's top product picks will take celebrations to the next level:
For dinner parties made easy: Gathering with friends and family during the summer months for late night dinner parties is a favorite festivity for many, but with vast differences in taste and dietary restrictions, it can be especially difficult to master a winning menu that all will love. Now, with the GoodCook BestBake™ MultiMeal™ Bakeware, which also includes the GoodCook BestBake™ MultiMeal™ Divided Oblong 11"Pan and BestBake™ MultiMeal™ Divided Oblong 9"Pan hosts can create a delightful dinner experience and provide guests with customized dishes with ease by utilizing the pan's equally divided portions. The separated sections save cooks on time, doing the work of up to three pans with one, making meal prepping, cooking and cleaning a breeze.
For the sizzling hot barbeques: The GoodCook Digital Folding Thermometer is a must-have when planning any summer cookout. Grill masters can use the convenient cooking guide on the back of the thermometer, which provides USDA recommendations, to ensure beef, lamb, pork, ham, chicken, turkey, and more are prepared to the correct temperature and doneness level needed. It is also IP65-rated, dust-tight, and water resistant, so home cooks can leave the thermometer outside and don't have to worry about the splashes from the pool ruining their new summer go-to tool.
For the ultimate summer side dish: Making a quick and easy side dish for summer holiday get-togethers? The GoodCook Hand-Held Spiralizer Set is the ultimate gamechanger. Creating colorful veggie noodles quickly and easily, it's designed with an indented finger recess that makes it easier to hold – plus, this compact portable device sports three color-coded blade options that allow cooks to choose different spiral thicknesses that can be dropped right into salads.
"GoodCook always aims to help home entertainers everywhere connect with their loved ones through delicious meals," said Tom Barber, SVP Marketing and Product Development, "And, with a selection of summer-ready products and tools, happy hosts can dish up their guests' favorite recipes with ease – ideal for the many get togethers this time of year brings. From the brand new GoodCook BestBake™ MultiMeal™ Bakeware that keeps picky eaters pleased and saves cooks on time, to the thoughtfully designed tools that maximize efficiency and ensure prime cooking results, there is a GoodCook product for every type of host to enjoy this summer."
For over thirty years, GoodCook has been America's companion in the kitchen, delivering quality cooking essentials for home cooks that are built to last. With GoodCook's product picks families can come together and celebrate the summer fun with delicious meals. For more information about GoodCook, please visit www.goodcook.com and @goodcookcom.
About GoodCook®
GoodCook® kitchenware products offer a wide assortment of kitchen tools, gadgets, bakeware, cookware, and food storage. Creating thoughtfully designed and affordable kitchenware for the home cook, GoodCook® products reflect the brand's personality—intuitive, inspiring, helpful and accessible. In keeping up with today's food trends toward an ever-expanding diversity of tastes, GoodCook® is building its brand by providing a robust catalog of recipes, instruction and useful tips on its website, www.goodcook.com.
Media Contact:
Desiree Dozier
[email protected]
A photo accompanying this announcement is available at https://www.globenewswire.com/NewsRoom/AttachmentNg/f3244964-9948-4477-8463-7fa192b2335c

Disclaimer: The above press release comes to you under an arrangement with GlobeNewswire. AfternoonHeadlines.com takes no editorial responsibility for the same.