GoDigital Media Group, with the Support of We are All Human, Brings Together Business and Government Leaders to Chart Path Towards Reaching U.N's Sustainable Development Goals
Public and private sector leaders issue call for social impact to move from ancillary focus to primary focus of business and make major job creation announcements
A Celebration of Entrepreneurship in the Americas
A Celebration of Entrepreneurship in the Americas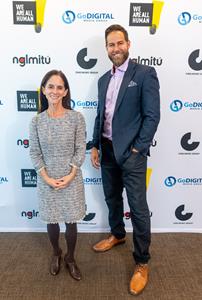 NEW YORK, Oct. 13, 2023 (GLOBE NEWSWIRE) — GoDigital Media Group, a global media and technology conglomerate focused on community, content, and commerce, with the support of We Are All Human, a 501 (c)3 public charity devoted to advancing Equity, Diversity and Inclusion for all, today announced highly successful results from the first "Celebration of Entrepreneurship in the Americas" conference on October 11, 2023.
The conference was centered around the 2030 Agenda for Sustainable Development, a program adopted in 2015 by all U.N. countries which aims to transform the world by ending poverty and inequality, protecting the planet, and ensuring that all people enjoy health, justice and prosperity through the 17 Sustainable Development Goals (SDGs).
However, midway through the program timeline, only 15 percent of the targets are on track towards meeting the important goals of the SDG. As a result, during the September 18, 2023 U.N. General Assembly's Sustainable Development Goal Summit, U.N. Secretary-General Gutteres called on private businesses to help make substantial progress towards advancing these goals, and in turn, the well-being of all global citizens.
Heading the U.N.'s call, the first-of-its-kind event brought together more than 200 changemakers and political advocates, including top entrepreneurs from startups, top U.S. businesses, financiers, social impact fund representatives, policymakers and diplomats, to discuss the vital role entrepreneurs play in today's economy. The program championed a distinct emphasis on driving prosperity at the intersection of business, DEI, and entrepreneurship, especially in partnership with Latino entrepreneurs. Time and again throughout the event, attendees and participants noted the groundbreaking nature of the gathering, the first of its kind to bring together entrepreneurs, NGOs and the diplomatic community to advance the SDGs.
The packed event featured riveting sessions hosted and moderated by more than a dozen notable luminaries, including:
Anthony Hinojosa, vice president of government and international affairs at the United States Hispanic Chamber of Commerce
Jorge Islas López, consul general of MexicoMarlene Cintron, regional administrator at the U.S. Small Business Administration
Mark Madrid, honorary colonel, U.S. Army and interim SBA administrator
Santiago Strasser, co-founder of Carbe Diem, a brand of General Mills internal venture studio
Richard Edelman, chief executive officer of Edelman and chairman of Daniel J. Edelman Holding
Elaine Brennan, executive director, global strategic partnerships at Northwell Health
The program also included three keynotes from diverse and highly regarded voices across the public, private and nonprofit sectors. Key announcements from these engaging presentations included:
Prioritizing Sustainable Development Would Generate 300 Million New Jobs
During her keynote address, Linda Maguire, deputy assistant administrator and deputy director of the U.N. Development Programme in Latin America and the Caribbean, announced powerful statistics to the full house of attendees, stating, "the Better Business Better World report identified more than $12 trillion in new economic activity that would generate up to 300 million new jobs if businesses made sustainable development a priority. The answer is clear: social impact is not just social good, it's good business."
Sustainability and Positive Impact Must be Central to All Business Efforts
With these insights in mind, Jason Peterson, GoDigital CEO and founder, shared a call for partnership, collaboration and most importantly, action, during his keynote. Peterson added, "For far too long, sustainability has been a plus factor in business. For many companies, it has been about 'what can we do to help the world' as a social good, separate, and apart from their business. At best, corporations have woven sustainability into their business as a social impact investment in the world around them, recognizing we all rise with the tide. But I'm here today to declare that sustainability and positive impact are not merely meant to be woven into a business's purpose – they are the purpose of business."
The Future Depends on Continued Collaboration Between the Public and Private Sector
Echoing Maguire and Peterson, Claudia Romo Edelman, Mexican-Swiss diplomat and We are All Human founder, enthusiastically shared her view of this all-important endeavor adding, "Today has proven that the future is dependent on private enterprise driving innovation and change. This is the first time ever that we have brought together the diplomatic and business communities in support of the SDGs at the U.N., but it will not be the last. The future of the 2030 agenda depends on connecting those who do, to those who can help them do more."
About GoDigital Media Group:
GoDigital inspires happiness through content, community, and commerce, across consumer passion points in music, entertainment, sports, and beyond. It is a privately held multinational conglomerate founded in 2006 by Jason Peterson to address the convergence of media and technology. Applying a technology-enabled IP rights management approach, GoDigital generates value through innovation and investment in each of its brands. Select business units include Bob's Stores, Cinq Music, Eastern Mountain Sports, NGLmitu, Sound Royalties and YogaWorks. To learn more visit godigitalmg.com.
About We Are All Human
We Are All Human is a registered 501 (c)3 public charity devoted to advancing Equity, Diversity & Inclusion for all, with a particular focus on accelerating the progress of Hispanics in the United States. Its biggest platform – the Hispanic Star – was a finalist on the 2023 Collective Social Innovation Award of the Schwab Foundation for Social Entrepreneurship.
Media Contact
Andrea Courtney
[email protected] 
206-348-0708
Photos accompanying this announcement are available at
https://www.globenewswire.com/NewsRoom/AttachmentNg/fa88c324-89cb-4c09-98ce-c639f2e1640a
https://www.globenewswire.com/NewsRoom/AttachmentNg/fa6b0af7-d7d6-40c4-9ce4-6c0c866bef0f

Disclaimer: The above press release comes to you under an arrangement with GlobeNewswire. AfternoonHeadlines.com takes no editorial responsibility for the same.