GIANT EAGLE REDEFINES ITS NATURE'S BASKET BRAND TO OFFER CUSTOMERS A COMPLETE ASSORTMENT OF SUSTAINABLE PRODUCTS AT A STRONG VALUE
Nature's Basket shows industry leadership through partnership with HowGood for third-party sustainability attribute evaluation of entire product line
Giant Eagle shelf signage featuring HowGood Rating.
The HowGood Ratings of Nature's Basket items is featured on the item's product page on the Giant Eagle website.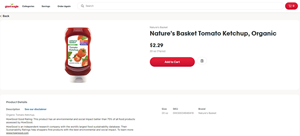 Pittsburgh, Oct. 11, 2023 (GLOBE NEWSWIRE) — Ranked among the 10 most sustainable retailers by Progressive Grocer, Giant Eagle Inc. continues to be a sustainability leader in grocery retail. As part of the company's ongoing commitment to sustainability, Giant Eagle has relaunched its private label brand, Nature's Basket.
All items from the Nature's Basket product line now feature responsibly sourced, high-quality ingredients that customers and their families can feel good about, at a value they can count on.
"We're committed to helping our customers to realize meaningful value through our Own Brands program, and I am particularly excited to reintroduce our Nature's Basket line to our customers," said Kasey Sheffer Vice President of Own Brands at Giant Eagle. "When a customer purchases any Nature's Basket item, we want them to feel good about the price, quality of the ingredients, and the environmental and social impact of the product." 
The growth of products that make environmental, social, and governance (ESG) claims has significantly outpaced that of traditional products. Over a five-year period, products that claim ESG attributes have grown 28 percent vs. 20 percent traditional, according to the 2023 joint study from McKinsey and NielsenIQ: Consumers care about sustainability – and back it up with their wallets.
To increase transparency, Giant Eagle has partnered with an independent sustainability intelligence company, HowGood, to evaluate the environmental and social impact of each item in the Nature's Basket line and provide a comprehensive sustainability rating.
"Through our Nature's Basket brand, we're excited to offer customers a reimagined product line with an enhanced focus on sustainability," said Cara Mercil, Director of Sustainability and Corporate Social Responsibility at Giant Eagle. "We've taken an innovative approach to strengthening the Nature's Basket brand, both through our partnership with HowGood and our continued work to reduce waste through the development of product packaging that is more reusable, recyclable, and biodegradable." 
Products that achieve HowGood Ratings of Good, Great, and Best have an overall environmental and social sustainability impact that is better than more than 70, 85, and 95 percent of food products assessed by HowGood, respectively. Approximately 70 percent of Nature's Basket items have received a HowGood Rating of Good, Great, or Best.
When building an online order, Giant Eagle customers can review the HowGood Ratings of Nature's Basket items listed under "Product Details" on each product's page. HowGood Ratings will also be featured on in-store signage to help customers find products that align with their preferences.
"We are delighted to partner with Giant Eagle to provide comprehensive, unified sustainability communications to consumers," said Alexander Gillett, CEO of HowGood. "Today's shoppers are more committed than ever to supporting brands that have a positive impact on our planet. Displaying HowGood's easy-to-understand sustainability ratings brings Giant Eagle to the forefront of a global movement empowering consumers to live more sustainably."
HowGood calculates product sustainability ratings using eight core impact metrics: greenhouse gas emissions, biodiversity, processing, water usage, labor risk, land use, soil health, and animal welfare.
Additionally, all Nature's Basket-branded meat products have received third-party animal welfare certifications, and Nature's Basket products containing plant-based ingredients are made exclusively with non-GMO ingredients. Organic products meet the standards set by the United States Department of Agriculture for organic labeling, while natural foods adhere to or surpass the definition of natural food as defined by the USDA.
To learn more about Nature's Basket and Giant Eagle's sustainability efforts, visit GiantEagle.com/AllofUs. To learn about HowGood's product sustainability ratings, visit HowGood.com.
About Giant Eagle
Giant Eagle, Inc., ranked among the top 40 on Forbes magazine's largest private corporations list, is one of the nation's largest food retailers and distributors with approximately $11.4 billion in annual sales. Founded in 1931, Giant Eagle, Inc. has grown to be a leading food, fuel and pharmacy retailer in the region with more than 470 stores throughout western Pennsylvania, north central Ohio, northern West Virginia, Maryland and Indiana.
About HowGood
HowGood is an independent research company and SaaS Sustainability Intelligence platform with the world's largest database on food product sustainability. With more than 33,000 ingredients, chemicals and materials assessed, HowGood helps leading brands, suppliers, retailers and restaurants improve their environmental and social impact. Through in-depth, ingredient-level insights into factors like greenhouse gas emissions, biodiversity, labor risk, animal welfare, and other key impacts, HowGood's data power strategic decision-making for the sourcing, manufacturing, merchandising, and marketing of sustainable products.
Attachments
CONTACT: Jannah Jablonowski Giant Eagle, Inc. 412-963-2514 [email protected] 

Disclaimer: The above press release comes to you under an arrangement with GlobeNewswire. AfternoonHeadlines.com takes no editorial responsibility for the same.