Garth Fagan and Dancers Wow Sold-Out Audience at Texas A&M University-Commerce
Garth Fagan speaks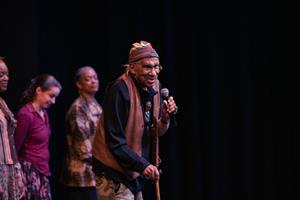 Garth Fagan Dance performs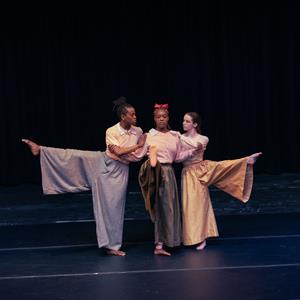 Commerce, Texas, Feb. 28, 2023 (GLOBE NEWSWIRE) — Texas A&M University-Commerce welcomed premier choreographer Garth Fagan and his Garth Fagan Dance company to the university's Performing Arts Center on February 23. The sold-out crowd witnessed powerful numbers and major feats of strength, all orchestrated by the famed choreographer of the smash Broadway hit, Disney's "The Lion King."
Utilizing the Fagan Technique™, which centers movements on the dancer's torso, the company twisted and contorted into striking shapes before bursting into quick movements. Set to various musical artists, from South African jazz to Coltrane to Max Roach, a North Carolinian percussionist, the performances were as meaningful as they were precise. One number featured a younger and older version of Fredrick Douglass dancing together, ending with arms wrapped around each other as if merging back into one remembered soul.
"It speaks to the research that Garth did before he decided he was going to come up with a technique that would be a universal statement but also help facilitate what he wanted to do choreographically, which was also going to be new and cutting edge," said Norwood "PJ" Pennewell, principal dancer and choreographer. Pennewell is the only other person to choreograph dances for Garth Fagan Dance besides Fagan himself.
The event was a collaboration between the university and the renowned dance company, which also conducted masterclasses for students at both A&M-Commerce and Booker T. Washington High School for the Performing and Visual Arts, courtesy of A&M-Commerce. Earlier this week, President Biden sent a recorded message to Fagan, recognizing him as the longest-running Black choreographer on Broadway.
"Part of Fagan's commitment is to sow into the lives of children and young adults so that they are inspired to have people who look like them [also] teach them," said Dr. Cephas Archie, vice president for inclusion at A&M-Commerce.
Known for his groundbreaking, extraordinary work on 1997's "The Lion King," for which he also won a Tony Award for best choreography, Fagan has been dancing and teaching for over 60 years. Fagan was born in Jamaica and pursued a traditional education at Detroit's Wayne State University before declaring dance his true passion. He hasn't looked back since.
Rooted in African traditions and Caribbean stories, the company was founded in 1973 in Rochester, New York, out of the SUNY Educational Opportunity Center. Most of Fagan's students had no previous training and came from disadvantaged backgrounds, but Fagan molded them into an elite company. Fostering intense collaboration with his students, Fagan became a groundbreaking choreographer with global impact.
Attachments
Garth Fagan speaks
Garth Fagan Dance performs
CONTACT: Michael Johnson Texas A&M University-Commerce 903-886-5128 [email protected] 

Disclaimer: The above press release comes to you under an arrangement with GlobeNewswire. AfternoonHeadlines.com takes no editorial responsibility for the same.