Game-Changing Simulation Product Uses AI and Robotics to Redefine Manufacturing and Warehouse Management
ResGreen's SimuPath Integrates Unreal Engine Video Game Tool to Create Accurate, 3D Simulations
SimuPath Simulation Program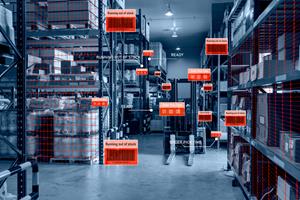 SHELBY TOWNSHIP, Mich., Aug. 29, 2023 (GLOBE NEWSWIRE) — ResGreen Group International, Inc. (RGGI) (OTC PINK: RGGI), a leader in mobile robot and software solutions, introduced today SimuPath, a groundbreaking simulation program that boosts performance and productivity in manufacturing facilities and warehouses. SimuPath uses 3D creation tool Unreal Engine to design a virtual representation of a manufacturing facility or warehouse that perfectly reflects its physical dimensions and structures. SimuPath's Artificial Intelligence (AI) helps determine the best routes for optimum material handling efficiency and relays the information to ResGreen's leading-edge mobile robots – BigBuddy, PullBuddy and LilBuddy – as well as other robotic solutions, such as human drones, within the virtual environment.
"By leveraging AI, robotics, and high-powered game engine simulations, we are creating a future-ready solution for our customers that not only significantly improves their current operations, but also offers a new vision of how effective and efficient their assembly, delivery and picking processes can be," said Parsh Patel, ResGreen CEO. "We are confident that our SimuPath program will set new benchmarks in cost-effectiveness and place our clients at the forefront of their industries."
SimuPath will be available in two simulation modes:
Mode A – Fixed Structure: This mode presents a static, digital replica of a warehouse or plant, with elements such as racks, storage containers and machinery firmly set in place. The advanced AI algorithms then process the facility's current arrangement and devise the most efficient pathways for movement. The program rigorously analyzes a multitude of factors including shortest paths, product weight, and frequency of access to determine the optimal routes. This mode is particularly beneficial for existing facilities that have numerous fixed structures that cannot be moved.
Mode B – Full Simulation: The full simulation mode is more dynamic and interactive and enables materials to be moved around a facility according to specified rules. In this mode, SimuPath reconfigures the facility by shuffling the position of objects and equipment to achieve maximum efficiency. This model encourages a fluid and adaptive approach to manufacturing and warehouse management.
SimuPath also features a playback mode that allows customers to get a firsthand of how the program will improve their operations in a simulated 3D environment. By using a VR headset, the immersive experience shows AI and robotics increasing productivity and accuracy, while reducing human errors.
About ResGreen Group International, Inc. (RGGI)
ResGreen pioneers the convergence of Industry 4.0 and the human-centric principles of Industry 5.0, revolutionizing manufacturing with cutting-edge mobile robots and AI. Our mission is to bring these technologies to small and medium companies, bridging the gap with industry giants. Our holistic approach seamlessly integrates multi-platform communication, optimizing workplaces with AI, Unreal Engine simulations, and collaborative human-robot interfaces. We simplify robotics integration, offering comprehensive support and training. Backed by a seasoned team, we align with IoT, cloud computing, and analytics standards. ResGreen empowers companies to compete, boosting productivity, reducing costs, and enabling data-driven decisions in both Industry 4.0 and Industry 5.0 realms. For more information, visit resgreengroup.com.
Forward Looking Statement
This news release includes certain "forward-looking statements" within the meaning of Section 27A of the Securities Act of 1933, as amended, and Section 21E of the Securities and Exchange Act of 1934, as amended. Forward-looking statements are necessarily based upon estimates and assumptions that, while considered reasonable, are subject to known and unknown risks, uncertainties, and other factors may cause the actual results and future events to differ materially from those expressed or implied by such forward-looking statements. Such factors include general business, economic, competitive, regulatory, markets and other conditions, political and social uncertainties. There can be no assurance that such statements will prove to be accurate, as actual results and future events could differ materially from those anticipated in such statements. Accordingly, readers should not place undue reliance on forward-looking statements. No information in this news release should be construed as any indication whatsoever of the Company's future stock price, revenues, or results of operations. The Company disclaims any intention or obligation to update or revise any forward-looking statements, whether as a result of new information, future events or otherwise, except as required by law.
Contact:
Sarah Carlson
[email protected]
A photo accompanying this announcement is available at:
https://www.globenewswire.com/NewsRoom/AttachmentNg/49fcfcf7-0a5f-4e0f-8edd-bec60c491fe3

Disclaimer: The above press release comes to you under an arrangement with GlobeNewswire. AfternoonHeadlines.com takes no editorial responsibility for the same.