Furniture Market on Track to Reach $780.43 Billion by 2030 | A Comprehensive 190-Page Report
Key companies covered in furniture market are Global Furniture USA (U.S.), ZouYou (China), P & C ArteMobili SA (Brazil), Saudi Modern Factory Co. (Saudi Arabia), DEDON GmbH (Germany), Dare Studio (England), Harman Miller Inc. (U.S.), Steelcase Inc. (U.S.), HNI Corporation (U.S.), Ashley Furniture Industries Inc. (U.S.), Duff & Phelps, LLC. (U.S.), and Others.
Furniture Market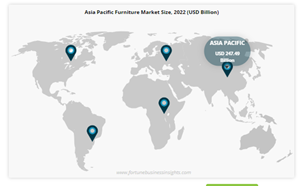 Pune, India, Sept. 27, 2023 (GLOBE NEWSWIRE) — The global furniture market size was valued at USD 516.66 billion in 2022 and is projected to grow from USD 541.52 billion in 2023 to USD 780.43 billion by 2030, exhibiting a CAGR of 5.36% during the forecast period.
Elegant house furnishings efficiently improve the exquisiteness of the living space. The growing trend for renovation and decoration among the population globally initially drives the need for such products. Consumer's inclination is mainly towards items such as stools, sofas, chairs, and others to make their living and dining rooms aesthetic. Growing demand for stools and chairs of various sculptural shapes, such as a curve, pyramids, and others among households, is expected to offer new opportunities for the market's growth.
Fortune Business Insights provide this information in its report titled "Furniture Market, 2023-2030."
Get a Sample Research PDF:
https://www.fortunebusinessinsights.com/enquiry/request-sample-pdf/furniture-market-106357
Leading Players Featured in the Research Report:
Companies leading the furniture market are Global Furniture USA (U.S.), ZouYou (China), P & C ArteMobili SA (Brazil), Saudi Modern Factory Co. (Saudi Arabia), DEDON GmbH (Germany), Dare Studio (England), Harman Miller Inc. (U.S.), Steelcase Inc. (U.S.), HNI Corporation (U.S.), Ashley Furniture Industries Inc. (U.S.), Duff & Phelps, LLC. (U.S.), and more. 
Report Scope & Segmentation:
Report Attributes
Details
Forecast Period
2023-2030
Forecast CAGR
5.36%
2030 Value Projection
USD 780.43 Billion
Market Size in 2022
USD 516.66 Billion
Historical Data
2019-2021
No. of Pages
190
Report Coverage
Revenue Forecast, Company Profiles, Competitive Landscape, Growth Factors and Latest Trends
Segments Covered

By Raw Material
By Category
By End-User
By Region

Regions Covered

North America
Europe
Asia Pacific
Latin America
Middle East and Africa

Furniture Market Growth Drivers
Recent Introduction of Marketing Campaigns by Industry Retailers to Skyrocket Market Growth
Regular Introduction of the Innovative & Luxurious Furniture Items to Drive Market Growth
Report Coverage:
This report covers the synopsis of this market that provides the analysis of the market, knock of COVID-19, segmentation, drivers, regional insights, competitive landscape, new growth and presence of achievers in the market. Changes in the market are subjected to changes in demand in the forecast period. 
Drivers and Restraints:
Growing Introduction and Launching of New Furniture Items to Propel Market Growth
Innovative and luxurious home amenities are anticipated to attract people to buy them, boosting the demand for such products. Companies focus on offering customized products to their store visitors to efficiently offer products per their needs. This is likely to escalate the demand for furniture and hence drive the furniture market growth.
However, growing demand for second-hand products is expected to restrain market growth.
Browse Summary of this Research Report:
https://www.fortunebusinessinsights.com/furniture-market-106357
COVID-19 Impacts:
Shutdown of Shops due to COVID-19 Lockdown Restrictions to Plunge Market Growth
Sudden outbreak of the COVID-19 pandemic resulted in the shutdown of furniture shops globally. Hence, furniture shops recorded a decrease in sales due to such stringent restrictions. Moreover, to avoid the spread of coronavirus incidences, people did not buy the items from such shops. Due to these reasons, the furniture market share declined during the pandemic.
What are the factors driving applications of the Furniture Market?
Economic Conditions: The state of the economy plays a significant role in the furniture market. During periods of economic growth, consumers have higher disposable incomes, leading to increased spending on furniture for homes and offices. Conversely, during economic downturns, spending on non-essential items like furniture may decrease.
Demographics: Changing demographics, such as population growth, urbanization, and the aging of the population, impact the furniture market. For example, a growing urban population often drives demand for space-saving and multi-functional furniture suitable for smaller living spaces.
Interior Design Trends: Shifting interior design preferences and trends influence the type of furniture consumers seek. For instance, minimalist and sustainable design trends may lead to increased demand for eco-friendly and space-efficient furniture.
Housing Market: The state of the housing market is closely linked to the furniture industry. When there is a surge in new home construction or home renovations, it typically results in higher furniture sales as homeowners furnish their new spaces.
Technology: Advancements in technology have introduced smart furniture and ergonomic designs into the market. Consumers are increasingly looking for furniture with tech features like built-in charging ports or IoT integration, which can drive demand.
E-Commerce: The rise of online shopping has transformed the furniture market. E-commerce platforms offer a convenient way for consumers to browse and purchase furniture, leading to increased competition and greater accessibility to a wider range of products.
Sustainability: Growing environmental awareness has led to a demand for sustainable and eco-friendly furniture options. Manufacturers are responding by using recycled materials, sustainable sourcing, and eco-conscious production methods.
Segmentation:
Wood holds the Largest Share due to its Cost-Effectiveness
On the basis of raw material, the wood segment holds a subsequent market share due to its low cost compared to items of other types. Moreover, the linked companies and their regular provisions to make such products with more innovative engineered skills are estimated to drive the market skills.
Increasing Demand for Aesthetic Interiors to Dominate the Market Growth
Based on category, the market is segmented into indoor and outdoor. Increasing demand for the various kinds of living room, kitchen, and half furniture items amongst people for their regular indoor seating needs initially results in large returns from the indoor segment.
Daily Needs for Households Makes Housing Segment to Drive the Market
According to end-user analysis, the market is categorized into residential, office, hotel, and others. The residential segment is expected to hold a major market share due to the large necessity of sofa sets and chairs among residential consumers for their backyard seating arrangements and homes.
Get a Quote Now:
https://www.fortunebusinessinsights.com/enquiry/get-a-quote/furniture-market-106357
Regional Insights:
Asia Pacific is Set to Lead Market Share With Presence of Furniture Manufacturers
Asia Pacific region is estimated to grow at the fastest CAGR of 6.19% during the forecast period. The biggest share of the Asia Pacific region is credited to many wood furniture manufacturers in the countries such as China and India. This will help such product consumption rate among the population, hence fueling the region's market growth.
North America holds a substantial share of the market. Due to the large consumption of such products among the Canadian and U.S. populations, giving larger product revenues from such regions. Moreover, the increasing online presence of the companies linked with providing fixture items, such as Alibaba.com, Pepperfry.com, and others, is further driving the region's product revenues.
Substantial growth in the European market is credited to the growing consumption of wood-based furnishing items amongst the population in countries such as Germany and the U.K. This will offer simplicity in the product returns from the European region.
Detailed Table of Contents:
Introduction

Research Scope
Market Segmentation
Research Methodology
Definitions and Assumptions

Executive Summary
Market Dynamics

Market Drivers
Market Restraints
Market Opportunities
Market Trends

Key Insights

Overview of the Parent/Related Markets
Regulatory Analysis
Industry SWOT Analysis
Recent Industry Developments – Policies, Partnerships, New Product  Launches, and Mergers & Acquisitions
Impact of COVID on Supply Chain of Furniture Market

Impact of COVID-19
Supply Chain Challenges
Potential Opportunities due to COVID-19

Global Furniture Market Analysis, Insights and Forecast, 2019-2030

Key Findings / Summary
Market Size Estimates and Forecast 

By Raw Material (Value)

Wood
Metal
Plastic
Others

By Category (Value)
By End-User

Residential
Office
Hotel
Others

By Region (Value)

North America
Europe
Asia Pacific
South America
Middle East & Africa
TOC Continued…!
Speak to Our Expert:
https://www.fortunebusinessinsights.com/enquiry/speak-to-analyst/furniture-market-106357
Competitive Landscape:
Innovative Launch Operations by Key Players to Boost Market Growth
Players in the market have launched new techniques in the market to boost the market growth with their solutions and to elevate the competition in the market. It includes the launching of new patterns, such as investments, and the launch of new and advanced products in the market. Companies have been applying new plans, such as partnerships and mergers, to support their position in the market.
Key Industry Development:
July 2022: Harman Miller Inc., in partnership with G2 Esports, to supply gaming desks, chairs, and monitor arms. This partnership will benefit the company by increasing sales revenue and gross profit.
Read Related Insights:
Office Furniture Market to Worth USD 80.62 Billion by 2029 | With a 7.48% CAGR
Luxury Furniture Market Size to Worth USD 33.31 Billion by 2030 | With a Striking CAGR of 5.57%
Pet Furniture Market Size to Hit USD 6.09 Billion by 2030 | With a CAGR 6.14%
About Us:
Fortune Business Insights™ delivers accurate data and innovative corporate analysis, helping organizations of all sizes make appropriate decisions. We tailor novel solutions for our clients, assisting them to address various challenges distinct to their businesses. Our aim is to empower them with holistic market intelligence, providing a granular overview of the market they are operating in.
Address:
Fortune Business Insights Pvt. Ltd.
9th Floor, Icon Tower, Baner,
Mahalunge Road, Baner, Pune – 411045,
Maharashtra, India.
Phone:
US: +1 424 253 0390
UK: +44 2071 939123
APAC: +91 744 740 1245
Email: [email protected]
Follow Us: LinkedIn | Facebook | Twitter    
Attachment

Disclaimer: The above press release comes to you under an arrangement with GlobeNewswire. AfternoonHeadlines.com takes no editorial responsibility for the same.