Foundation for Sarcoidosis Research Announces 3 New Members to the 40 Member FSR Global Sarcoidosis Clinic Alliance through its FSR-GSCA Capacity Building Grants
FSR Capacity Building Grant Recipients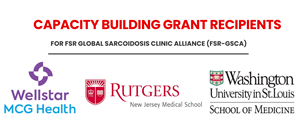 CHICAGO, Nov. 01, 2023 (GLOBE NEWSWIRE) — Foundation for Sarcoidosis Research (FSR) announces three clinics that have been selected as members of FSR Global Sarcoidosis Clinic Alliance (FSR-GSCA) – a groundbreaking initiative that will have a worldwide impact on advancing sarcoidosis research and improving the lives of those with sarcoidosis through patient and clinician education, engagement, and support – through the FSR-GSCA Capacity Building Grant.
Building from the FSR recently published white paper on sarcoidosis and clinical trial diversity, awardees of this grant are charged with creating actionable recommendations to ensure successful and diverse recruitment of clinical trials.  FSR is dedicated to advancing the needs of all patients impacted with sarcoidosis and to closing the health care disparities gap that affects our community. As an expansion of the national Ignore No More and the Ignore No More: ACTe Now efforts, FSR is offering three capacity building grants to hospitals and clinics that serve a high percentage of underserved patients and who have expertise in advancing clinical trials and clinical trial success. These capacity building grant recipients completed a competitive application process and have been awarded a complimentary 1-year membership (valued at $5,000) in the FSR-GSCA. 
The New Jersey Medical School Sarcoidosis Center, Wellstar MCG, and Washington University Sarcoidosis join 40 other esteemed institutions, across 28 states, as the newest members of the FSR-GSCA, which brings together sarcoidosis clinics and hospitals committed to finding a cure and offering evidence-based, patient-centric care for those living with sarcoidosis. Alliance members will benefit from innovative resources, sustainable clinician and patient peer-led programming, and tools to accelerate treatment, research, and the continuum of patient care.
"This grant from the Foundation for Sarcoidosis Research will open up new opportunities for our patients with sarcoidosis and our team of providers dedicated to their care and will undoubtedly improve the health of our community," said Dr. Andrew Berman, Professor of Medicine, Rutgers, New Jersey Medical School, Division Director, Pulmonary and Critical Care Medicine, Allergy and Rheumatology and Co-Director, New Jersey Medical School Sarcoidosis Center.
"We are excited to be a part of FSR's capacity building grant because we believe this is a wonderful opportunity for our patients to know the latest research and will enhance their understanding of sarcoidosis. It also challenges us as their clinical team to do our best and opens opportunities for our basic science colleagues to collaborate. We hope to build a more cohesive sarcoidosis community in Augusta," said Dr. Varsha Taskar, Professor of Medicine, Division of Pulmonary, Critical Care and Sleep Medicine at Wellstar MCG.
"Washington University is honored to become a member of the FSR Global Sarcoidosis Clinical Alliance. This group has already shown a dedicated commitment to patients, family, and provider education and research. Joining the FSR-GSCA will allow Washington University improved access to these invaluable resources," said Dr. Adam Anderson, Associate Professor and Director of the Washington University's WASOG Sarcoidosis Center of Excellence.
"FSR is honored to have these three prestigious institutions join our extraordinary group of FSR Global Sarcoidosis Clinic Alliance members. These institutions' commitment and expertise in advancing the education, care, support, and overall patient outcomes of all impacted by sarcoidosis, will further allow the Alliance to reach under-resourced and underserved individuals, as we strive for a world without sarcoidosis," said Mary McGowan, CEO of FSR.
About Sarcoidosis
Sarcoidosis (pronounced SAR-COY-DOE-SIS) is an inflammatory disease of unknown cause characterized by the formation of granulomas—tiny clumps of inflammatory cells—in one or more organs of the body. Approximately 5-10% of all patients diagnosed will suffer from advanced sarcoidosis. Sarcoidosis affects the lungs in approximately 90% of cases, but it can affect almost any organ in the body and in more advanced or chronic cases can impact multiple organs at the same time. Despite increasing advances in research, sarcoidosis remains difficult to diagnose with limited treatment options and no known cure. African American women experience the highest incidence of sarcoidosis in the US compared to any other group. They are more likely to experience chronic and severe symptoms and higher hospitalization rates than Caucasians and more than double that of African American men.
About Foundation for Sarcoidosis Research
Established in 2000, Foundation for Sarcoidosis Research (FSR), is the leading international non-profit organization dedicated to finding a cure for sarcoidosis and improving care for sarcoidosis patients through research, education, and support. Since inception, FSR has fostered over $6 million in sarcoidosis-specific research efforts and has worked diligently to provide resources to thousands. For more information and to join our community, visit www.stopsarcoidosis.org.
For more information or to schedule an interview, please reach out to:
Cathi Davis, Sr. Communications and Marketing Manager
312-341-0500, [email protected]
A photo accompanying this announcement is available at https://www.globenewswire.com/NewsRoom/AttachmentNg/529253c5-993a-4850-a80c-7b8875469e42

Disclaimer: The above press release comes to you under an arrangement with GlobeNewswire. AfternoonHeadlines.com takes no editorial responsibility for the same.