Fluoropolymer Coating Market revenue to reach USD 342 Billion by 2035, says Research Nester
Prominent fluoropolymer coating market players include ArkemaS.A., PPG Industries, Inc., Akzo Nobel N.V., BASF SE, TOHO KASEI CO., LTD and Toefco En.
New York, Oct. 05, 2023 (GLOBE NEWSWIRE) — The global fluoropolymer coating market size is projected to expand at ~7% CAGR between 2023 and 2035. The market is expected to garner a revenue of USD 342 billion by the end of 2035, up from a revenue of ~USD 67 billion in the year 2022. The growth of the market can be influenced by the growing demand for renewable energy. Between 2022 and 2027, there is projected to be about 2399 GW (almost 74%) growth in global renewable energy capacity. Hence, this factor is estimated to influence the market growth. Fluoropolymers are utilized as armor against difficult climatic conditions, such as intense heat and moisture, and as coatings for solar thermal installations. 
Request Free Sample Copy of this Report @
https://www.researchnester.com/sample-request- 3881
Additionally, governments from different nations are adopting various initiatives in order to boost the utilization of renewable energy. For instance, with a budget of USD 195 billion, the Ministry of New & Renewable Energy (MNRE) has released the Scheme Guidelines for Production Linked Incentive (PLI) Scheme (Tranche-II) in India under the "National Programme on High-Efficiency Solar PV Modules." In order to establish manufacturing facilities for highly efficient solar PV modules in India under the Production Linked Incentive Scheme (Tranche-II), Solar Energy Corporation of India Limited, a Central Public Sector Enterprise under MNRE, issued the Request for Selection (RfS) on November 18, 2022. As a result, the market revenue is set to grow.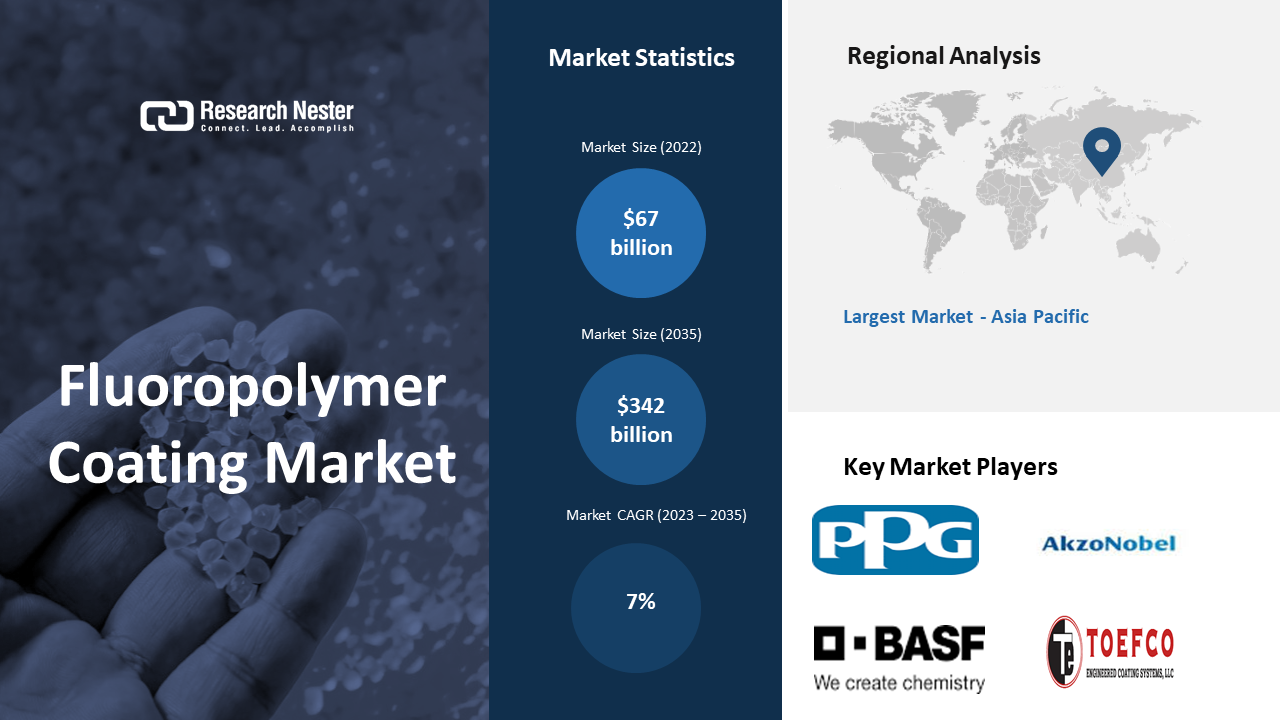 Fluoropolymer Coating Market: Key Takeaways  
Market in Asia Pacific region to propel the highest growth
The building & construction segment to garner the highest growth
Market in the Europe to grow at a highest rate
Growing Urban Population to Boost the Growth of Global Fluoropolymer Coating Market
About 56% of population which equates to about 4.4 billion people all across the world lives in urban region. By 2050, approximately 7 out of 10 people are expected to reside in cities, with the urban population predicted to more than double from its current level. Therefore, the development of residential and non-residential buildings is growing. A group of substances known as fluoropolymers have fluorine atoms incorporated into their polymer chains. Due to their well-known superior resistance to chemicals, heat, and wear, these materials are employed in a range of applications, including construction materials.
Fluoropolymer Coating Market: Regional Overview 
The global fluoropolymer coating market is segmented into five major regions including North America, Europe, Asia Pacific, Latin America, and the Middle East and Africa region.  
Growing Demand for Oil & Gas to Drive the Growth of Market in Asia Pacific
The growth of the market in Asia Pacific for fluoropolymer coating is poised to hold the largest market share of about 33% over the projected period. The Asia-Pacific area produced about 6 million barrels of oil per day in 2022. A very dangerous atmosphere is created in the oil and gas sector by the use of strong machinery, chemicals, and procedures. Rigid safety precautions and a variety of materials capable of withstanding exceptionally high working temperatures, brine solutions, chemicals, and oil residue are needed in such a demanding environment. Hence, the demand for fluoropolymer is growing in this region.
Rising Demand for Commercial Vehicles to Influence the Market in Europe
The market for fluoropolymer coating in Europe is also projected to have significant growth over the forecast period. The main element for its growth is rising demand for commercial vehicles. Additionally, the demand for electric vehicles is also growing in this region which is also set to influence the market growth. In Europe, sales of electric vehicles climbed by roughly 69% in 2021 to about 2 million, with plug-in hybrids accounting for about half of those sales.
Make an Inquiry Before Buying this Report @
 https://www.researchnester.com/inquiries-before-buying- 3881
Fluoropolymer Coating, Segmentation by Application
Food Processing
Automotive
Electrical & Electronics
Chemical Processing
Building & Construction
The building & construction segment is poised to capture the highest revenue by the end of 2035. The major factor to influence the segment growth is growing construction activities. In 2016, there were projected to be 794,431 built-up areas (BUAs) worldwide. Approximately 849,406 people are expected to live there by 2022. Furthermore, it is anticipated that 2 million new buildings will be built by 2050.
Request for Customization of this Report @
https://www.researchnester.com/customized-reports- 3881
Fluoropolymer Coating, Segmentation by Type
Polyvinylidene Fluorine (PVDF)
Polytetrafluoroethylene (PTFE)
Ethylene Tetrafluoroethylene (ETFE)
 Fluorinated Ethylene Propylene (FEP)
The polyvinylidene fluorine segment is projected to capture revenue by the end of 2035. This growth of the segment could be dominated by growing demand for electronic item such as smartphones. With about 5 billion smartphone users worldwide as of 2023, this means that approximately 84% of the world's population will be smartphone owners.
A few of the well-known market leaders in the global fluoropolymer coating market that are profiled by Research Nester are ArkemaS.A., PPG Industries, Inc., Akzo Nobel N.V., BASF SE, TOHO KASEI CO., LTD, Toefco En, and others.
Recent Development in the Market 
In order to become a leader in specialty materials by 2024 and focus on creating high-performance, environmentally friendly solutions, Arkema S.A. purchased Ashland's Performance Adhesives division. For industrial applications, Ashland offers a variety of high-performance adhesive solutions with significant added value.
PPG Industries, Inc. unveiled PPG ENVIROCRON LUM coating, the first industrially available powder coating with retroreflection. The pending patent coating is intended to improve vision at night and in low-light conditions. The coating is available in a variety of colors and is ideal for use on a variety of items, including shopping carts, guardrails, bicycles, scooters, safety equipment, tools, and tenons.
About Research Nester
Research Nester is a one-stop service provider with a client base in more than 50 countries, leading in strategic market research and consulting with an unbiased and unparalleled approach to helping global industrial players, conglomerates, and executives for their future investments while avoiding forthcoming uncertainties. With an out-of-the-box mindset to produce statistical and analytical market research reports, we provide strategic consulting so that our clients can make wise business decisions with clarity while strategizing and planning for their forthcoming needs and succeed in achieving their future endeavors. We believe every business can expand to its new horizon, provided the right guidance at the right time is available through strategic minds.
CONTACT: AJ Daniel Corporate Sales, USA Research Nester Email: [email protected] USA Phone: +1 646 586 9123 Europe Phone: +44 203 608 5919

Disclaimer: The above press release comes to you under an arrangement with GlobeNewswire. AfternoonHeadlines.com takes no editorial responsibility for the same.