First Book of Adventurous Saga CHRONICLES OF THE EMPYREAN Takes Readers Across Space and Time
Palmetto Publishing releases new young adult epic time travel novel
Chronicles Of The Empyrean: The Guardians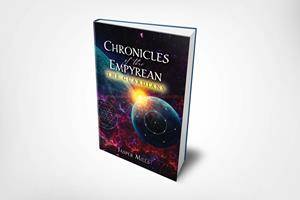 Charleston, SC, Sept. 05, 2023 (GLOBE NEWSWIRE) — Fans of science fiction action and adventure will want to check out Chronicles of the Empyrean: The Guardians, the first book of a promising new epic saga. A great pick for your young adult science fiction and dystopia book club, Chronicles of the Empyrean: The Guardians thrusts readers into a dramatic time-travel adventure.
Aurelius stands as the final Guardian of the Empyrean—a magical dominion birthed by the conscious Universe to give souls a second chance at life. Guided by Hacienzo, the manifestation of the Universe's memories, Aurelius delves into ancient magical tomes within the Empyrean's archives. Through them, he journeys across the realm's vast history, uncovering the roots of an age-old battle between light and dark.
In this voyage through time, Aurelius observes the birth of the Empyrean and the advent of a soul named Iaspis. The Seven, representing the living essence of the conscious Universe, entrust Iaspis with shaping the Empyrean—crafting cities and ushering in souls from the vast reaches of space. In doing so, Iaspis is anointed as the inaugural Guardian of the Empyrean. But, after a millennium of shielding the realm from anguish, a tragic misstep by Iaspis in trying to banish negativity inadvertently gives rise to the malevolent D'evoldie.
With the Empyrean's existence under threat, Aurelius, alongside Hacienzo, must confront D'evoldie in a final, climactic encounter.
Readers who love complex science fiction narratives will delight in setting out on this new explosive saga. The novel will appeal to fans of unique fictional universes and high-stakes battles between good and evil. Chronicles of the Empyrean: The Guardians showcases a dark and foreboding narrative that has a distinct hope-filled center, perfect for readers who want a realistic journey that ultimately proves uplifting.
Chronicles of the Empyrean: The Guardians is available for purchase online at Amazon.com and Barnes and Noble.com. For more information about the author, please visit his social media platforms.
Instagram: @Chronicles_of_the_Empyrean
About the Author: Jasper Mills lives in Minnesota. He is a family man who enjoys blues music and a good glass of Glenfiddich as he watches the stars with his telescope. In addition to reading and writing, he enjoys classical music, history, and meditation. No matter his age, he will never stop loving a good comic book.
Attachment
Chronicles Of The Empyrean: The Guardians
CONTACT: Leah Joseph Palmetto Publishing [email protected] 

Disclaimer: The above press release comes to you under an arrangement with GlobeNewswire. AfternoonHeadlines.com takes no editorial responsibility for the same.