Filevine Welcomes Over 250 New Customers in a Record Quarter
Leading legal platform solidifies itself as a forefront innovator in the AI and legal technology space.
Q3-2023 Recap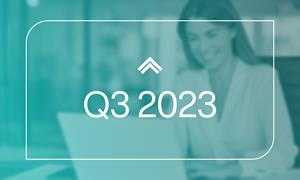 AI Product Launch Timeline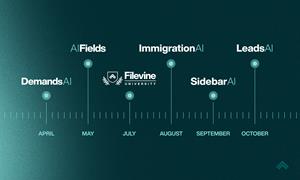 Salt Lake City, UT, Nov. 07, 2023 (GLOBE NEWSWIRE) — Filevine is proud to announce yet another record quarter, celebrating over 50% Annual Recurring Revenue (ARR) growth, significant expansion of its product suite and customer base, and cash-flow positivity. Artificial intelligence (AI) and customer enablement took center stage in Q3 with continued investment in its customer certification program, Filevine University, and the release of two AI-powered products aimed at simplifying legal work for users, ImmigrationAI and SidebarAI. 
"We're beyond thrilled to announce yet another record quarter," said Ryan Anderson, CEO and Co-Founder of Filevine. "This only reaffirms Filevine's status as a trailblazer in the legal technology industry and the trust that legal professionals have in our solutions."
Record New Deals
In Q3, Filevine increased ARR over 50% year over year and welcomed 258 new logos to the platform. This marked a new quarterly record in new logo ARR and another consecutive quarter in which Filevine broke their previous quarter's revenue.
Filevine achieved 142.6% net dollar revenue retention (NDRR), indicating that existing customers bought more licenses and purchased ancillary products to further extend their use of the platform for end-to-end legal workflows. Filevine's AI-powered product launches in Q2, DemandsAI and AI Fields, powered upsell growth in Q3 and were key drivers of NDRR. Indicative of its health, Filevine also achieved The Rule of 40 with a combined growth rate and profit margin exceeding 40%.
"We've been working diligently the past several years to position Filevine for sustainable growth and profitability" said Filevine's Chief Financial Officer, Ian Charles. "I'm proud to say that the financial health and key metrics of our company have never been stronger and are best in class. Our sustained commitment to delivering exceptional value to our clients through innovation has resulted in superior unit economics, the successful launch of widely adopted products, and unprecedented ARR growth."
AI-Powered Product Expansion 
In keeping with its commitment to innovation, Filevine continued its aggressive product expansion and catered to evolving industry needs in Q3. In August, Filevine launched ImmigrationAI designed to simplify the immigration process for attorneys and their clients. ImmigrationAI came off the tails of two other AI-powered product launches, DemandsAI and AI Fields, in April and May 2023, and it launched Filevine into the immigration practice space as a go-to solution and expert contender.
"The introduction of ImmigrationAI has garnered significant attention and is already making waves within the legal community," said Filevine's Legal Futurist, Emily Lippincott. "ImmigrationAI allows immigration legal professionals to do less paperwork and more legal work – focusing on what matters most, their clients."
In September, Filevine announced a pre-release of its AI assistant tool, SidebarAI, enabling users to run case activity summaries and ask how-to questions about the Filevine platform to an AI-powered chatbot. 
Also in Q3, Filevine offered its first free trial of its e-signature tool, Vinesign. Hundreds of businesses were able to experience powerful, user-friendly e-signature collection firsthand and embed their document-signing process more efficiently and securely into their workflow. 
Filevine also rolled out significant feature improvements in Q3. Most notably, enhancements to timekeeping and billing, AIFields prompts, and the user interface garnered positive feedback among Filevine users.
New Customers and Partnerships
Filevine proudly welcomed 258 new customers to its expanding client base and closed more enterprise deals than in any other quarter, including the largest deal in company history. Among Filevine's newest esteemed customers are the Utah Jazz, Kroger, and the Ministry of Ontario. Filevine was also chosen as the preferred legal technology partner by PacerPro and eLaw, among others. The wave of new customers and partners underscores the legal industry's growing recognition of the value Filevine brings in simplifying complex legal processes and enhancing productivity.
"We are excited to welcome Filevine as a proud partner of the Utah Jazz," said Sam Harkness, General Counsel of the Utah Jazz. "This partnership will not only enhance our operational efficiency, but also demonstrates our commitment to staying at the forefront of technological innovation in sports management." 
Prestigious Recognition
Filevine achieved reputable accolades in Q3, including being recognized as a G2 Momentum Leader and on Capterra's Shortlist for Legal Billing Software, Legal Case Management Software, and Law Practice Management Software. Filevine was also named a Frontrunner on Software Advice for being a top Legal Document Management Software in 2023 and was recognized for the fourth consecutive year among the fastest growing, privately owned companies in the United States by the Inc. 5000. These awards showcase Flevine's user satisfaction and market presence in the legal technology space.
A Look Towards Q4
As Filevine kicks off Q4, they focus their sights on providing the most comprehensive, all-in-one legal operating system, customizable to the specific workflows of individual law firms and optimized for every type of legal work. With the recent launch of Filevine's widely anticipated timekeeping, billing, and payments capabilities, Filevine cements itself as a true end-to-end legal software solution for any type of law firm and expands the company's appeal to non-contingency practices like family law, immigration law, and corporate counsel. To expand access to these business-necessary capabilities for small and solo firms, Filevine will be offering free basic user licenses to firms that qualify.  
Filevine also will be gearing up for its premier user conference, LEX Summit, to be held in Salt Lake City, Utah on September 8 – 10, 2024. 
To learn more about Filevine, visit https://www.filevine.com/. 
---
About Filevine
Filevine is changing the way legal work gets done for law practitioners and their clients. As the leading legal operating system, Filevine is dedicated to empowering organizations with tools to simplify and elevate complex, high-stakes legal work. That is why Filevine now offers a full suite of AI-powered solutions built with the legal user in mind. Powering everything from lead intake and e-signatures, to document assembly and case management, to timekeeping, billing, payments and business analytics, over 3,400 law firms and legal teams use Filevine daily to deliver excellence. Filevine is recognized on the Deloitte Technology Fast 500 and Utah Business Fast 50 lists, is a Top Workplace USA winner, and is among the fastest-growing companies on the 2023 Inc. 5000 list.
Attachments
CONTACT: Erin Ash Filevine 2624421056 [email protected] 

Disclaimer: The above press release comes to you under an arrangement with GlobeNewswire. AfternoonHeadlines.com takes no editorial responsibility for the same.