Filevine Reports a Record Q2 with Off the Charts Growth in AI Revenue and Usage
Leading legal platform continues 2023 with steadfast resolve to propel legal businesses forward.
Q2-2023 Recap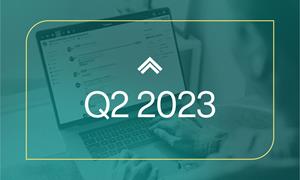 Launch of Filevine University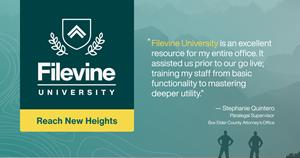 Salt Lake City, UT, Sept. 21, 2023 (GLOBE NEWSWIRE) — Filevine previously shared news of their first quarter highlights, including their significant gross margin improvement, strong product adoption, and successful user conference, LEX Summit. In Q2, Filevine continued to break records as it expanded its product suite, customer base, and solutioning resources. Most notably, Filevine closed record net new Annual Recurring Revenue (ARR), launched Filevine University, and broke new ground with the launch of their AI-powered features, DemandsAI and AIFields.
"I'm thrilled to announce another consecutive record quarter, driven by our industry-leading innovation. Thousands of law firms and legal teams choose Filevine not just for its current capabilities, but because of our established reputation as pioneers in the field," said Ryan Anderson, Filevine's CEO and Co-Founder. "Our dedication to pushing the boundaries of legal technology, especially in the realm of artificial intelligence, is reshaping the industry. This is only the beginning of our weaving of artificial intelligence into our state-of-the-art legal OS dedicated to providing case management, document management, and timekeeping and billing solutions to our customers."
Record New Bookings
In Q1, Filevine reported that it produced over 50% growth in Ending ARR supported by new logo sales, a best-in-class Net Dollar Retention Rate (NDRR) of over 140%, and a Blended Gross Margin of 72.5%, thanks in part to Filevine's robust partner ecosystem. In Q2, existing customers invested more in Filevine licenses and products. Early success of AI fed a 142% NDRR and contributed to record new bookings, including two of the largest new logo deals in Filevine history. The legal industry also continued to widely embrace Filevine, as could be seen by its best-in-class Available to Renew (ATR) churn rate of less than 5%.
Launch of Filevine University
In Q2, Filevine prepared for the launch of its first Filevine-certified admin program, Filevine University (FVU). FVU offers seven levels of certification teaching users to more effectively leverage the Filevine suite of products. The custom-tailored courses help users take their skills to the next level, keep up with product updates, and learn at their own pace. Since its launch, over 3,800 users have completed 16,500 courses and earned over 1,000 certificates.
AI-Powered Product Expansion
Filevine solidified itself as a forefront innovator in the AI space as it launched DemandsAI and AIFields in May and June 2023. DemandsAI generates professional demand letters by extracting relevant data from case documents and leveraging Filevine-certified demand-drafting partners, all while keeping client data secure within the platform. AIFields enables legal professionals to harness the power of AI to scan, summarize and extract data from documents, all without leaving the platform or changing their existing workflow.
"Filevine doesn't just send our customers out into the AI jungle," said Filevine's EVP of Product, Michael Anderson. "Instead, you get subject-matter-informed and purpose-built features which allow you to easily plug AI power into your legal work." 
Investment in Support and Engineering Teams
To support Filevine's ambitious product roadmap and growing customer base, Filevine continued to hire best-in-class talent and focused investment in its Solutioning and Engineering teams. Research & Development now accounts for more than one third of Filevine's total employee headcount and celebrates an industry-low attrition rate.
Legal Event Sponsorships
To expand its notoriety as the best-in-class, complete tech stack for legal professionals and better serve the growing legal industry, Filevine attended over 40 events in Q2, most notably MTMP Spring, ALA, and AILA. Filevine also launched its FilevineAI Dinner & Discourse event series, traveling to cities across the United States for intimate dinners, networking, and dialogue with those at the forefront of legal technology.
As Filevine anticipates the closing of Q3, they remain laser focused on their mission to provide the most comprehensive all-in-one legal operating core, customizable to the specific workflows of individual law firms and optimized for every type of legal work. 
To learn more about Filevine, visit https://www.filevine.com/.
---
About Filevine
Filevine is changing the way legal work gets done for law practitioners and their clients. As the leading legal operating system. Filevine is dedicated to empowering organizations with tools to simplify and elevate complex, high-stakes legal work. Powering everything from document and case management to timekeeping & billing and business analytics, over 3,300 law firms and legal teams use Filevine daily to deliver excellence. Filevine is recognized on the Deloitte Technology Fast 500 and Utah Business Fast 50 lists, is a Top Workplace USA winner, and is among the fastest-growing companies on the 2023 Inc. 5000 list.
Attachments
CONTACT: Erin Ash Filevine 2624421056 [email protected] 

Disclaimer: The above press release comes to you under an arrangement with GlobeNewswire. AfternoonHeadlines.com takes no editorial responsibility for the same.